PERU
July 1st, 2006 
The flight to Miami was delayed for 2 hours in Bermuda's entertaining airport. I read,  John just chilled out. I think we were both quite nervous. I especially felt nervous, anxious but excited. The flight to Miami was bumpy…saw the Bahamas. Miami airport was crappy.
Finally there – landed at 9:45 Peru time, through immigration and finally found our bags after standing in the wrong claim area, (language issues), and worried when there was no luggage left to claim! Then the penny dropped – Oh we are at the wrong claim area!
Straight through customs we went – saw our driver, holding a sign bearing our name – RELIEF!
Out we go luggage and all, passed the masses trying to make a few Sols, passed the numerous cops with the machine guns, across the road and there we were at the TRUCK that was sent to pick us up. So, luggage in the back and us in the cab with the driver and off we go!
The first impression was not very positive….cops everywhere, very busy roads where people race about, everything looking unfinished and very dirty/filthy. Oh and it was quite foggy. Saw the Pacific ocean!
Arrived at the hotel after a really unusual drive through the city and along the sea front, down narrow lanes and then we were there, but it was not the hotel we were booked into, didn't even know this hotel's name or where we were except it was down some ally-ways and then that we had to walk through road works carrying our bags.
Apparently the hotel we were supposed to be in was full, so we were dropped at a back-up hotel. Oh well it wasn't too bad – bit small, but clean- quite 70's. Watched spanish TV – language practice.
 July 2nd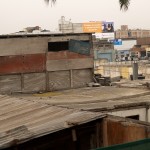 Lovely day! up at 9ish –  the room looked out over what appeared to be a slum. We were to find out this was an average dwelling. We met the group leader – Paulo, who explained the hotel situation and arranged to meet us the next evening at 7:00pm.
We went exploring….Down the ally and turned right onto Ave. Benavides. Many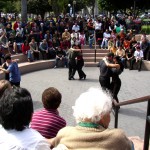 shops and cafes a busy area. Visited a park that was full of artists – beautiful work! In an amphitheater dancers danced to 30's Latin music – it was surreal.
We had our lunch at an out door cafe and musicians played for us. Had Cheveche and it was the bes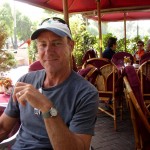 t ever! It was a very sunny hot day. The fog had burned away and it was a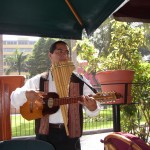 gorgeous day in Lima.
We walked to the Pacific Ocean in the afternoon. There were huge cliffs that were lined with parks. Families were out enjoying the sun. children playing and lovers kissing.The para – gliders were flying over the cliffs and the sea with the sun going down was behind them.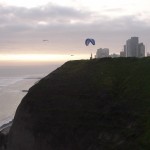 Back to the hotel to check email and out to a café for Pisco Sours, for me and beer for John. The Cheveche was divine, the real thing, could live on it – dinner was excellent. In all a great day.
PS, The Indian Market at night was great, silver work, leather goods and beautiful crafts of all types. The people begging were a bit off putting.
July 3rd
Up for a breakfast of fruit and scrambled eggs – some sort of trouble in the ally outside the hotel – security police and ambulanca arrived.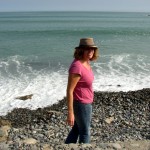 Spent the morning at the bank and transferring to our new hotel – Hotel Antigua. Much better hotel – lovely architecture – a central courtyard and beautiful plants, furniture all antiques, very cool, native artwork everywhere, the shop sells Fairtrade items. In the afternoon we walked to the coast, down the stairway to the beach and pier. We had an Inca Cola and relaxed, touched the Pacific Ocean, saw crabs and terns. Hiked back up – was a bit worried about being accosted as we had been warned about armed banditos. Got back safe and ready for the 7:00pm meeting.
Met the group: Leah, Taylor, Mark and Sylvia – Canadian. Roger, Muriel – French Canadian. Lars, Matte – Danish. Joseph, (Jo), Katherine – Ireland Paulo – Guide went for dinner with the group to the same place as the previous 2 nights – Pisco Sours to die for, love the food too. Followed by ice – cream from the local parlour and wandered around the market in the park. An enjoyable evening
  July 4th
Breakfast in Hotel Antigua, got bags sorted, off to get more sols. Bus to airport, some parts of Lima looked to be very rough – terrible shanties and incredibly dirty streets. At the airport John forgot about his pocket knife…so they took it.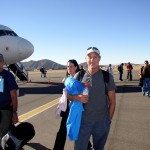 Flight to Cusco 1st, arrived and felt light headed and tingly. Heart rate is definitely up there, pulse up by 20 counts. Feel the blood in you finger tips like after strenuous exercise. 2nd flight took us to Juliaca. 2000-feet higher. The flight over the mountains showed how magnificent they were. Could really feel the altitude upon arrival. The airport was the runway and a small little building in the middle of nowhere.
Took at bus to travel to Puno. The journey was amazing!!! Dry, dry, dry and
everything another shade of brown except the locals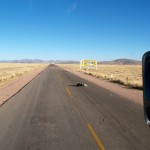 in their highly colourful traditional clothes. The road was dead straight, rough, full of stones and pot – holes. The stones were thrown there in a form of protest or as they call it a "strike" There were sheep, donkeys, horses and people riding bikes of all types especially 3 wheelers.
Puno was fascinating, Hotel Italia quite nice. Had to try to walk upstairs and carry bags, with the altitude change this nearly proved to be too difficult, everyone had to lie down for 2 hours to get their bodies acclimatized.
Then off to the market to buy a basket of fruit and veg, 10 sols worth to present to the family on the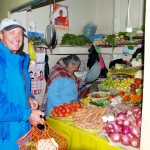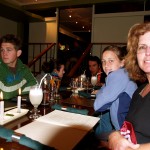 island – home stay family. Market was small aisles and busy but full of fascinating fruit and veg of every type. Also bought Coca leaves – big bag 1 sol. Coca is like chewing dried tea leaves – mouth gets numb however. It does help with altitude problems, like headaches, body aches, lightheadedness and stomach problems, I prefer the coca tea.
Dinner was great – An English guy's restaurant, he's married to a Peruvian. Tried stuffed potatoes, John had Alpaca, (was okay).
 July 5th,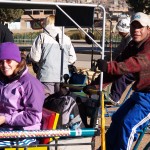 Off to Lake Titikaka, (the womb of mankind), we were picked up by 3 wheeled  push-bikes and driven to the port with our over night bags. Very cool ride, but the poor guy was huffing away. Streets are very dirty, chaotic, no order or control – very confusing!!
3 hour boat ride – passed reed islands on way to Taquile Island. Once there we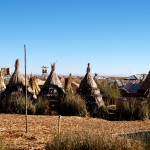 climbed up lovely pathways that were manicured and paved with rocks, by terraced fields – BEAUTIFUL. Into a village for lunch – saw the school in the distance.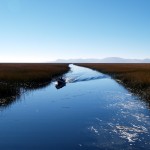 Lunch was trout caught in the lake. Visited the craft "shops" – children are lovely – playing with kites and paper airplanes. Walked along another path to the shore, it was so scenic and stunning – passed little farms and family homes.
Our boat took us to Amantani island for the home stay night our host – Fortunata. We hiked up and up and up a steep climb with our pack. Lovely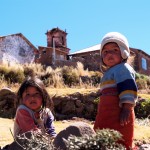 cottages – dropped off our gear and then off to either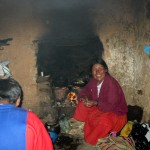 climb the mountain or play soccer or listen to the local folklore and history surrounding the solar calendar, creation and the puma. John did the climb, he was lost on the way down, went off with someone else to their house by mistake.  He was finally found and we climbed into the kitchen for dinner. Fortunata tried very hard, we had soup, some type of maize soup, followed by rice, potatoes, (2 types), fish (trout), and cheese from the goats plus some salad all on the same plate. I tried my best to eat as much as I could, but I really did not enjoy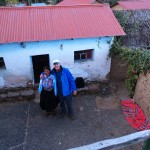 it. There was a funny taste and the kitchen was too dirty and smokey.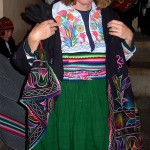 Then after dinner we were dressed in local clothes, (on top of our other clothes) everything tightly wrapped and taken off to the local community centre to a DANCE. It was an  unreal experience. The dances lasted about 10 minutes each and were hard work, lots of spinning and swirling dressed in layers of clothes. We lasted about 3 dances and then asked to head home. My stomach felt really BAD.
I was awaken at 3:00am with an emergency rush to the toilet. Only problem was I had to (in the dark),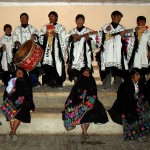 climb out from under mountains of blankets that weighed tons, climb down an out side staircase made of rickety branches, open the locked gate in the courtyard then walk to the out house, which was like a metal tomb, get in and balance over the toilet that was just a free standing up job. My stomach was so bad!!!!
July 6th,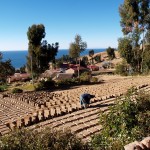 Up at 6 for a breakfast of pancakes in the kitchen, (felt sick), down to the boat for a freezing ride to the  floating reed islands. Isla Flotante de los Uros, they were amazing – 8 communities of people living on islands made from reeds floating in the lake. They date back to before the time of Jesus.
We rode in a reed boat to visit with  each community. The people were  very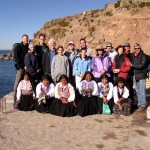 friendly, and their culture incredible.  You actually feel the reeds move below you feet even though the depth of the reed is 2 feet, bit like being on a barge.
I felt quite ill. We returned to Puno, caught a bus to the hotel where I had to lay down and did not/was not able to get up until the following morning. Had the Inca runs, it was ABSOLUTELY terrible. John kept me company for some of the time, walked about a bit and joined the others for dinner.
July 7th,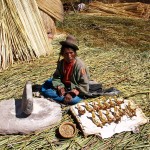 Up at 6 for breakfast and off to catch the bus, (Jen being still very delicate),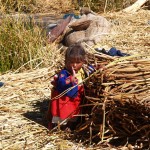 from the local bus station to go to Cusco. Sat up front on the top next to Muriel and Rogie. The bus finally left at 8:30 after the locals tried to sell us produce of every type and even sing, (a little boy),  and have to be paid for singing. No air on board the bus, it was very stuffy and smelly. So off we go…..and then stop 50 yards from the gates to pick up more locals – stuffing the bus with goods and people anyway they will fit. Standing sitting everywhere, this continues, starting stopping starting stopping over and over till we are so full that to move is impossible – my trips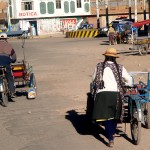 down to the toilet, which were very necessary, were challenging. Climbing under and over bodies, good and all kinds, down the steps squeezing through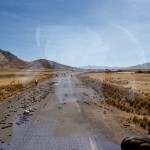 while the bus flew along, slowed started up, stopped and so on. Then to finally make the toilet and find that it is a HOLE in the bottom of the bus! Oh and not a clean hole, but a smelly dirty one.
The trip was to take 2 – 3 hours but it took from 8:40 – 5ish. Stopped once to buy some hay from a lady at the side of the road and in doing so the bus pulled down the electrical power lines, someone held them up with a broom for the bus to reverse under them and on our way again. Leah saw one lady flossing her teeth with her own hair. The countryside was beautiful, 1st was high plateau then the mountains came into view- up we climbed through passes, past farms and villages, farm animals everywhere, people working in the "fields" or in the farms. "Striking" evidence was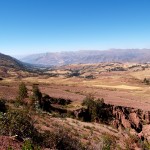 everywhere on the roads – stones thrown – as they are not happy with the new government, it is more for the Spanish/city folk that for the Native/country people.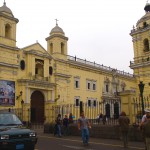 Arrived at last in Cusco – a very cool city. Old, Old, Old, beautiful architecture, cobbled streets, narrow alleys, shops for everything, a very busy place. Cusco Plaza was our hotel, and very nice it was, out to dinner for guinea pigs! – not for me! I had a meager dinner and enjoyed the local musicians.
July 8th
Up early, packed for the Inca Trail – bare essentials into duffel bags, we have sleeping bags, sleeping mats
and personal backpacks too. Breakfast eaten and we were off, We were on a mini bus, the first stop was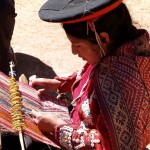 Saqsaywaman, an Inca site. Then we visited the village that our tour company supports. It was up a dirt track along the edge of a mountainside with a steep drop off. The village had local weavers and their wares, with the animals and the children it was really delightful. However I was feeling much better but John was feeling dreadful….the water or the food!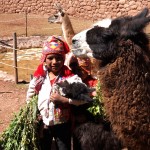 Off to another project, this was a breeding program and had examples of the different types of Alpacas and Lamas some of which are very rare. Again there were examples of the weaving from the different native Peruvian groups and plenty to buy. Absolutely beautiful textiles. John was up chucking by this time.
We then visited Pisaq.  It was magnificent – walked through the ruins and Carlos, our guide for the Inca trail, explained how each level of the terraces was/is a micro climate for agriculture, which the Incas developed. The irrigation system was amazing. Also were the "showers" for cleansing the body. We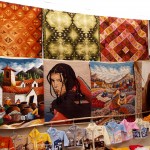 walked down the terraces and drove to Pisco Market John stayed and slept on the bus I walked around the market. It was colourful and so diverse with crafts of every type. Too many pushy vendors though. Bought some fruit for John, fantastic fruits….passion fruit, tangerines, clementines, sugar apples and may others. Lunch was with Jo and Catherine, a Spanish omelet, I'm still not able to eat much.
Next stop was to visit a brewery where local corn beer is made and to sample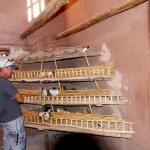 some – not for me!!! Even the smell reminded me of Fortunata's dinner and it did not look appealing. A second room was full of guinea pigs that were bred for the table – poor things. Some cowboys arrived on horse back. There was a toss the coin game into a frog's mouth and you win $5000 sols.
Arrived at Ollantaytambo – bought a cane for the trail, hotel was quaint, dinner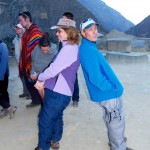 in the pretty town.
July 9th
Day 1 of the Inca Trail!!!
We drove down a  narrow windy dirt track that followed  a ledge, just the size of the van, along the side of the river. We finally reached, the start Km 82.
Here we handed over our duffel bags to the porters and excitedly awaited the start of our hike. I just could not believe that after the years of waiting we were finally there!!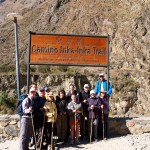 1st we went through the check point, I was nervous that something would go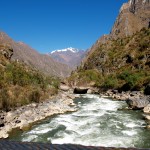 wrong and that we would not be able to go BUT we were through before I knew it, over the bridge and waiting on the other side for Carlos. There were a few problems with 2 of the other's papers and apparently even a good bribe does not work there.
Off on the trek along the riverside, (the French couple had gone ahead and not waited, this really annoyed the guides). The trail starts flattish with small ups and downs then starts to wind up – not too steeply among the trees and boulders, through a gorge then up a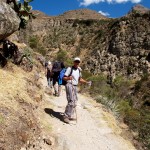 STEEP side of the mountain/plateau.
1st lunch stop – Wayllabama – we arrived and the porters had the lunch cooked,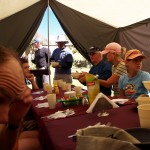 food tent up, table set inside and ready. We kneel and wash up in tiny plastic bowls, they race to deliver paper towel to dry with.  Then into the food tent to have lunch served. I didn't really feel like eating – BUT you have to – John felt sick and left the food tent to vomit, still having a terrible stomach, thanks to either the food or water at goodness knows where. Lunch was soup, a herbal type, followed by rice and chicken. It was very nicely cooked. There was also dessert of pudding. The porters made John a special Coca herb tea with the herbs they raced to the trees to find. We were given 15 mins to rest and then VAMOOSE——- we are told and off we go.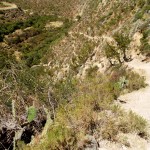 The trail continues up hill. It really is exhausting winding our way up and up the hilside through trees and gullies, higher and higher, stopping every so often to rest. Finally after 14K we make it to camp – Yunkachimpa.
We changed out of our very sweaty clothes, set up the sleeping bags, washed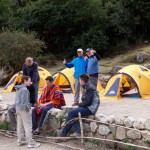 up in the little bowels they had set up outside for us and go to have tea. This was a really delicious experience!!! Hot chocolate and crackers with honey and jam. After all the strenuous work it was a wonderful treat. Back at the tent John felt like hell – his nausea was back full force, then I got TERRIBLE!! Cramps that ran from my knee to my groin in my left leg on the inside. I was practically screaming in pain, never had I ever felt any thing like it. John set about trying to massage my leg both of us feeling like hell by this time, what a sorry couple!!
We rested till dinner, ate as much as possible, as you have to eat, no choice according to the guides, there was soup, followed by beef, veg and rice, quite tasty, dessert being chocolate pudding. We both bravely ate as much as we could and limped off to bed. 8:00pm. Carlos arranged for me to have a massage to relieve my cramped left leg that was probably suffering from the effects of dehydration. He arrived in our little dome tent with coca leaves soaked in porters urine, he proceeded to massage the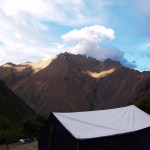 coca urine all over my leg pouring it on and then he strapped it up, top to bottom, it was not to be moved for the night. Murielle and Roger visited and gave me some conventional cream for my right leg, just in case. Off to sleep, however that proved to be quite difficult as the sleeping bag and liner were quite snug especially with my clothes still on and my leg wrapped, being 8pm, felt like I was a mummy! Meanwhile John was out cold – he felt so sick even with the remedies the porters were brewing up for him, herbs from the bushes boiled up with the standard Cocca leaves. I managed to sleep till 3am or so, then I HAD to pee – A real obstacle course – undo the sleeping bag and get out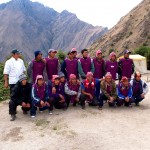 of the liner while not bending my left leg – put on jacket and boots while sitting in a dome tent – climb out while not bending my left leg – get down a slope to the bathroom – squat over hole in floor while trying to hold a torch and keep my balance – find banjo paper in my pocket – and back to tent to do reverse order. I made it and had another hour and a bit before we were up at: 5:00am
 July 10th
 Day 2 of the Inca Trail                     Yes, up at 5:00am, our porter called us asking wether we wanted tea or coffee, tea of course which he brought to the tent piping hot. Breakfast was at 5:15, one reason to sleep in your clothes, the other being the cold. We were still delicate John with the Inca Trotts and me with the cramps. Breakfast was great! Fruit, eggs, bread, tea. Off for the hardest days hike two passes in one day.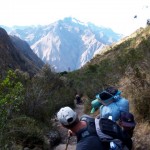 The first climb to Dead Woman's pass was VERY tough. It seemed to be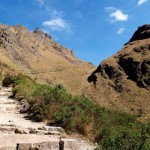 soooo far away and took ages to get closer. We, John and I, developed a system, walking with Murielle and Roger behind us and the assistant Oneillia behind them bringing up the rear (with the oxygen), we were the 50s club. We would do 40 – 70 steps then stop/rest/continue. Sounds ridiculous but that's how hard it was. This really worked as it broke it down into manageable sections. It also gave a chance for picture taking at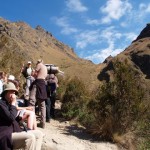 regular points.. The scenery was spectacular!! – lovely snowy peaks, lush green foliage, beautiful flowers, small streams,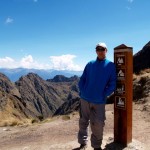 butterflies. After hours we finally reached Dead Woman's pass. It was very windy there and quite cold, (in sweaty clothes). We rested and it felt like it was the top of the world!!! A real accomplishment.
Then down the other side we went, great to be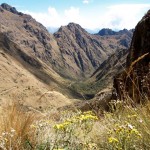 going down – however the terrain is steep and rough, so you had to be very careful, everyone seemed to come alive again, chatting and sharing stories.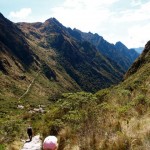 Lunch at Paqaymayo camp, was all ready for us by our porters when we arrived. They carry 45 Kilos on their backs, trott along, arrive, set up the tents for the food, cook a full 3 course lunch, boil us water to bathe in and drink, serve lunch, clean up and get to the next stop ahead of us every time, AMAZING MEN.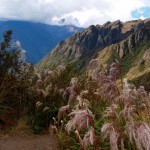 John felt really bad again/still he rested and had some Cocca tea with the regular herbs. I forced myself to eat some soup, and the chicken and rice. We rested in the grass after. Carlos gave us an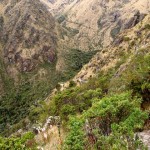 extra 15 minutes then "Vamoose!!!"
The next slope was TWICE as hard as we were tired and had full stomachs. It was slow but steady progress. Again 40 – 70 steps – stop/rest – off again. The scenery was spectacular – the slopes much steeper – seemed straight up at an amazing angle – EXTREMELY difficult!!!! At almost 14,000 feet, harder to breathe and you feel weak.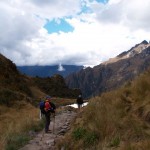 Finally the top/pass, a spectacular view, saw 2 ponds there and had a reasonable break before starting down the other side. We had broken the back of the trail. Going down again was very steep, with deep steps made of the rough stones the Incas had cut 100s of years before, the terrain was rough too, you had to be very careful not to twist an ankle.
Camp was Sayacmarca and we all welcomed it. The banjo was quite a hike
away from our tent site and took a while to get there. Tea time was again wonderful: popcorn and cookies with hot chocolate. We set up the inside of our tent asap  before the cold set in and it was dark, trying to keep warm. It was COLD/FREEZING!!
Dinner at 7:00 –soup, pasta and of course dessert, a quick visit to the banjo to do teeth and a final toilet stop. Great night's sleep, one visit to the banjo and getting used to the sleeping bag. It was a 16k day the toughest ever.
  July 11th
 Day 3 of the Inca Trail                Cold at 6:00am, frosty ground, Mark's temperature gauge read 5C,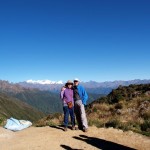 in the tent, outside was 0C.
Breakfast was very welcome and yummy as usual. Fruit, eggs, bread and tea, then…Vamoose!!!!
There was quite a bit of an uphill climb into the Cloud Forest which was very beautiful – the trees with ferns and bromeliads, orchids, mossy walls of the cliffs, the stone walkway and in the distance the snow covered peaks, tunnels cut in the cliff wall made decades and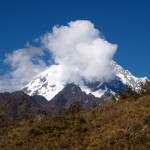 decades before as the only way to go. A sheer drop off to the left side, straight down looks like thousands of feet, the path just 2 – 3 feet wide, the porters hassle by on their way to set up lunch. A beautiful day. Then down and down we traveled,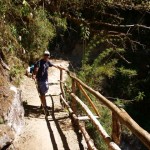 through tunnels excavated by Incas of long ago, so short we have to crawl through. Some steps so steep they look like vertical drops not steps cut into the side of the mountain, with people rock climbing down. You just climb down and hold on, looking down you see the tops of the heads of those below. The Cloud Forest was my favourite! Loved it!
Made camp by 1:00pm after 9 km. Lunch was great, (John still not well),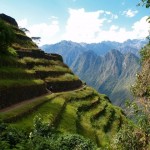 then off to the hostel/lodge for a hot shower. The first in days. Had a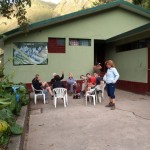 wonderful shower, even if it was rough showering below live electric wires in a very crude bathroom. Then out on the porch of the hostel for a beer, Chezveza with everyone. It was very relaxing! In fact some found it so relaxing they didn't want to move from there. Carlos took us to Winaywayna, you walk behind the hostel – out the trees and there it is……Just AMAZING The temple name means "Forever Young" It is a concave temple not convex like the others we have seen.  It faces the peaks that often have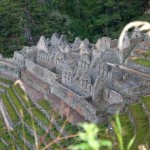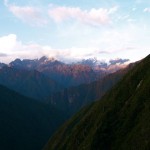 rainbows, this is represented by the 7 levels from the water "fountains" that run down the centre. It was incredibly peaceful and one of my favourite places ever. It was good for the soul. One person said that as you looked out you felt as if you were a bird soaring in the peaks.
Back for dinner – soup, spaghetti and sauce – very good. Bed by 8:30
Said good bye to the porters and had a little ceremony for them where we gave them all a tip each. They are up at 4:00am, down the mountain, drop off our gear, to get the 6:00am train from the town, to get to the beginning of the trail to start all over again, incredible men and such wonderful people.
July 12th,
  Day 4 of the Inca Trail    Up for 4:00am – dark out and we are on the edge of cliffs. Quick breakfast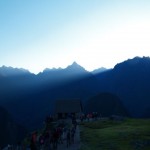 and off to catch the Temple of the Sun and Machu Picchu Flat paths along side the mountain with some up hill climbs. The drop offs were sheer, the pathways narrow and slippery in places. Had to move very quickly as we had 6k to do and had to get there as far ahead of other groups as possible. Not a pleasant early morning walk/run. There were steeps steps up to the temple of the sun, through the gate and then WOW!! Machu Picchu. We sat and stared for 10 minutes taking in our journey's end. Off again to catch the sun beams over Machu Picchu. It was awesome. Paulo arrived with champagne for us all. We did group pictures, hugs and congrats!! We had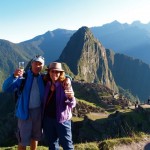 made it, it was a MAJOR accomplishment. The feeling is one of owning the world you are in, of being capable of great feats, on top of the world.
Carlos took us for a 2 hour tour to show us all of the major areas. Machu Picchu is huge and very complex, quite an amazing place – and the Incas were so very advanced in every way. Stunningly beautiful architecture, landscape and scenery. We were given until 1:00pm to roam around – I had a funny turn – felt faint, so took a 20 min time out with Laars and Mette,
guess it was dehydration. The lamas were acting up, acting quite aggressive with each other, mating season maybe. There were lovely humming birds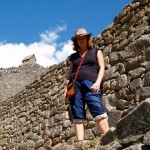 feeding from the flowers, we wandered around and then met up at the café by the entrance.
Piled onto one of the buses down to the town below: Aguuas Calientes, round and around the s shaped bends for half an hour till we got down, yes half an hour of switch backs.
Met up with everyone and went to a quaint restaurant run by a couple, had to walk through all the alleyways to get there, it was perched, literally, on the side of a mountain. The food was excellent.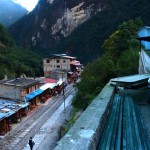 After lunch we spent a few hours exploring Calientes, a very colourful town, full of crafts for sale, all down the center of the railway tracks that run through the middle of the town. Reason being that that is where the town grew from, no planning involved, it just grew out from the railway lines and up the mountain side. Met up with everyone in the town square – a little girl – Anita – was there collecting and playing with trash. She was 3 or 4, we fed her our snacks – she seemed hungry, her mother works in the laundry – she roams the streets. Caught the train back to Cusco. It traveled through the mountains, quite lovely but nothing compared to the Trail. Cancelled our dinner out at a family home, too tired and it was too late. Went to a little restaurant for pizza and pisco sours for dinner. John was starting to have a normal stomach.
Day 13:
July 13th   Woke up to John being sick again. Seemed to have reinfected himself, poor John. I was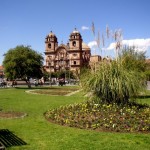 pretty sure he was getting the water in his mouth while showering or he had brushed his teeth in it. The water is lethal. Each time his sickness has started in Cuscu….has to be the water.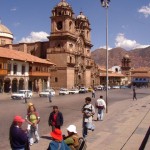 Had breakfast, took laundry to be done, walked around Cusco, John dragged himself. Ate ice cream on the square and watched everyone, walked some more, had lunch in the next square. Cusco is a really beautiful city. Very, very, old, full of narrow ally ways with lovely architecture. We walked to the Craft Market, bought our gifts but John felt so ill we decided to go back to the hotel. We rested and went for our Amazon briefing, said good –bye to the Irish, they were off to Bolivia. Everyone went off to dinner at a local house, except John and me, Laars and Mette, Laars was sick too. Plus we had to get up early again.
Day 14:
July 14th    Left early for the short flight to Pueto Macdonald in the Amazon.
The airport was very small, had a bus ride along a very bumpy, unpaved jungle road to the river. On the way we stopped at the "office" to use the bathroom. We skipped the tour of Pueto Macdonald as a bridge had been washed away.
Boarded a canoe with an outboard on the back – all the luggage too – it was quite tippy – had a 3 hour ride up the Amazon River to our destination. The ride was lovely but hard on your posterior.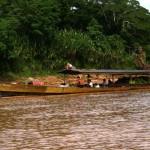 The river is quite fast flowing in areas, very brown. The vegetation is thick. People living along the banks of the first stretch, can see sugarcane, bananas and other crops being grown. In these areas the trees have been cleared – slash and burn – it ruins the jungle.
Gold miners were panning for gold, fouling the water with mercury, the whole food chain is polluted, the locals can't eat the fish.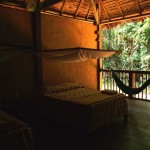 In the reserve there is no fishing, panning or agriculture. It is untouched and very beautiful. We arrive and walk in land to the lodge. The trees are HUGE, there is very little undergrowth. You can hear the macaws, monkeys and howler monkeys that howl like the wind, it's an unbelievable sound.
The lodge is amazing, built of wood with open rooms, central meeting area and eating areas, only 18 rooms for guests, I loved it.
The first walk was to the lookout tower; we climbed to the top and looked out over the whole jungle. As far as the eye could see that's all there was, jungle. Our guide was
Christina. Dinner was delicious, all cooked by the locals. They work in the lodges, run the boats and are training to take over the whole facility/reserve.
Day 15:
July 15th     Up early and off to the lake – an ox-bow lake. The lodge canoe took us up-river, we walked across the jungle to the lake where we got on to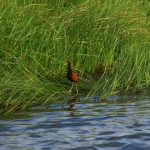 a flat boat to observe the Giant Otter. We saw numerous birds, of many species, we did see the giant Otter, 2 in fact, plus a Black Caiman, which is very rare and a Green Snake. We fished for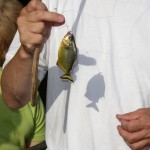 Piranha and did catch quite a few. It was a lovely morning.
Back to the lodge for lunch and then off to the clay lick, we were very lucky as it was full of Scarlet macaws. They were feasting off the clay, we watched until they flew off.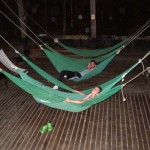 Later in the afternoon we rested and had a jungle walk where we learned about how all the trees, plants and insects are dependant upon one another. Saw the ants that give you the most painful bite, they are HUGE, about an inch long. They only live in certain trees.
Visited the Shaman's (medicine Doctor's) medicinal garden. It was an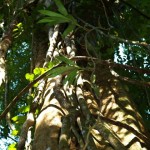 interesting tour to hear how all the plants are used for medicinal purposes. He can cure anything. We returned in the dark by torch light and saw a Pink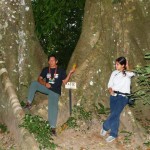 Tipped Tarantula, it was the size of a dinner plate. Then we had a huge beetle/roach in the lodge, it was the size of John's hand and made a clicking hissing sound, uck!
Dinner and bed, I loved the mosquito net bed, felt quite safe in it even when I could hear creatures moving around the room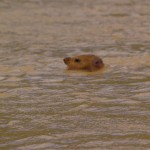 and below the bed. Yes, lots of movement in the rooms at night as it's wide open to the jungle.
Day 16: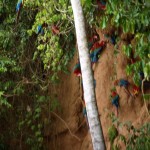 July 16th,    Bags packed and off to Tambopata Research Center, (TRC), 4 hours in the canoe up river.
The trip was amazing. We stopped at check points, Leah was stung by a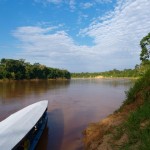 wasp at one. We had lunch wrapped in a banana leaf, it was some potato/cheese/cake-like dish. Not my favourite dish but the fruit was fantastic. Saw a river otter, a Giant Anteater, (very rare), many birds of different species, monkeys and butterflies everywhere by the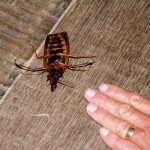 thousands all with amazing colours.
TRC had researchers and a photographer form World Wildlife staying. It was also about 22 rooms in size, wooden and open planned. It was quite a long walk in land from the river to get there. Roberto was the guide there. We had a jungle walk after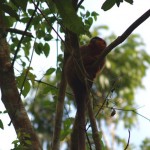 we arrived. The Canadians were very annoying as usual, noisy. Saw some huge trees. The jungle is much wetter and denser there. Just as noisy with wildlife as before, full of macaws. Dinner was great, as usual.
Day 17: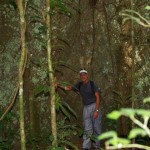 July 17th,      Up at 4:30 – dressed and off to the clay-lick. Rode in a canoe upriver, climbed out on a mud-bar on the side of a tributary of the river. Walked in silence, in the dark, along a pathway to the observation area. Waited for dawn, (boring).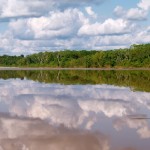 Then, we could hear the macaws, parrots and parakeets arriving in great flocks. Just huge flocks of them from everywhere all squawking noisily, it was quite a sight. They feasted on the clay lick in their family/flocks, reds together, greens together and so on. Then as they get annoyed with each other they'd squark, fly off, circle as a flock and resettle for more. They need the clay to stay healthy and without it would die. There were huge swarms of mosquitoes too. Managed to get lots of bites everywhere even through clothing. It was not a sunny day and a bit overcast so getting photos was difficult especially as the birds don't hold still. Returned to TRC for breakfast. The professional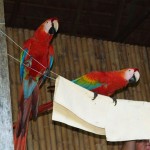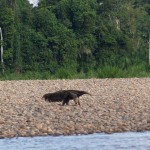 researchers and photographers stayed there, they are allowed up much closer.
We went for a 3 hour hike into the jungle with Roberto, saw the clay-lick from above, butterflies of all types and colours, a herd of peccaries, macaws of all types by the flock and many bird species. We got "stuck" in the outer reaches of the area and had to turn back as we could have become "lost". It was very muddy in places but lots of fun. Got back just in time for lunch. Excellent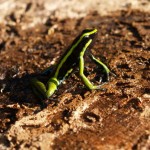 lunch, relaxed in a hammock, read, chilled out in the afternoon The Chicos, (red macaws) visited the kitchen, I managed to get quite close and photograph them. The WWF photographer was taking pictures of a Poison Dart Frog and he let me take some too. It was a very beautiful green, turquoise and black. Got some shots of the vultures that hang out by the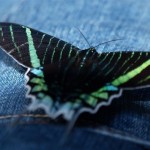 kitchen too. Oh and butterflies too. It was a very relaxing afternoon, beautiful sunset, great dinner. As it was Sylva's Birthday I gave her some glass necklaces from Bermuda and the kitchen made her a cake, it was fun.
Day 18:
July 18th,       Fantastic breakfast – pancakes and the chicos visited, they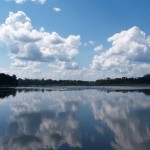 always come for pancakes. Then I found one at the "window" of our "room", it had visited the neighbouring "room" and had helped itself to a bar of soap. (you are told not to leave anything out at all and in fact you have a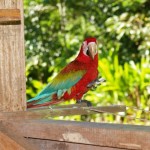 food safe for any food you carry as the animals, birds, insects and jungle residents will take anything left out. One story tells of someone "loosing" their heart medication, and being 7 hours away from any form of help). So there was a chico eating the bar of soap. He then visited other rooms checking out all the possibilities. They are just beautiful birds.
Relaxed for a few hours and then off we went by canoe, down river for 5 hours to a lodge. Another great journey, beautiful scenery, the river changes constantly. Again we saw numerous birds including the national bird of Peru which is now quite rare.
Lunch was again wrapped in a banana leaf and was a quiche – not bad. Stopped once at a check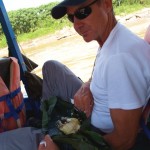 point and bathroom stop. The river was flowing quite quickly. The new lodge was newer than the others and was bigger, (not as homely). Dropped off the bags then out we went, off to a lake. Another canoe trip there, half an hour walk, out on a flat boat on the lake where we met another group and proceeded to fish for piranhas and bird watch until sunset. Saw some bats roosting on the side of a log, they were very small and sweet looking.
Walked in the dark for half an hour back to the canoe, saw some HUGE spiders, again the size of dinner plates. At the river we were looking for caiman. It was pitch dark and their eyes glow like stars in the river. The guides would shine the torch to attract them. We traveled back slowly and stopped at one point to look at the night sky which was aglow with stars. We got back late for dinner and poor John didn't get his beer.
Day 19: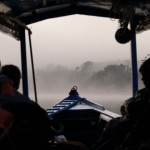 July 19th,      Up really early – 4:00am Bags ready and a quick breakfast – excellent fruit and yogurt. Off in the dark by a motorized canoe. It was very foggy. I don't know how the driver knew where to go – it was so dark, foggy, with a fast flowing river that had rapids at some points and was winding, just don't know how he navigated it. Dawn came slowly – it was eerie and beautiful. Arrived at the river bank, climbed up to the bus and rode to Puerto Maldonado airport.
The airport was incredibly small, one room – we had a 2 hour wait. Finally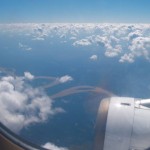 flew to Cusco then to Lima. Caught a bus with the Canadians, they moaned about the cost: 50 sols – that's $15 or so, really cheap.
The hotel was a new one – quite nice. We walked about Lima, the Flores district for a while and found a TGI Fridays, John had to have regular food, it was okay nothing special but at least John could eat the food. (his guts were still bad, had been on antibiotics that we had brought and was still loosing blood too, those Cusco bacteria are nasty)
Day 20:
July 20th,     Last day – We had breakfast then went on a tour of Lima. Visited the "Lover" 1st. Then we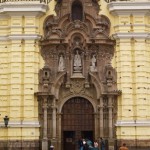 saw the ancient pyramid, it was huge! Much of it is still covered by the city in order to protect it. The bricks are all adobe.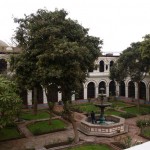 Then to the downtown city square – a very dangerous area/place. I was sooo nervous, kept my camera well hidden. It was an attractive city square, the architecture was lovely and so well maintained compared to the rest of  the city. The President's residence was humongous absolutely enormous. There were police everywhere in riot gear with shields – armed to the teeth – armoured tanks, guards – machine guns – all very intimidating.
We walked to the Benedictine monastery, there are still monks living there. It was like stepping waaay back in time. The tile work, woodwork and masonry was all the original from the 1600s. The artwork was unbelievable, just amazing. In the library the original books were on the shelves or on display, just as they had been for hundreds of years. The whole experience was unbelievable.
Then down we traveled to the Catacombs. There were rooms and corridors and layers and layers of bones and bones and skulls and more bones and skulls. They had placed all the bodies down there over the years and just covered them with lime. Not buried them! Apparently the smell would waft up through the grates in the floors. There are actually several "floors" or levels of catacombs. The ceiling down there is very low, adobe is again the building material used (no concrete or brick), with small doorways, so it is quite claustrophobic and HOT, moldy smelling. NOT a nice space/place.
We visited a church where all the children were "in school" as there is a shortage of space for school rooms.  Drove by the wealthier properties, which were heavily guarded and protected.
In the afternoon we walked to the Indian Market and purchased the rest of our gifts. Such an interesting place with all of the crafts. Walked back, finished packing, ordered a taxi, dinner and bed.
Hated to leave, fantastic country and people.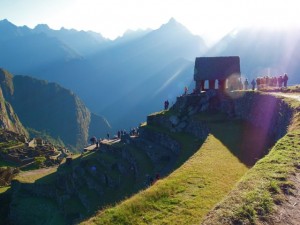 British Virgin islands

 JUNE 30TH 2007
We had the early flight to Miami so were up and out ……. The first stumbling block was US customs, they insisted that John had to fill out their visa form, we then hit security where the lady there took my sun block from me, as it was a liquid, by then we just had time to board before we took off.  Arrived with plenty of time in Miami, found our gate and waited. Waited and waited, I went to use the lady's room while John went to check the status of the flight……..only to be told, "Sir we have boarded already your flight is closed, you missed the flight" PANIC ATTACK We never heard the flight being called and we were right there, could be as it was all in Spanish?? I was hyperventilating as we had to get to Beef Island as we picked the boat up the following day. "No, there are no more flights available today to San Juan". We decided to try to go through St. John. Then, while we were inquiring and trying to very politely explain our situation a small miracle happened, 2 seats were found on a flight to San Juan. Talk about relief!! Our "new" flight to San Juan was delayed by 90 minutes. Finally arrived in  San Juan to be faced with another delay of 90 minutes till we could leave for Beef Island. We arrived there at about 1:15 am Bermuda time, what a long day.
A very nice taxi man took us to The Tamarind Club where we were staying for the night. Upon arriving there they had left out a notice for us with our room number so we could check ourselves in. We fell into bed.
 July 1st     
We had a very nice poolside breakfast, a quick look around and we were off to pick up the boat. The drive there was over the surrounding mountain tops, the view was spectacular, the roads narrow and twisting.
Arrived at Conch Charters, started straight in with our briefing. Saw the "Hasta La Vista" went on board for our on board briefing, the provisions arrived, checked them off, check a few odds and ends. Then before we knew it we were escorted to the channel and off we went. Sailed towards Norman Island, free at last!!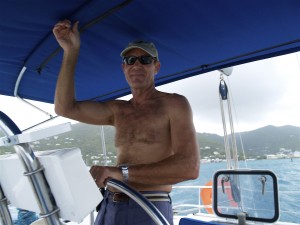 We sailed past Pelican Island and into the Blight where we picked up a mooring for the night. We arrived at about 3:30.  Set up the boat by unpacking the provisions, putting our bags in one stateroom and setting up the stern stateroom as our head quarters. Hasta was very roomy for the 2 of us: 2 heads with showers, 2 staterooms, a large galley and dining area with chart table, luxury for just the 2 of us. The fellow came and collected our mooring fee, John got a rum punch voucher. Over board for a swim then a shower on the stern and off to the beach bar, Pirates Blight, for a drink, (John's rum punch) and dinner.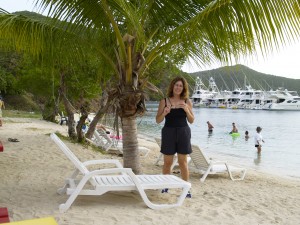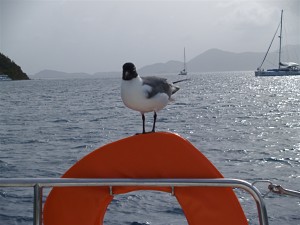 July 2nd    We both had a great night's sleep. Breakfast topside and we were off to Privateer Bay. There we snorkeler the Caves. These caves are where the pirates used to hid their treasure. The real Treasure Island strong-hold. As it is a popular spot we were there early and it was relatively quiet. The water is crystal clear, visibility great. There fish life abounds, numerous species, the corals too are plentiful. In the caves it was dark and we did need our underwater torches, swam to the ends of each cave and climbed out to explore. Each one either lead to another cave or to a small beach. Swimming out I did not need my torch as the light was ahead of us so I stuck it in my bathing suit which really amused John as I had this lump right in the "wrong" spot.
One fellow snorkeler even stopped John to tell him he still had the camera on his arm, he had never seen an under water camera so compact and cool.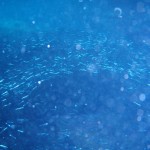 We moved the dingy along the shore a few hundred feet and snorkeled to Treasure Point and around to Carvel. The snorkeling was just incredible. The best that either of us had ever experienced. The fish are not afraid of you and even barracudas just come right up and glide on by. I found a really amazing Helmet Shell and a Scotch Bonnet. Took pics and returned them as they were alive. Plenty of dead shells on the bottom to fill by bag.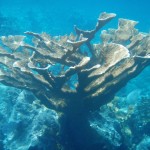 Returned to Hasta for lunch top-side.
After lunch and a read on deck we traveled by dingy to The Needles. The snorkeling there was unreal. Schools and schools of fish and fry with the sea birds and pelicans swooping down to gobble them up. The place was so alive. The coral beautiful, deep so no shelling but very exciting. Next stop was Pelican Island, couldn't moor the dingy safely so I jumped in for a look and a short stroll on the shore while John hung off the island. Again it was absolutely stunning below surface, bit rough with a current but that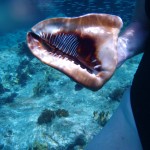 seems to be the norm. Final stop for the day was Kelly Bay. John loved this the most. Again the fish were numerous, the corals were very healthy and some of the Elk horn just huge A great day
Drinks and dinner at "The Pirate". John had shrimp and Jen Mai Mai, very nice, bed 9:45.
  July 3rd  
 The wind was 10 – 15 knots from the east, breakfast and off to Jost Van Dyke. We sailed via the passage between St John and Tortola. The islands looking beautiful from the sea. Frenchman's Cay looked very inviting. Then we sailed through Little Thatch cut, past Little Thatch, Great Thatch Island and Steele Point towards Jost. We decided to anchor at  East End Harbour which is between Jost Van Dyke and Little Jost. It was quite windy but we were able to get a moorings quite close in and so it was some what sheltered.
Our first stop was to a little beach on Little Jost. It was a hit with me as there were numerous dead conches in the water just off the beach, would have liked to keep them all but settled for 1.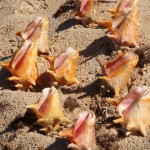 We swam for a while then moved across the way to Sandy Spit and Green Cay. They looked marvelous from afar, and up close they looked even better, beautiful turquoise water fantastic beach. However when we went snorkeling all the reef was dead! It was very disappointing. Don't know if it was bleaching, storm surge or what, the reef was covered in algae, there was some coral trying to come back. The water there was also very shallow so we left. Back at the boat we had lunch and relaxed then set off for the shore and the Bubbling Baths. It was a bit of a trek to the baths which we found were not bubbling at all but just a pool in the rocks. Decided to snorkel on the outside of the area. The scenery was again very bland just rocks, few fish and little coral. Our land explorations were more exciting as I found a $100 US bill. We walked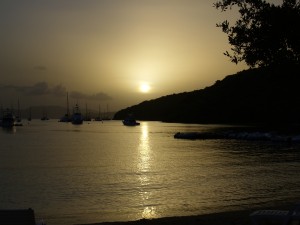 back to Foxy's to have a drink, found the staff to be grumpy, so left quickly. We snorkeled in the bay where we were moored and went wading in the shallows, it was a nice way to finish the day.
Dinner was barbecued kebabs, wild rice and Caesar salad on board.
July 4th  
 Before breakfast we motored over to Sandy Cay and anchored in the sand. It is a very beautiful island. Snorkeled for a while then had breakfast and went ashore to walk around. Ended up walking around most of the island. It is larger than it looks, just so beautiful.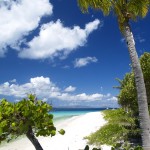 Saw a hermit crab and many sea birds. By that time the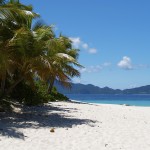 boats had arrived and the beach was filling up so off we went to Little Harbour. There we picked up a mooring and went ashore for supplies and ice from Harris's. After finding out that supplies are meager we went to the dock in the "marina" for fuel. This too was a process as we were disturbing a show on the local TV that the marina workers were watching.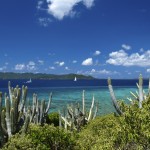 Finally all stocked up we moored again and went to get lunch. Sidney's Peace and Love Bar was our final destination where we had to serve ourselves to drinks at a trust bar. The ladies very kindly interrupted their TV show to make up a very nice lunch of hamburgers and French fries.
After lunch we motored to Whitebay but found that there weren't any free moorings and as you can't anchor we proceeded to Big harbour where we did anchor.
Went ashore and walked around. It was an education in island life. Foxy's bar served excellent pain-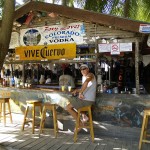 killers, had 2. Looked around the "shops" and strolled the street along the shore. Walked up a lane where there were several locals indulging in an evening smoke, out popped a little boy, maybe 3 years old. He started following us and said "hello mother fu—kers" and keeps following us……..
John  says "sweet kid, what did he say?"
I said, "he said, hello mother fu—ers, I can't believe a child that age………"
John turns and says hello back in the same friendly fashion and the child just beamed he was so happy. He had no idea what he was saying!!!!
Stopped for a few more pain killers in the "village" before going back to Foxy's for dinner. Conch fritters and wahoo for dinner and it was excellent.
July 5th    
Set off for Monkey point. We started to sail there but the wind was not in the correct direction, was funneling through the islands and it would have meant tacking out to sea. The sea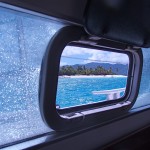 conditions were quite rough, waves 3 – 4 feet, so we motored, John was very disappointed.
We snorkeled and saw turtles, lots of squid, plenty of fish and much coral. It was a pretty area. We also snorkeled at the bay on the other side. Here it was quite bare with little to see. We had lunch and then set off for Lee Bay which was, according to the cruising guide, a quiet bay. It was quite a long haul up wind, so we were happy to finally arrive. We took a while to drop the anchor as it is a deep bay with little sand, mainly a rocky bottom. There were a few massive 60 -80 foot Sports Fisherman's boats further in the bay tied off the shore. Again we snorkeled the bay and found it to be wild and lovely. Deeper water and so there was all kinds of fish, turtles and coral life. The sea birds were also very active as were the large schools of fish about. Meanwhile many more Sports Fisherman's boats steamed into the quiet bay. (Their tenders were regular sized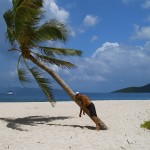 whalers/tierras of 15 – 20 foot or so, which their kids drove). They were obviously Puerto Ricans that had motored over from Puerto Rico a mere 90 miles away and were spending a holiday weekend in the quiet of Lee Bay. They in-fact all tied off the beach and in the end the whole beach was theirs, all 20+ boats and families.
We still ventured ashore in the bay and walked across the dry pond behind the beach, through the trees to a beach on the other side. This area being known as Lee Cut National Park or so the sign said. Here there was a very pretty beach which we walked and explored, found an abandoned beach "hut".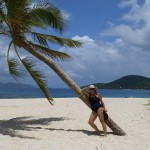 Back on board we served drinks and had rock hens for dinner. Our "neighbours" never disturbed us nor we them.
July 6th    
After breakfast we set off for Virgin Gorda. Again we were only able to sail for a bit as we were not in a comfortable wind direction. Poor John, he was very sad. We motored between Little Camanoe and Great Camanoe, past Marina Cay and Beef Island, then set sail for the shore of Virgin Gorda. From there we motored to the North Harbour where we anchored off of Vixen Point, Prickly Pear Island.  We swam ashore, walked the beach and explored. The beach facility looked abandoned and so we had burgers on board for lunch.
The North Harbour is very lovely. Completely surrounded by land some rising to about 1000 foot on the mainland. The rest of the land being islands that are quite fancy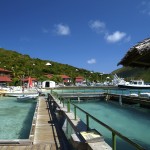 marinas. We set off in the dingy to explore, Saba island and Bitter End Resort, both of which are very, very nice resorts with all the luxuries. Popped around to Virgin Sound and swam in the SHALLOW reef/bar. I've never seen any thing like it. The reef is like at surface level so snorkeling is impossible, well nearly impossible. It's a grassy reef too with lots of conchs and urchins. Can't walk on it as the surface is sharp, all coral and kills the creatures. So we spent some time wallowing in the shallows then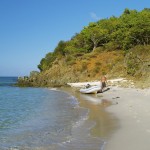 moved on to a beach at the back of Prickly Pear. We swam ashore, walked the beach and explored. Found numerous conch shells on the beach. The beaches behind Prickly Pear Island were lovely, long and untouched. They face Necker Island and Eustatia Islands, which are private, you can go on their beaches but not the land, Necker is Sir Richard Branson's and looks quite the spot. We were very happy with our beaches, went snorkeling along the off shore reef, it was a very long swim and the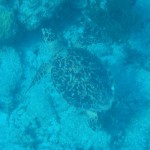 current was very challenging. We were both sure that there was a shark around when we were swimming back could see the distant shape/shadow and all the fish had taken off. The reef along that side was again somewhat damaged, some lovely corals and plenty of fish. The water was too shallow over the reef to swim so we had swum along the deeper outside towards the open water.
That evening we went ashore to the Bitter End resort for drinks and then to a seafood buffet. The food was excellent
 July 7th    
In the morning we set about doing chores, cleaning out the fridge, getting diesel, water ice and supplies from Bitter End Harbour. The people were friendly and helpful. There were many high end motor yachts and boats moored and anchored. The place to be I guess.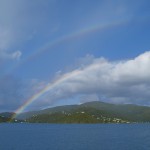 In the afternoon we returned to the beaches behind Prickly Pear and continued to explore them. It was excellent. Then we snorkeled the reef off of Necker Island. The reef was very damaged, a lot of it dead. Found tons of dead conchs. We had an enjoyable afternoon.
Dinner that night was at the pub ashore. Ordered a rotti, it was ok nothing special. The Painkillers were excellent!!!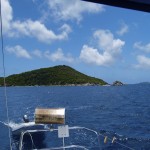 July 8th    
After our usual delicious breakfast topside we set off for The Dogs. We were able to sail there so John was in good spirits. We picked up a mooring off of George Dog. The snorkeling was excellent. Deep water and as its so well flushed there was a huge variety of life.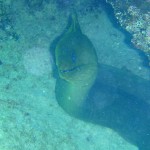 We saw turtles, squid, schools and schools of fish, many other fish and lovely corals of numerous types.  A good snorkel. We had lunch on board; well there's nothing on those islands anyway, then made our way to Virgin Gorda, Spanish Town. We had to meet the ferry, our gas had run out and we had arranged to pick up another bottle and it was being sent on the ferry. We picked up a mooring in the entrance to Spanish Town, as that was where the ferry stop was and we went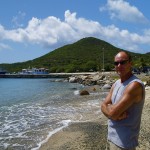 ashore to wait. The ferry finally arrived and john was able to pick up our bottle from the dock when it was unloaded, just like that. Back to the boat we went to have a cup of tea, that's what we really had missed from the morning when we realized that the gas had run out. We went in the dingy around the shoreline and explored, stopping to snorkel at the beaches we saw. The sand was black on some of them.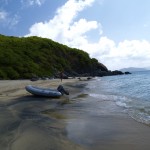 At first I thought it was dirty or had oil in it, but no, it was black sand, in fact it was quite pretty, made a nice contrast for pictures.
Snorkeling was adventurous; we saw a green moray that wanted to come out of its hole to us. John saw a huge barracuda. We would see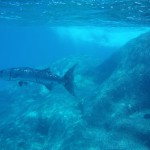 barracudas every day and often they would be just below the keel but this was a record breaker! I had the creeps snorkeling there, as it was an entrance to the main port, be it small, just felt it wasn't safe. However the snorkeling was good.
We took the dingy ashore in the evening. Had a look around. There really was very little there. One or two shops, a restaurant, a few marine places and that's all. I think most of the settlement in inland. Anyway we looked around the boatyard. There were many beautiful boats being stored there. Plus lots for sale, we walked up and down the rows speculating on which we would buy if only…….well maybe one day. Dinner was at "Bath and Turtle Pub", fish and chips, rockfish, again a nice dinner.
 July 9th    
We rose early and set off up the coast for The Baths. Reason being it was/is a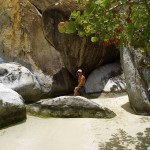 very popular destination. Here we picked up a mooring buoy, had breakfast and swam ashore. As soon as we were in the water we saw a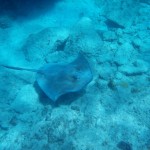 ray which we followed in to the shallows. Climbed out and set off exploring the amazing boulder strewn beaches of the baths. They are named for the areas between the boulders that form natural baths. The rock formations are really quite amazing, the colours and reflections that are created are stunning. The only down side is that you have to share the area with other tourists. Following the trail which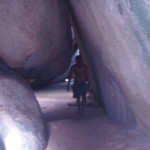 leads up, down, through, around and under these huge boulders you wade and climb in a really unique landscape.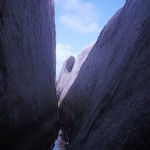 We really enjoyed ourselves. After reaching the end we snorkeled, and WOW, its even better in the deep water. The boulders are strewn along the coast, the side are covered in coral formations with numerous fish and sea-life throughout. The areas between forming crazy tunnels and caverns to explore. Again we just had an excellent time. We even filmed an octopus that had been in the process of attacking a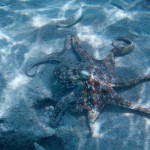 Queen conch. Yes I saved the conch to live another day.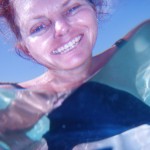 Returning to the Hasta, we had a snack and the took the dingy ashore, John dropping me and the camera off. Off we set to explore more and to take some more photos. We followed the trail along the coast and then inland. Great walk but SOOO hot!!  Did manage to see a lizard/skink.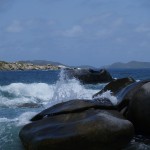 Back to Hasta for lunch, cheese rolls. Then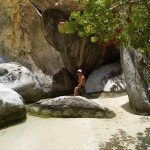 off to Cooper's Island. There was a very large swell on the way. John reckoned that I would be fine at sea as the swell really didn't bother me. Was able to feel perfectly comfortable, you adapt so quickly. Picked up a mooring buoy at Coopers. We went ashore, booked dinner, walked the beach and looked around. Not much area to explore, it's the first place where they had :Keep out Private property signs.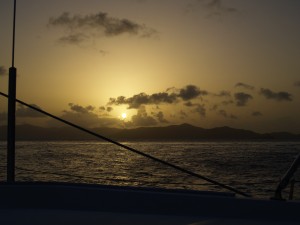 Guess as they have a small resort there they don't want outsiders in for free. Swam off the boat, read, relaxed and a few drinks, enjoyed the sunset. Dinner was at 7:00pm, Conch Fritters followed by seared tuna for me and Mai Mai for John, very good again.
 July 10th    
Set off for Salt Island before breakfast. Pick up a mooring buoy next to the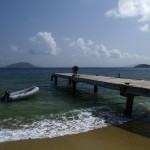 wreck of The Rhone. After breakfast we went ashore in the dingy to explore Salt Island. We tied up to the wooden jetty. Salt island is an abandoned settlement that until just a few years ago was still inhabited by an elderly fellow, who had grown up there, and still raked salt for sale. Anyway we found one man, a rasta, sitting under a palm tree. He seemed to be in a semi coma as he just barely moved and acknowledged us when we greeted him. He was so skinny and grubby, in need of a few good meals I really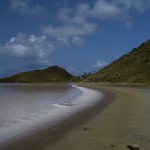 wondered how he survived. Off we went and walked around the salt lake/pond. The salt formations were unique and beautiful in a stark way. On the far side of the lake we climbed over the hill to the rocky coast on the other side. There I stumbled over bones and hooves from goats, then looking around we could see several lowers legs and other goat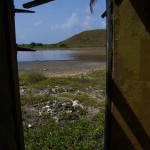 bit and pieces, we figured out the diet of the rasta…. back around the lake we explored the settlement, it was quite eerie but lovely too. Back to the boat and over board to explore the wreck of The Rhone. Again the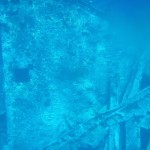 snorkeling was exciting, saw a large sting ray, the coral was not as healthy but still it was interesting to check out the wreck.
We returned to Cooper's Island and picked up a mooring buoy at the other side of the bay, it was calmer there, less swell. After lunch we set out in the dingy to explore the far side of Coopers where we could go ashore. We walked, followed a path and ended up on the far side of the island on what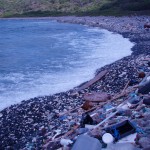 must be Trash bay.  Never have I seen some much trash washed ashore. The closest landfall is Africa so I guess everything between there and Africa ends up on Trash Bay. Quite fascinating to walk there. There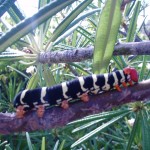 were huge catarpillers climbing on the Frangipani trees.    We went snorkeling on the other shore, it was ok but with quite a strong current. Heard cats crying on the shore, must have been goats as there was nothing there and only goats live there. Went back to the boat to relax. Watched a woman swim past the boat and disappear in to the distance, going towards Salt Island. Don't know what she was doing, seemed crazy to me. Anyway after dark, several hours later a boat was out looking for her, and yes they eventually returned with her, very strange, maybe she swam to visit the rasta on Salt island????? Dinner was a large barbecue, needed to cook all the food on the barbecue as it was the last of the coals and YES we had run out of gas AGAIN! The boat had a gas leak and we did not do as we should have and turned the gas off. Oh well, the scary part was no tea!
Ate our sword fish, peas, rice and mushrooms, carrot cake for dessert. Bed by 8:30
  July 11th    
Set sail to Peter Island. It has a large luxury resort on it but allows you to use the facilities for a fee. Dropped into the marina to get water and ice, were hoping they would have gas, no such luck. We were having to use the hot water from the boat for our tea and it tasted nasty. We made a second stop on Peter at Little Harbour.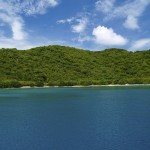 Explored the bay and snorkeled, really nothing much there. Some ruins on the land, nasty prickly bushes, water in the bay was cloudy, not much really to see. Lunch and set sail for Norman Island.  Picked up a mooring at Kelly Cove. This had been John's favourite spot to snorkel. Spent the afternoon snorkeling around the shore of the cove. It really was lovely, full of life. We  set off for the Willy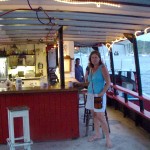 Nelson, pirate ship for drinks and a dinner of steak. Excellent meal and a fun night. Trust me to fall when getting from the dingy on to Hasta when we returned. Could feel myself going and then I was gone, bang onto the transom, landed on my ribs, really hurt and then fell in so I had to strip down and shower, not fun!
 July 12th    
After breakfast we went to the anchorage by the Caves, Norman Island. Snorkeled all along the shore, it was excellent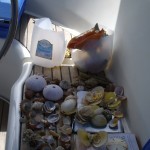 again. Found my Helmet shell, I couldn't keep it as it was alive, so took a picture of it. Walked the beaches and collected shells. Had lunch and relaxed, we felt too relaxed and so moved while we still could down the shore to the Blight. Picked up a mooring buoy on the other side of the bay. Relaxed some more and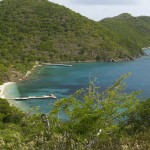 then before we could change our minds we set off to hike the slopes of Norman Island. Set off up a goat path at the end of the beach by the beach bar, straight up, beautiful view. Following the path we found a trail from rough terrain vehicles, (didn't even know there were any on the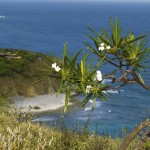 island), followed this until we came across a newly cleared "road". Followed this until we saw what was happening, clearing for a new development—-just so sad, another area for ever ruined for progress. The views were stunning. The shore on the other side was wild and untouched. One day I'd love to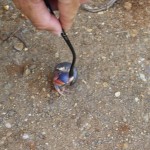 snorkel there. Saw loads of Helmet crabs, an excellent walk!!!!
Returned to Hasta to pack our bags, sadly getting ready to leave……Swam off of the boat,  saw a huge barracuda, freshened up and went ashore for dinner. Tuna for me, Mai Mai for John it was very good again. Bed not long after 8:00pm closer to 9:00 maybe, after star gazing and reading.
 July 13th    
Sailed back to Tortola, returned Hasta. Cleaned it up, hired a car and found the Tamarind Club. We were met by the manager who greeted us with pain killers to remember – WOW, but they were good. Got our room, #4 had a wonderful lunch of tamarind Club sandwich and Mai mai fish sandwich, excellent food, unpacked sort of and read by the pool. Walked down the road to the beach, Josaih Bay. A really beautiful, wild beach. We enjoyed the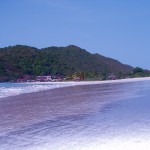 surf, had a drink at the beach bar and wandered back to tidy up for dinner. Participated in Quizz night, didn't do very well but it was fun. Dinner of seared tuna was the best ever.
 July 14th  
 Breakfasted and off to Road Town in our little SUV. We bought gifts for everyone, only went in a few shops, John's not a very good shopper bought our ferry tickets to Anegada. Headed out sight seeing. Left Road Town on the coast road  towards Frenchman's Cay.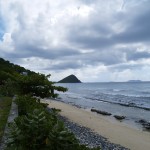 We stopped along the way to enjoy the views, really is very pretty. Frenchman's Cay is a beautiful harbour, definitely high end. Had lunch at the Jolly Roger across the bay. It was a good lunch but I was pleased that we had chosen to stay at the Tamarimd Club instead. Followed the coast road down an extremely bumpy unpaved road, up climbs that went straight up, down the other side that went straight down, just crazy I wanted to walk,  along the coast and around to Josiah Bay. Stopped to admire the beaches and scenery, but it really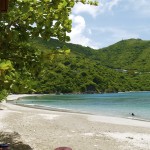 was too scary. The swim at Josiah was great, the swell was huge. Back to the Tamarind Club for dinner, seared tuna again, really is excellent.
 July 15th    
After breakfast we set out for a day exploring the interior of Tortola. Our first stop was Sage Mountain National Park.  We found it to be quite over grown and neglected but the views were stunning. Our next part of the journey proved to be heart stopping for me. Really the roads just go straight up and down. They don't use bends around the mountains or rails on the sides, they just build rough roads that go nearly vertically straight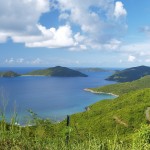 up towards the sky, you go over the top and then you have to go straight down as you would on a roller coaster with out any safety gear!! I really had to make myself stay in the SUV and not walk. We toured all the areas that we had not seen and stopped at Cane Bay for lunch at Myletts. After lunch we took the coast road back to St John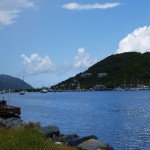 and Josiah Bay. There we swam in the huge surf that was again rolling into the bay while a thunderstorm raged overhead. It was wild, felt like being a teenager again. Back at the Tamarind Club we enjoyed a delicious dinner….seared tuna again!!
July 16th  
 Up early to catch the 7:00am ferry to Anagada.
We were both excited to see what the island is like, would have sailed there but as it was our 1st time bareboating we were not permitted. Anagada is 18 miles north east of Tortola, a coral island, in the middle of nowhere, a population of 200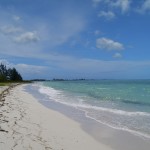 they say. The ferry ride was the fist surprise. It was soooo rough!!! We sat on the top deck in the open, thought we had the best seats, well we had to hang on for dear life plus try to wedge our belonging down and duck the waves. Plus we were a good 20 feet up. The waves were breaking over the ferry and it was a fast ferry that never slowed down, aptly named "The Bullet" We survived…soaking wet…and we arrived. We climbed off on to a dock and got a ride in a fellows "taxi" to "Neptunes Treasures" where we were staying. The room was not vacated so we had breakfast, stored our bags in the cupboard and set off to hire a car. We walked along the rock to a place near the ferry stop that we had seen, there we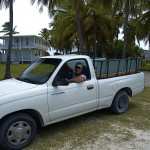 managed to hire a SUV for the days we would be there, the only problem was that it was away at the beach with someone else, so we had to borrow a taxi/truck, that was as old as the ark, until noon when the SUV might be back, or something. Anyway we were off, we drove around a bit, now the roads there are half concrete and half sand and then some are just sand or rubble, so you have to go slowly or you would shake your teeth out. Plus the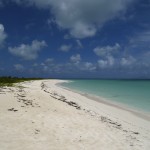 roads are more like animal tracks as the cattle and goats are all ferrel. After we got our bags in our room, we set off exploring the coast. We basically drove towards Cow Wreck Bay
and stopped at every turning for every beach, walked each beach and swam at each beach until lunch time. Then continued all afternoon too. It was wonderful, like being totally free and you hardly ever saw anyone. The snorkeling was a bit disappointing as the water is so shallow and the reef so close in. But the live queen conches are right up by the beach, you fall over them. There were birds everywhere, schools of fish, rays, lobsters just abundant sea and air life. It was wonderful. Once we reach Cow Wreck we were ready to relax at the beach bar, but the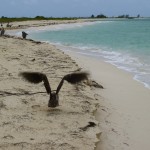 only people there were in the water enjoying each other so we decided to take another walk up the beach, we walked until we were out of sight and still there was more beach in front of us….just amazing. Once back at the bar the hosts were ready to serve and we enjoyed a drink on the beach before heading back to Neptunes for dinner. Dinner is served at a set time as there are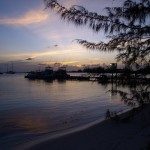 only so many people, plus the family eats with you too. Its served out on the terrace in a lovely setting. So we ate our lobsters as the sun set around us. It was very beautiful.
 July 17th    
Breakfast at Neptunes, scrambled eggs. Good food but the company is very cliquey. As they are all related or known to each other as an outsider you do sort of feel out of place. I'm sure it was not intentional but we really felt ignored. So, we decided to find new territory for lunch and dinner.
Set off to go flamingo hunting, the day was a bit overcast and until it brightened the idea was to explore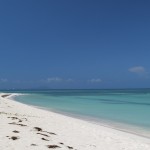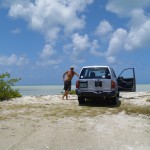 the interior. The flamingos are the ones the live there naturally plus the ones that have been hatched in Bermuda at the Aquarium and then released back into the wild. We started at the salt ponds, which are really quite lovely in a prehistoric way. There we met another couple also flamingo hunting, they told us where to go and we were off. We managed to get within 200 feet of them which was not bad. Following the successful hunt we went to Loblolly Bay to snorkel and explore. The beach was great to walk along but again the snorkeling was in 2 – 3 feet of water as the reef comes in so close it is too shallow to swim over, you would be impaled by long spined sea-urchins. Lunch was at Natures Delight Bar and Grill, it was at a bay near Loblolly, we were the only people there. The burger was great. Again we spent the afternoon exploring the shoreline, this time in the other direction from Loblolly. Basically eastward all along the reef line, it really was peaceful and just so lovely. Dinner was at Anagada Bar and Grill, shrimp which was excellent.
 July 18th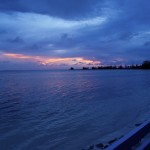 Had a lovely breakfast. "Checked" out and returned the hire car. Waited for the ferry. Lots of people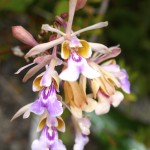 waiting for the ferry as the supplies are delivered this way twice a week. All sorts of items arrived. Once the ferry was unloaded we climbed aboard. This was "The Rocket" and yes it did rocket back, different story from the trip over. Back on Tortola we returned to the Tamarind Club, retrieved our stored bag and proceeded to pack. Not fun! Finished up with a swim at Josiah, dinner and an early night.
July 19th  
 The return trip was sad, flew 1st to San Juan then into Miami. In Miami we quickly checked into our hotel and then caught a taxi to the Florida Mall. Did a bit of shopping, returned to the hotel, dinner and bed.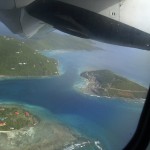 July 20th  
 The early flight back home was uneventful. Good to be home. Chrissie happy we are back for her BDay!