PHOTO ALBUM –>> https://goo.gl/photos/XV3LypU49onwrGr76 
Morehead City is located at mile marker 205 on the ICW …. we need to be at Brunswick Georgia by September 5th which is mile marker 680 – a distance of 475 miles. Our plan is to travel the ICW for  30 plus mile stretches a day. Or if necessary sail on the outside along the US East coast to make time if we need….What is the ICW?  This is the Inter Coastal Waterway, which is an inside channel which goes all the way from Norfolk, Virginia – mile 0 heading south all the way to Florida. It  travels through the "countryside" plus the towns  along the way meaning that we can stop nightly, plus can visit historic sites, have hikes and explore. The outside passage along the US East coast is not usually easy to travel as it opposes the Gulf Stream, so can be rough going against the current, slow and the weather can be nasty too, but it can be quicker and doable in very favorable weather.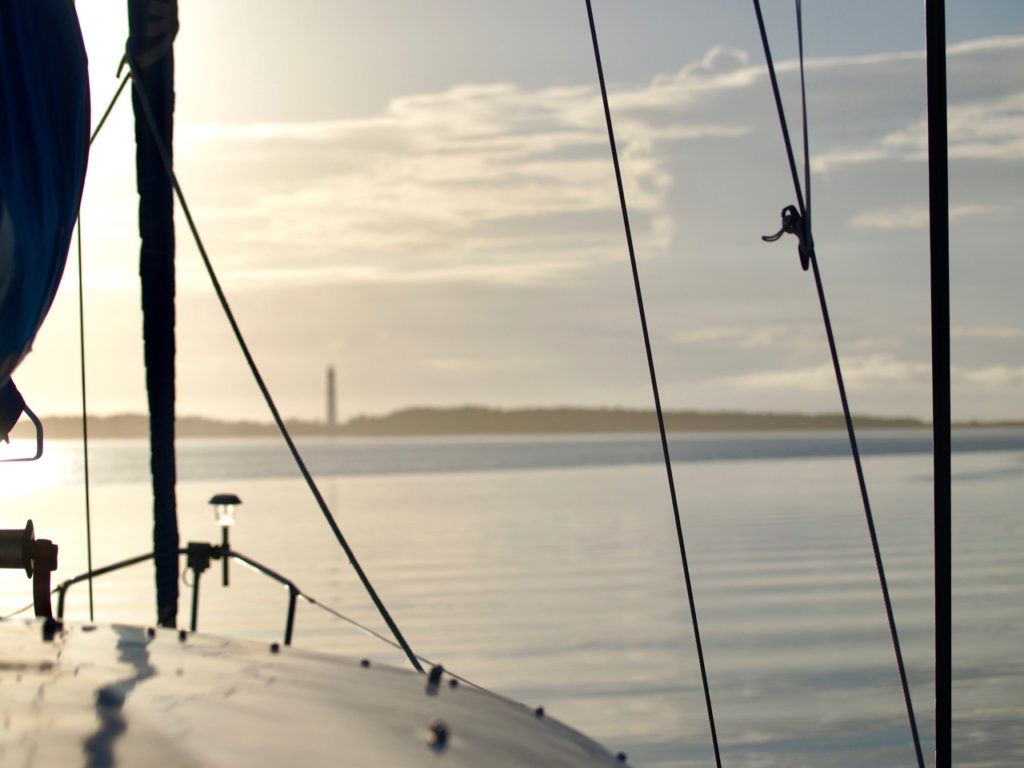 John and I were up at 6:00am and set off for our 1st stop, which we planned to be Mile 244 Hammock Bay at mile 244. First we needed to travel from Cape Lookout along the outside shoreline to Morehead City at mile 205 and then the 40 miles to our anchorage. This was a very ambitious day ahead.
Once out of the shelter of the large bay at Cape Lookout we found that the wind was against us and there was a good size sea rolling in. It was most unpleasant and we took a bit of a beating, thus putting us at Morehead City at 9:30am. John was very doubtful as to whether we could make it.
1st leg: Morehead City @ Mile 205 – Swannsborje @ mile 229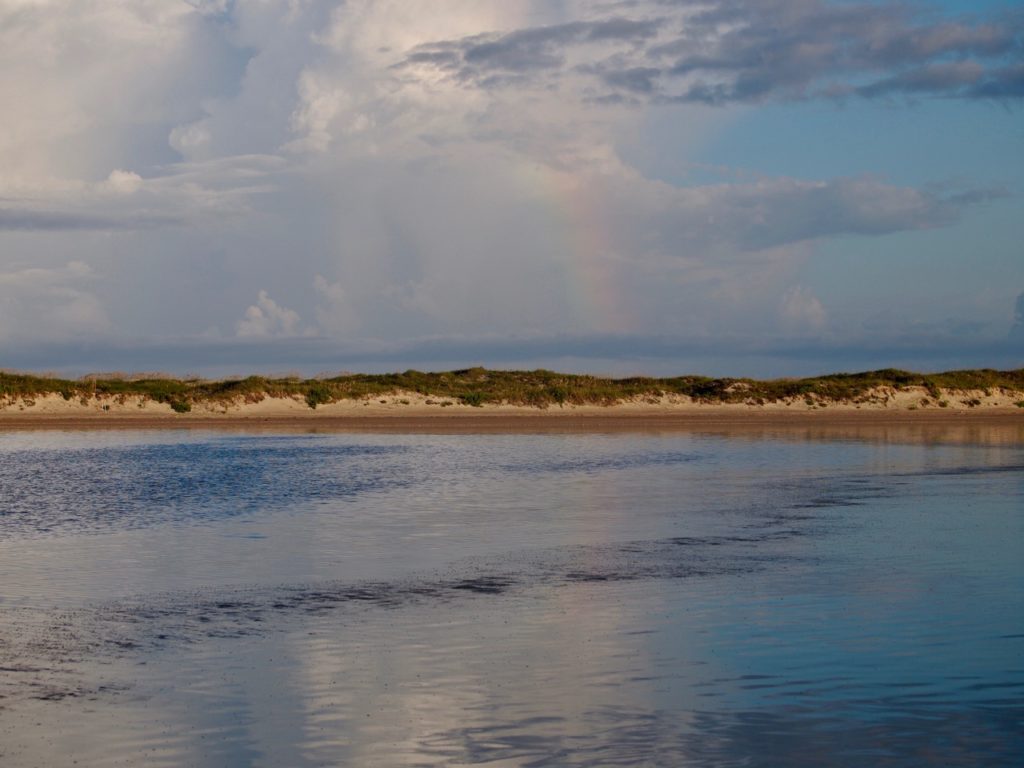 The ICW travelled past lovely homes and marshy areas full of egrets and other wading birds. It was lovely despite the cloudy weather, the threatening thunderheads and cloudy conditions. The waterway was very busy with Sunday boaters full of people whizzing past making their way to the inlets.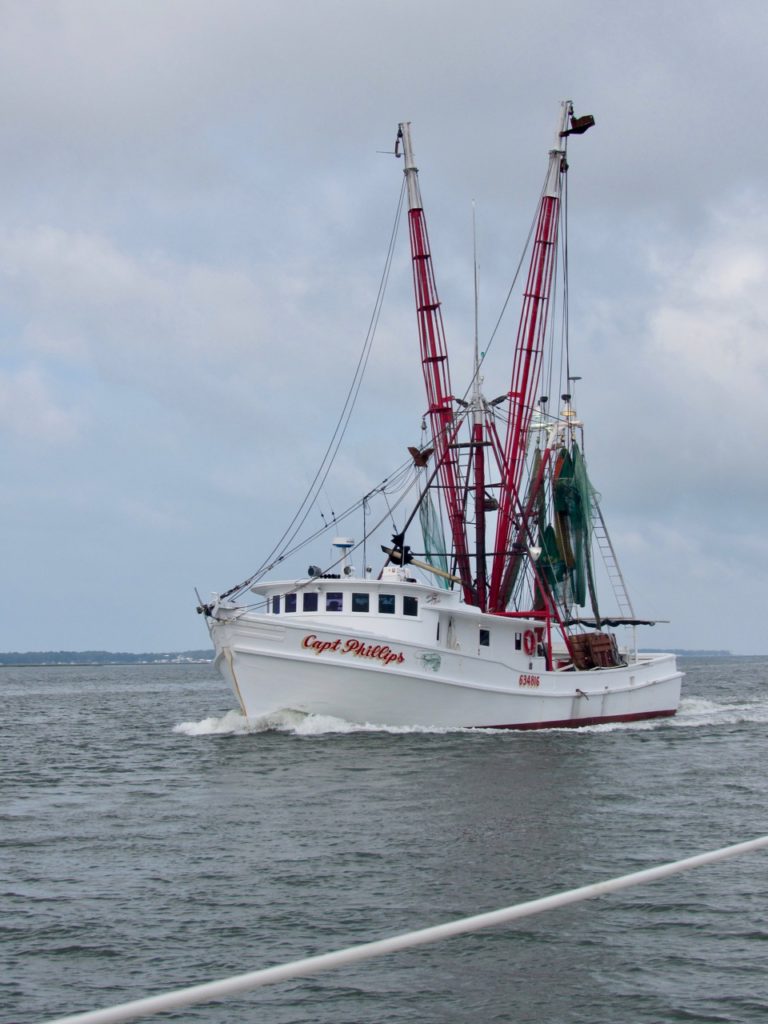 There were the occasional fishing boats returning to port, and fishermen wading in the shore waters. We had the Atlantic Beach Bridge at mile 206 to pass under. Whenever going under these bridges you know that there is enough clearance by a few feet, but it really looks close. Our mast is 58 feet and the clearance is normally 65 feet, from below it looks impossible. Our second bridge was the Cedar Point Highway Bridge at mile 226. Here we needed to be mindful of currents too, but all was fine.
By afternoon those thunderheads were rumbling nearby, the rain was damping the cockpit and we had stronger currents against us. There was little hope of making our destination comfortably, so we opted to stop at Swannsborje at mile 229. Our anchorage: http://map.iridium.com/m?lat=34.620763&lon=-76.548910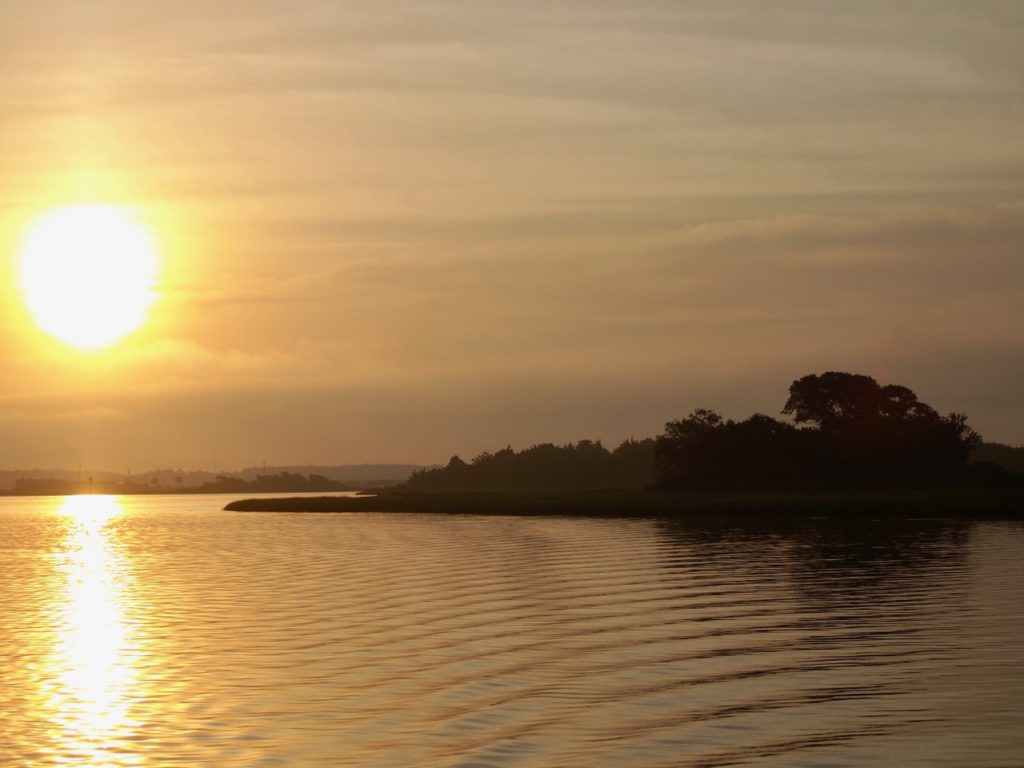 There we anchored just off the main channel in a side channel that led to a low bridge next to Swannsborje. Normally not ideal circumstances as there were strong currents running, 15 knots of wind and a bridge behind us. However John believed our online advice from the Active Captain site that had 28 recommendations.
As we were settling in with a cup of tea a boat approached from the shoreline. The man aboard introduced himself as Dave, the "harbour master" and self-appointed mayor of the little island next to us. He welcomed us to Swannsborje. We mentioned walking to any nearby grocery store and before we knew it he returned having arranged transport with a couple ashore. Off we went meeting Shannon on the dingy dock. She then very kindly took us to the Piggly Wiggly grocery store. It was a random act of kindness bestowed upon us! We were able to replenish our fruits, veg, breads and dairy. As it turned out this was an excellent anchorage, had a peaceful nights sleep and the anchor came up clean.

2nd leg: Wrightsville Beach @ mile marker 283
Again we were up with the sun at 6:am. There was a dead calm over Swannsborge with a pretty sunrise shining through the misty early morning light. It was lovely!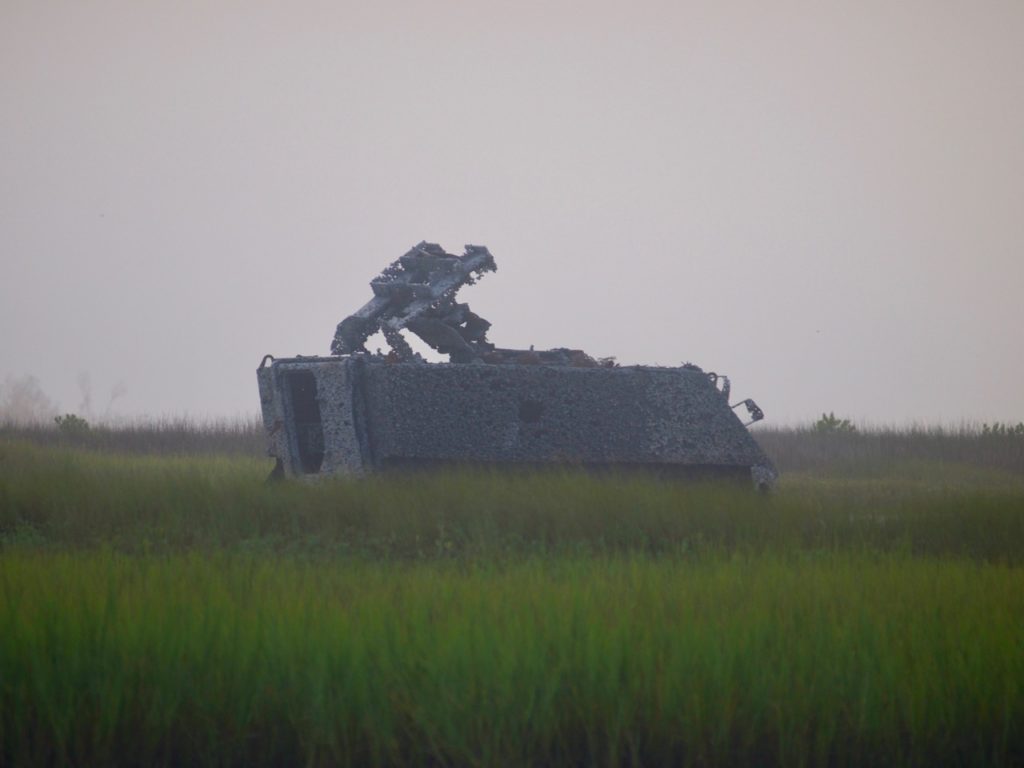 And then the mist started to close in so we had fog like conditions, making the waterway quite eerie. Camp Lejeune is found at this stretch of the waterway it extends for 18 odd miles. This is actually a practice area for all the armed forces, used as a firing range it can sometimes be closed. For that day it was open, but we did see blown up tanks and vehicles in the marshes. It was quite eerie.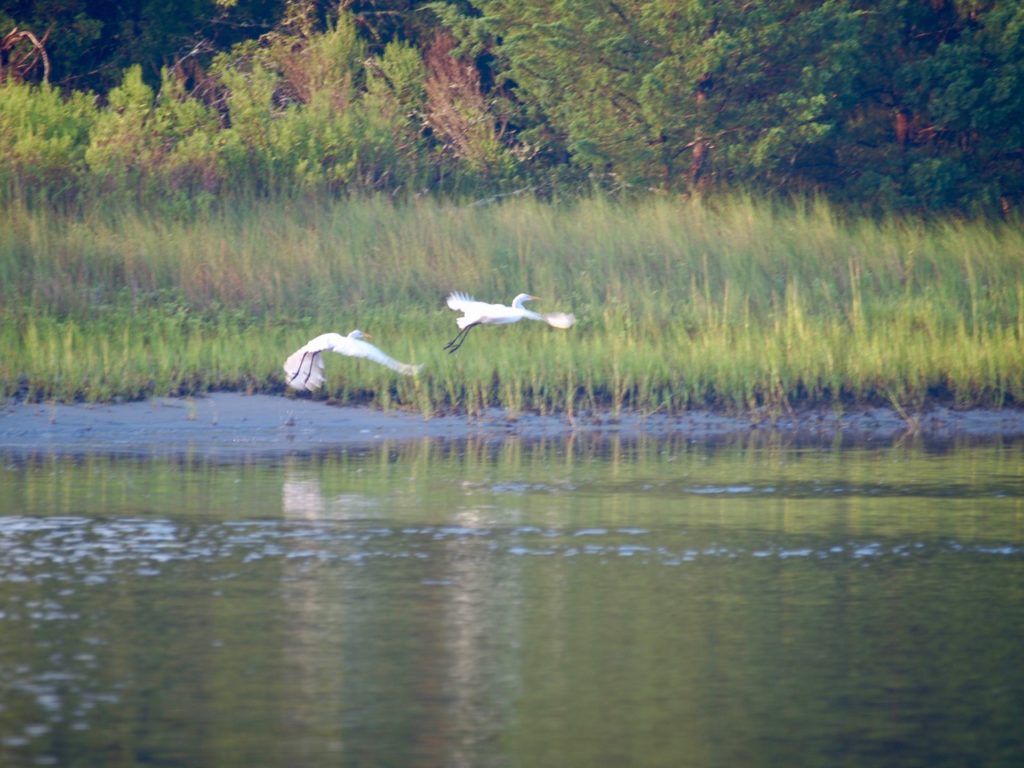 Following we had the Onslow bridge, this is a swing bridge which only opens on the hour and half hour, we had a 10 minute wait for the opening. Luckily there were no real currents running.
We were going along carefully at New River inlet mile 246 when BLAM!! We came to a sudden stop! The canal had gone from 4 foot under the keel to 0ft and we were aground! So John tried forward, didn't work then finally full reverse pointing towards the inlet and we were free. However there was still considerably shoaling, very thin water which I find scary. I know it is mud and soft, but still hated hitting the bottom.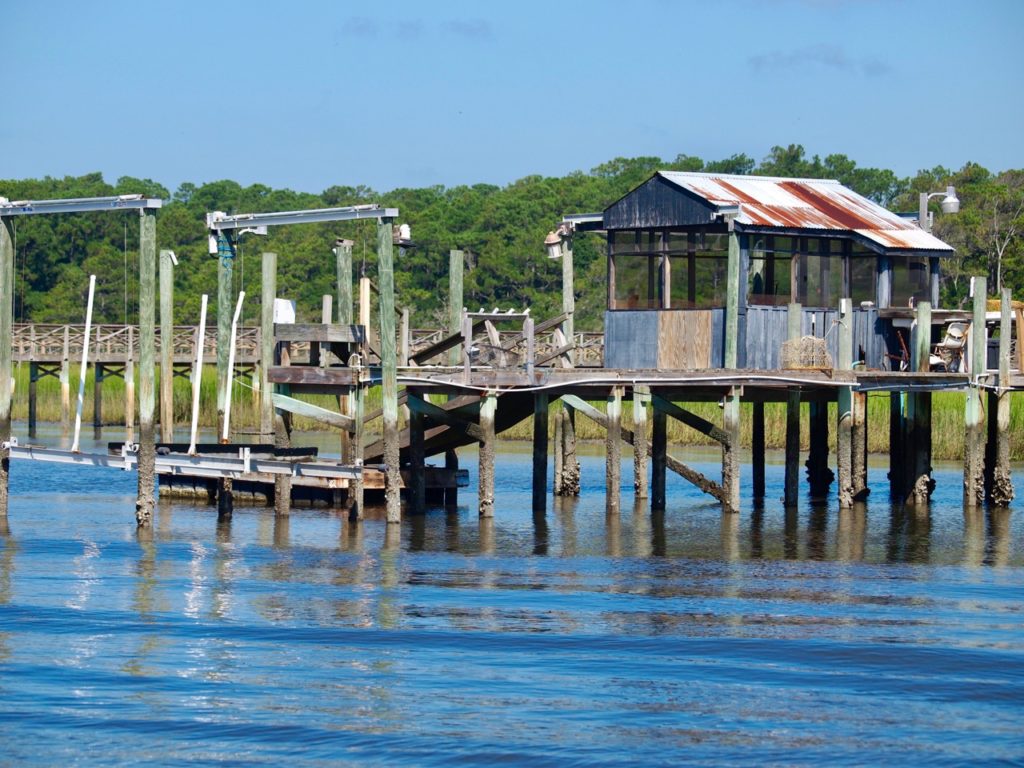 Just after this I saw a large alligator. It was on the surface ahead, swam under as we were approaching and then surfaced about 15 feet off our side. – Still John swims at various anchorages, I think he's crazy; I also lock Chico in at night. Meanwhile as we travelled on it was still quite misty in areas and foggy in others, but the scenery was lovely. Many birds along the shoreline and ospreys nesting on top of the marker poles.
The US 210 Highway Bridge was our next obstacle, shoaling was mentioned in the ICW guide book as being a problem here, but we were under the bridge and fine. Looking at the homes along the side of the river is fascinating. There are many grand properties. Some as high as 4 stories with full porches and then long walkways on stilts out over the marshes to the shoreline where they have their boats pulled and stored. We hardly ever see a property that is not beautifully maintained. The properties really are very impressive.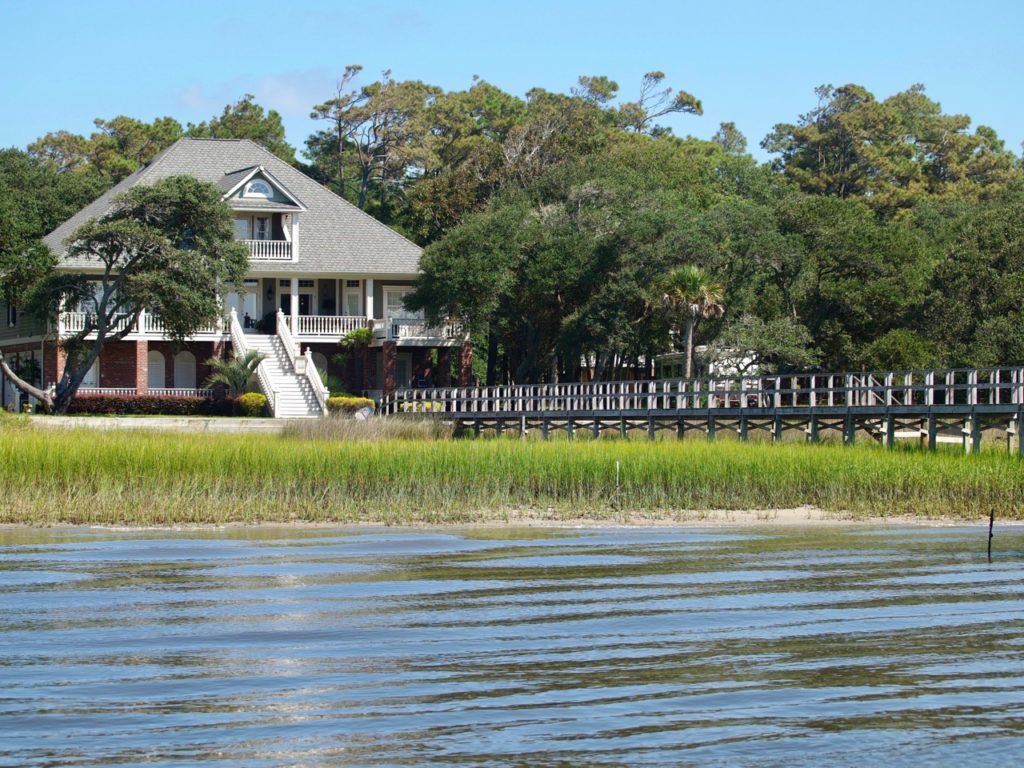 At mile 260 we had the Surf City Swing Bridge, this one was to open on the hour, we arrived with half an hour to wait, so well back from the bridge, John cut the power to idle and we eased up to the bridge for the opening.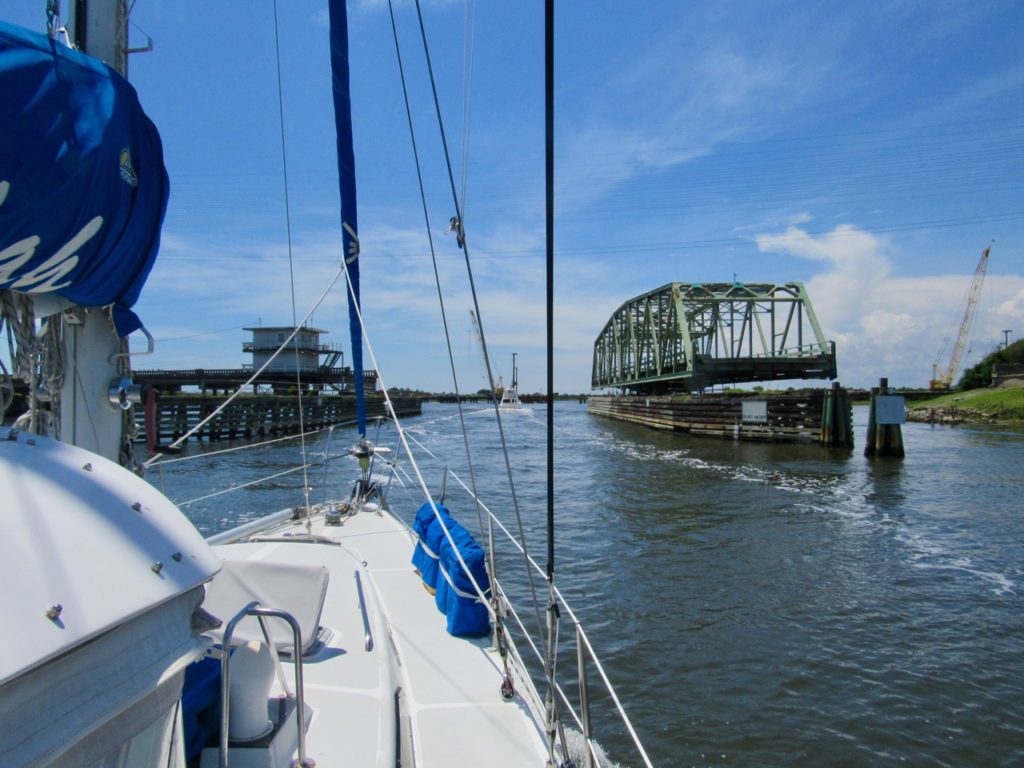 Next, yes another bridge: the Figure Eight Island Swing bridge at mile 278, which opened every half hour, but we missed it by 5 minutes so had a 25 minute wait. It was then 4:30 and we knew we had our last bridge for the day ahead; it opened only on the hour. We needed to make the 5:00pm opening for the Wrightsville Beach Bascule Bridge or be stuck waiting. John pushed Aeeshah as much as we dared, still needing to beware of shoals and we made a good attempt, but missed the opening by just a few minutes. This time we had an hour more or less to wait. Then the bridge operator opened late, by 10 minutes, I had to call him on the phone to get his attention. By then it was 6:10pm, there still were a few miles to go. We arrived at our anchorage at Wrightsville Beach mile 283 at 6:45 after covering 50 difficult miles. We were both exhausted! Our 2nd anchorage: http://map.iridium.com/m?lat=34.684713&lon=-77.119263 
This anchorage was lovely! It lay between the seaside banks and the marshy islands down the inlet to Wrightsville Beach. We did have boats whizzing by, but there was a wonderful sea breeze, plenty of room to swing and the holding was excellent. A bonus for us was that the anchor came up clean, not muddy!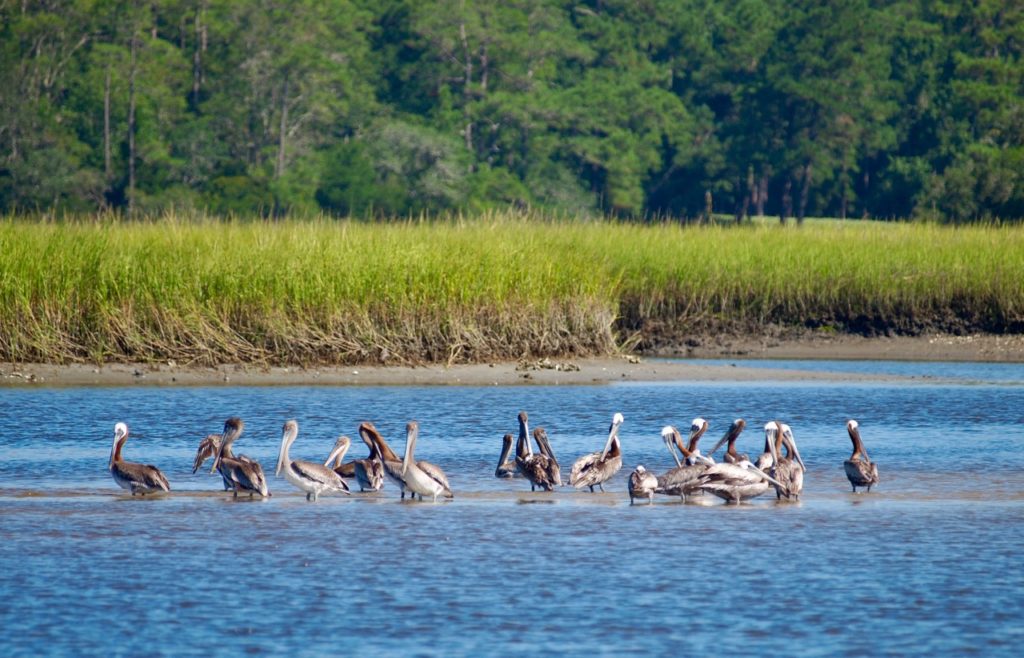 3rd Leg: Southport 
@ 
mile 310
Our next destination Southport on the far side of the Cape Fear entrance. The ICW along this stretch was a mix of marshlands and very nice properties. I enjoyed looking at the different landscapes while watching the depths on the depth sounder.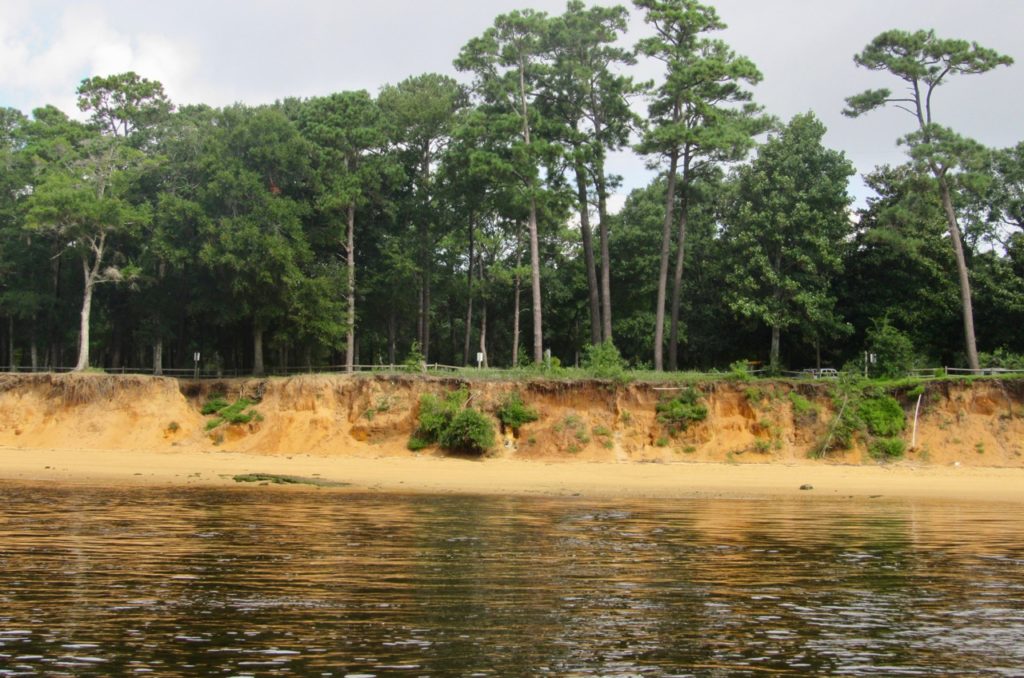 The first challenge was a bank of shoals off the Carolina Beach area, once again we kissed the bottom, but John was getting better at finding the way off. He simply guns the engine in different directions till we slide off. Our first bridge was Snows Cut Bridge followed by Snows Cut, which as its name suggests is a cut through in the form of a channel. Now being in the cut was like entering a different land. The sides were made of rock with high banks a large fir trees.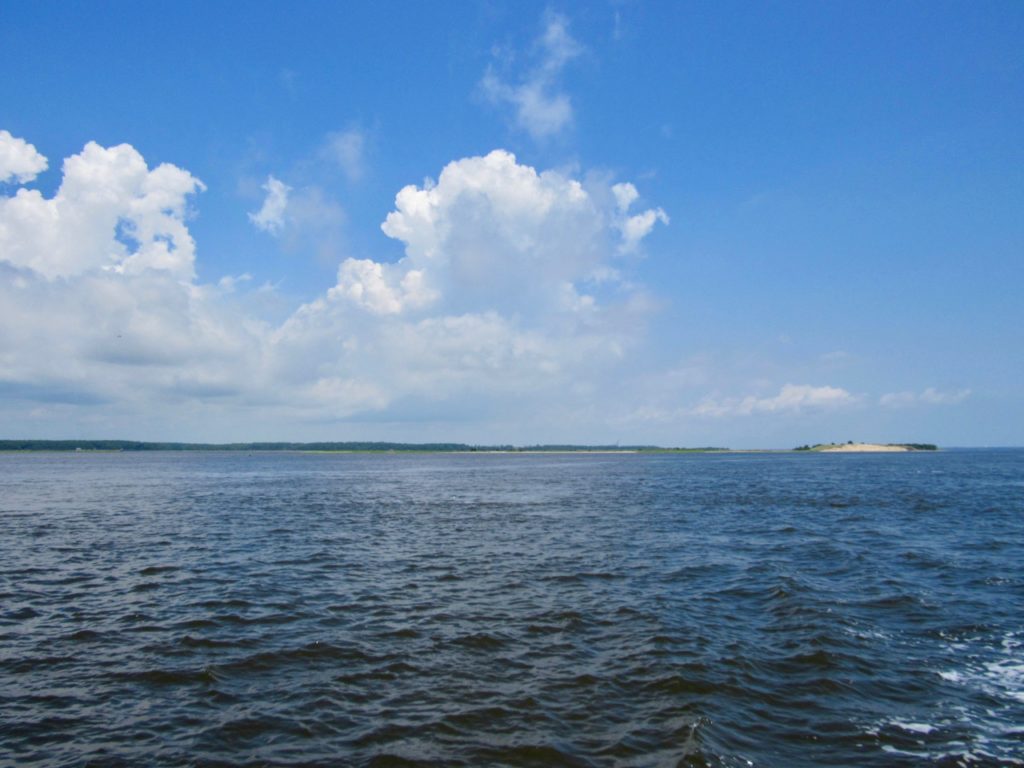 However this cut at the Cape Fear end is reputed to have very shallow shoals due to the strong currents that run with the flow and ebb. To avoid the shoals John took us, as was advised by our Active Captain Garmin navigator, 150 feet off the red maker, however we still kissed the bottom or rather we hugged it. Right aground we were and it was quite a supreme effort to get us off this time, but John eventually managed to get us off. Afterwards we were into a ships channel and over Cape Fear with no problems and at Southport Marina.   http://map.iridium.com/m?lat=34.684713&lon=-77.119263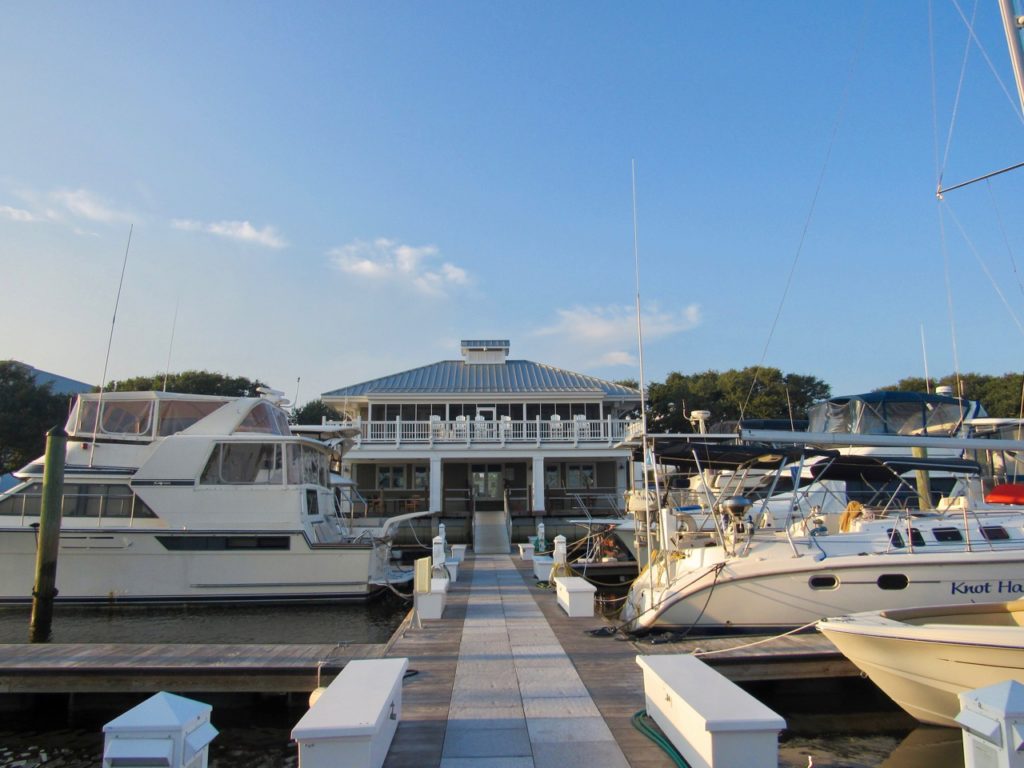 We had called ahead and requested a side tie at the marina; the fellows were waiting for us. They were very nice chaps, did our pump out (sewage tank emptying), fill our diesel and had us hooked up to electricity in no time. Awwww, AC was just wonderful.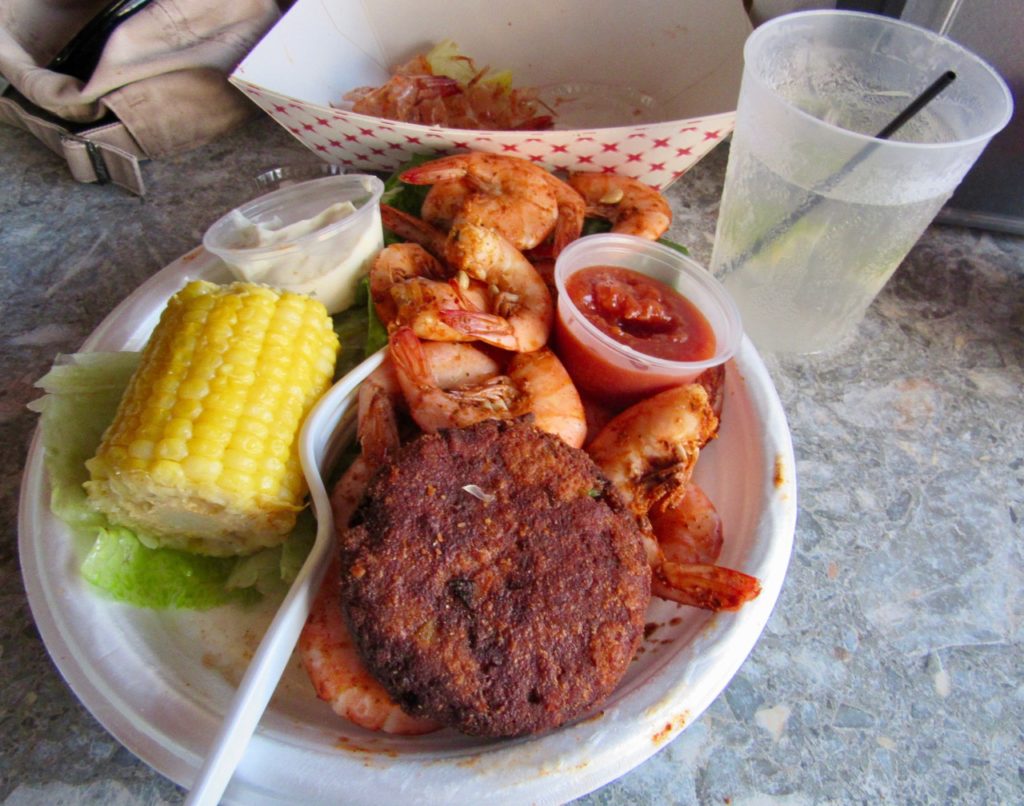 The rest of the day we were busy doing, laundry, cleaning inside and out and getting rid of all trash and such. Then that evening we walked into Southport, which is a very nice village, and we had an excellent seafood dinner at "Provisions".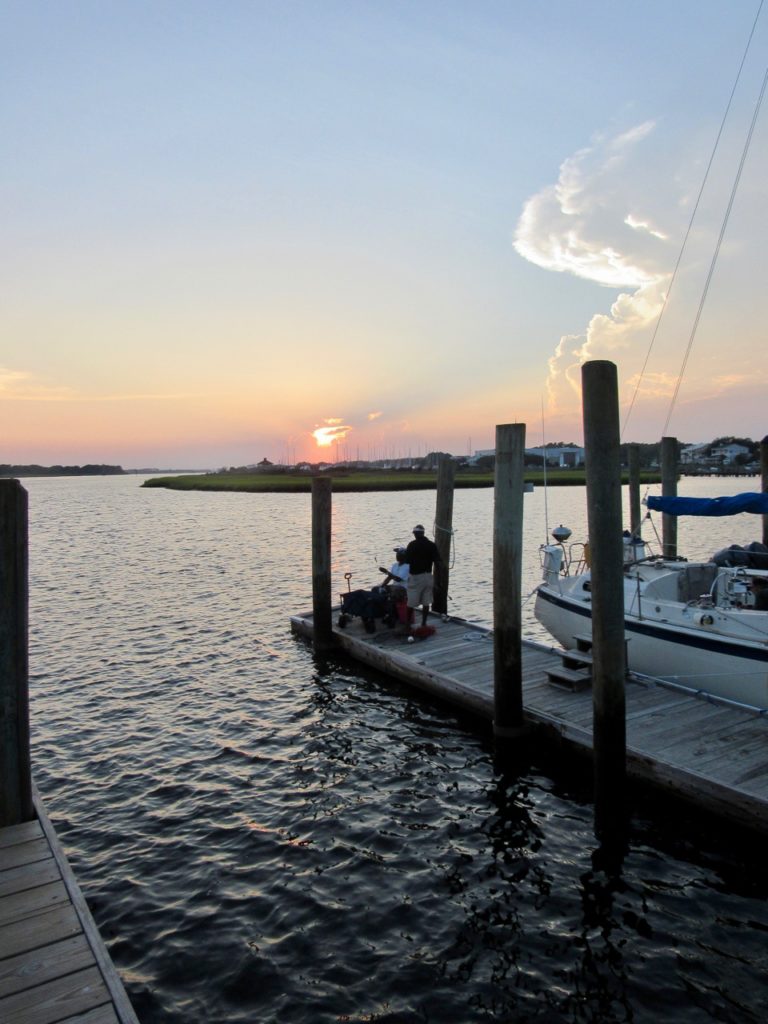 SOUTH CAROLINA
4th leg: To Calabash Creek @ mile 342
We left Southport around 8:00am with "just" 30 odd miles to do and we didn't do too badly as we arrived in Calabash Creek just after 2:00pm. However, as usual, we went aground a few times. The first was at Lockwood's Folly. Again we knew to be careful due to shoaling, but we still kissed to bottom, John ran us off. This area of the ICW is close to the sea so is really affected by tides and currents and has a 5-foot drop with the tide. Now we were travelling on a rising tide, but it was just starting to rise.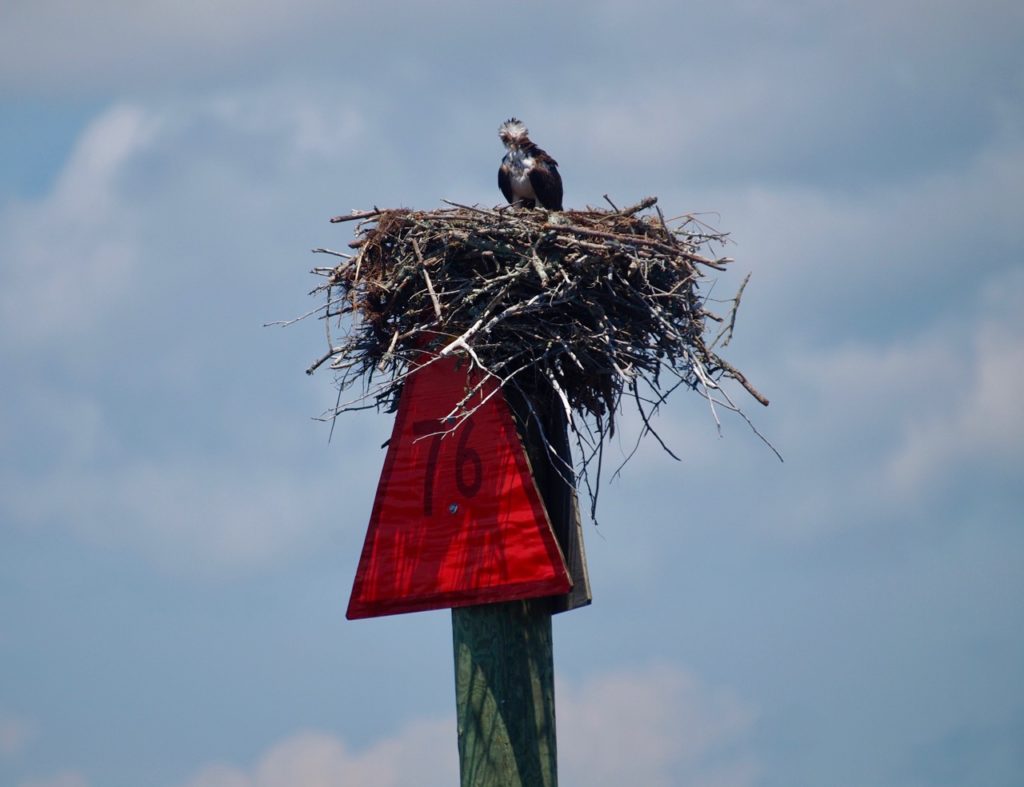 There were many lowland marshes and scrublands along the sides, again the birds were prolific, and all types ospreys, seabirds and wading birds. For the later half of the day there were many houses on the mainland side of the canal, these homes were quite substantial spaced further apart with long walkways to their docks. Quite a nice area to live.
Entering Calabash Creek we were fine even with a 5ft shoal that was reported at the entrance, we anchored up. Our anchorage: http://map.iridium.com/m?lat=33.917198&lon=-78.027923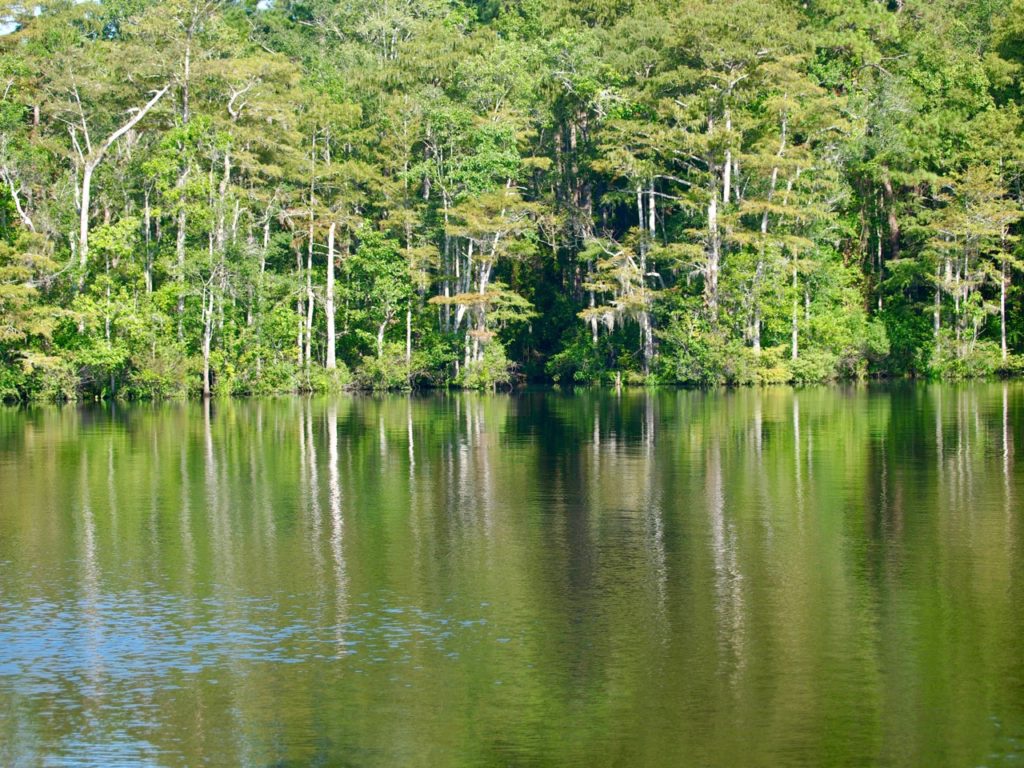 We soon went to explore in the dingy. Heading up the creek towards Calabash village was all marshland with tall trees in the distance we wondered if we would be able to dock. Well, Calabash was a really tiny little place that seemed to specialize in very local fishing boats and crew, or a big tourist boat to go to the outer shoreline for a visit, no place to dock and signs saying so. We did go and check out Little Inlet too, but there again was nothing of much interest there.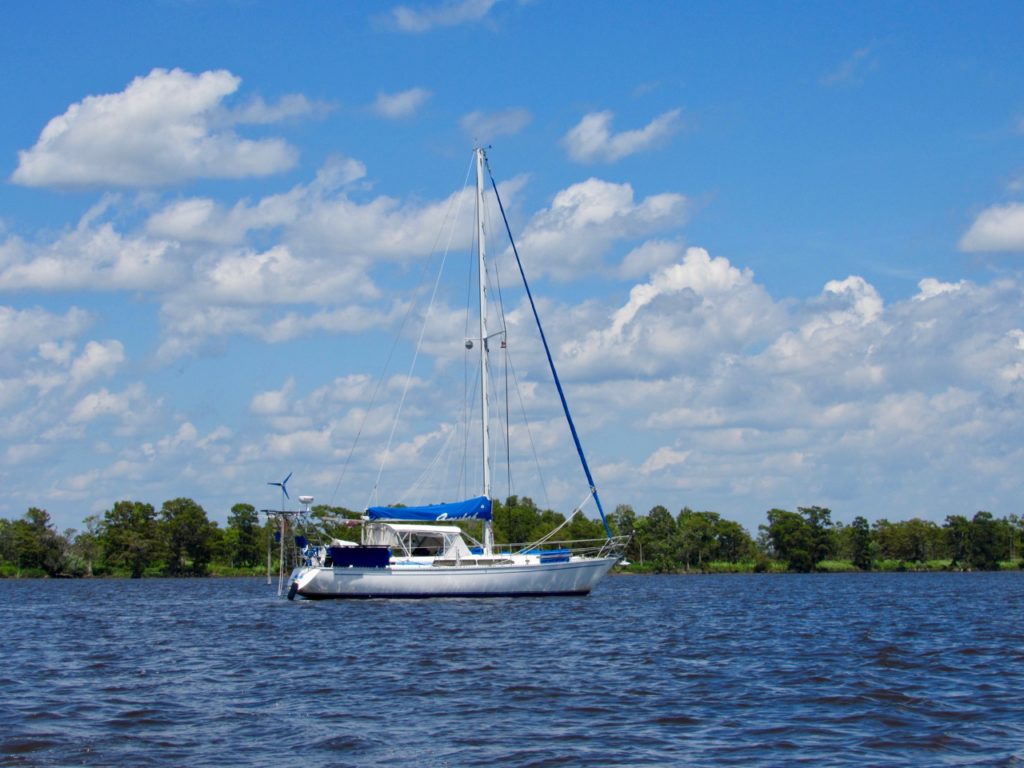 5th leg: Waccamaw River – Enterprise @ mile 375
We knew this was to be our most challenging day so far because of what we had ahead.
1st Mile 347.2 Nixon Crossroads Highway bridge 65ft
2nd Mile 347.3 The little River swing Bridge – opens on demand
3rd Mile 349.1 The North Myrtle Beach Connector bridge 65ft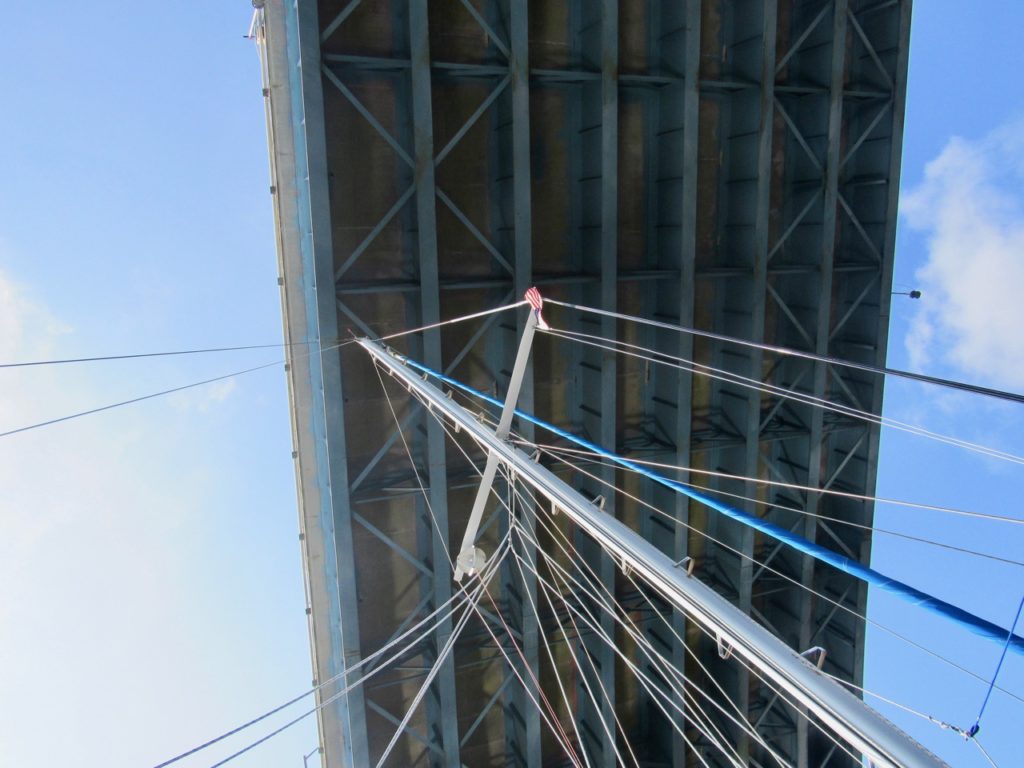 4th At mile 349 till mile 352 The Rock pile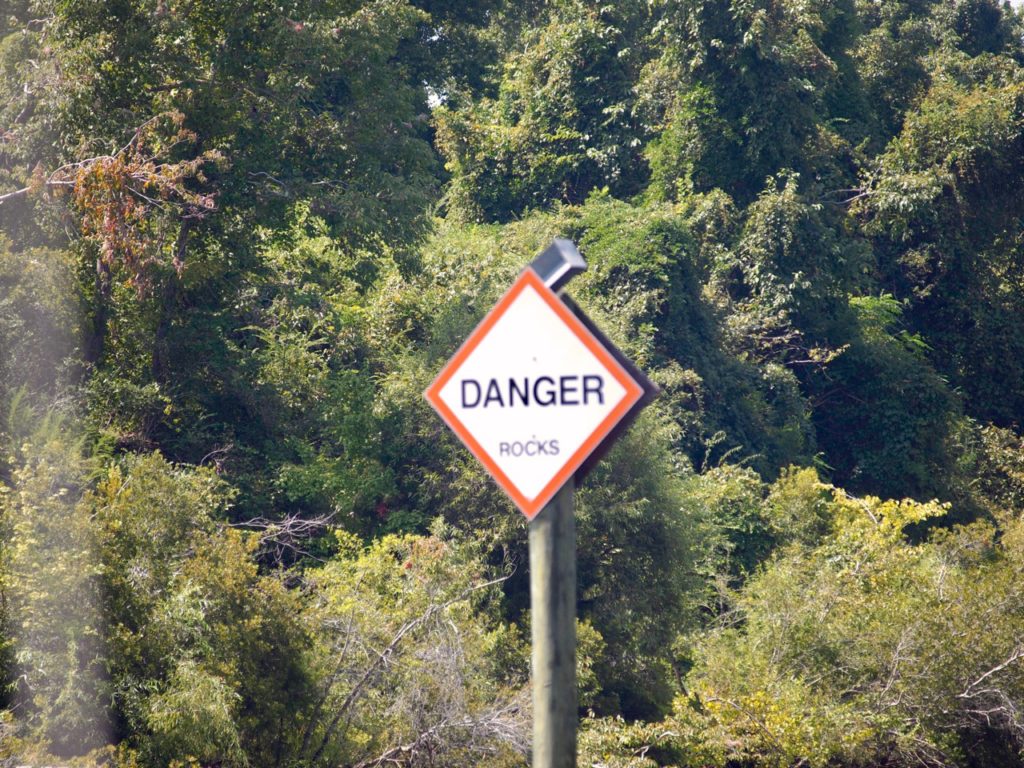 5th Mile 355.5 – 65ft – Conway Bypass Twin Bridges Mile
6th Mile 356 cable for an overhead gondola, clearance 67ft
7th Mile 357.5 Grande Dunes Bridge – 65ft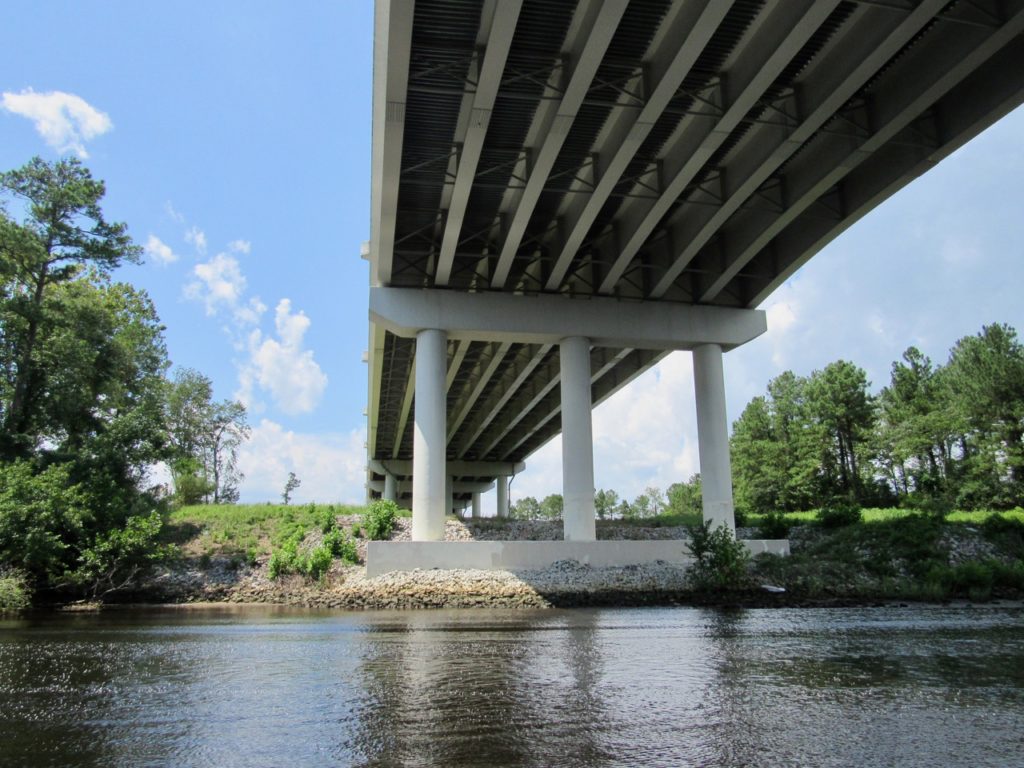 8th Mile 360 Grissom Parkway Bridge – 65ft
9th Mile 365.4 U.S. Highway Bridge – 65ft
10th Also at Mile 365.4 SCL Railroad Bridge – which is usually open
11th Mile 366.4 Fantasy Harbour Bridge – 65ft
12th Mile 371.0 Socastee Swing Bridge – opens on request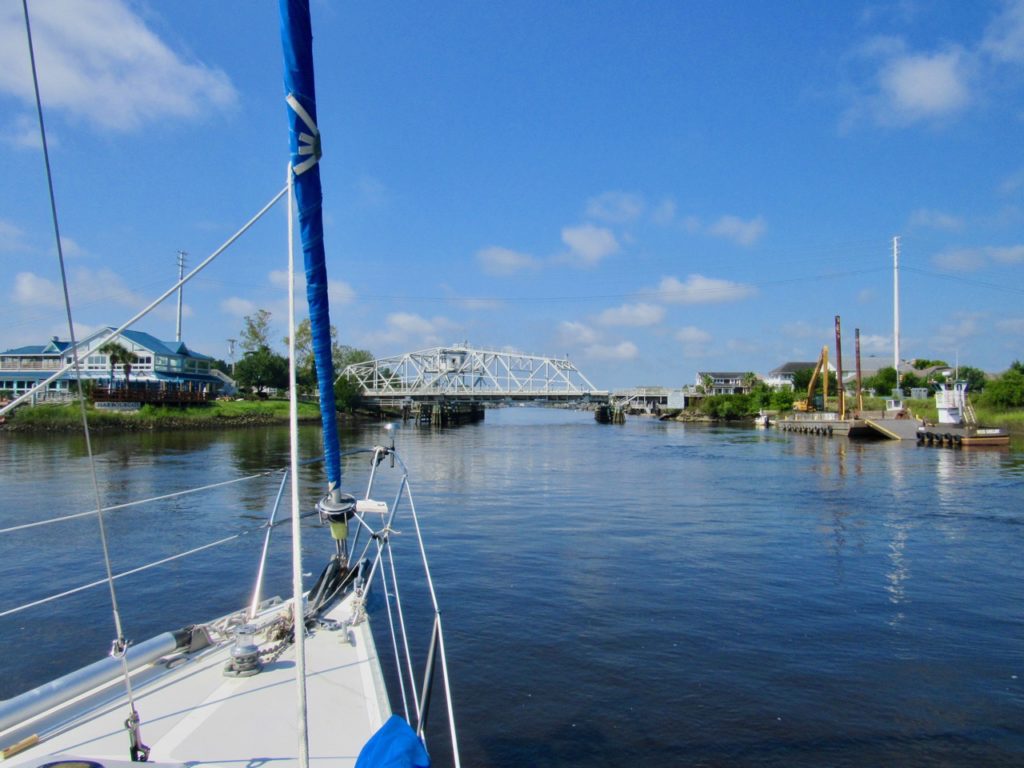 13th Mile 371.3 Socastee Highway Bridge – 65ft
14th Mile 372 Construction/restrictions – Carolina Bays Parkway Bridge
It was another lovely sunny day for travelling. We found for most of the day we past through areas newly developed properties. It is known to be an area that has been developing rapidly and is very popular with visitors to the coastal region. The waterway was very busy with jet skis and powerboats. We were challenged for most of the day, but fully entertained too.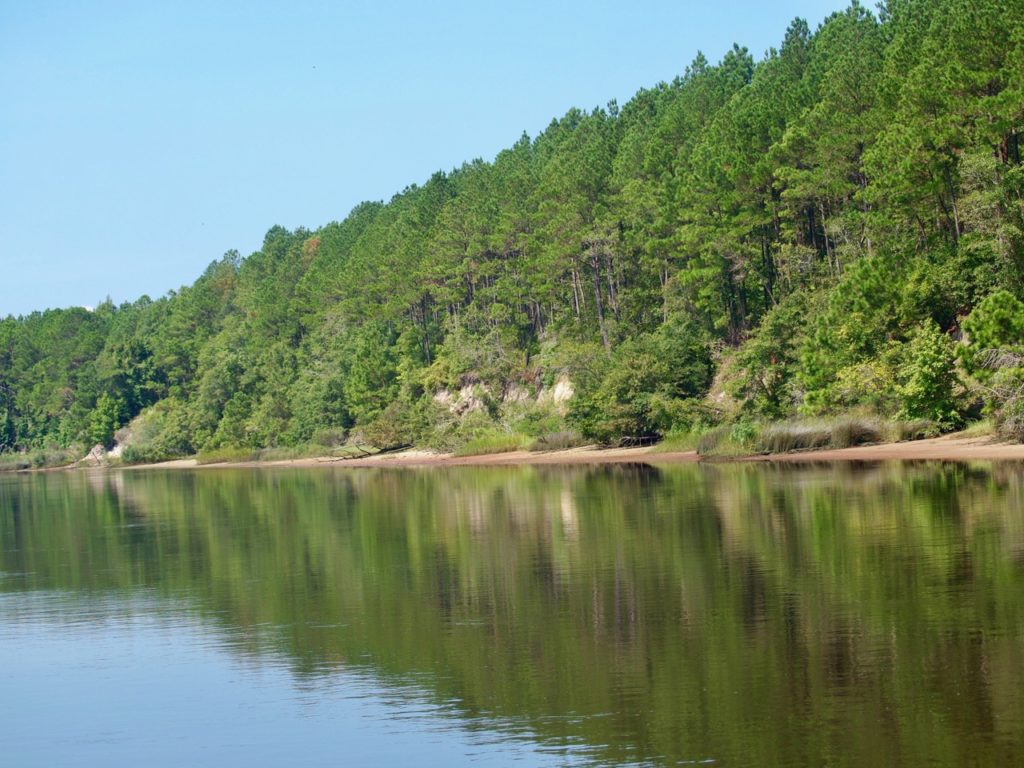 From bridge to bridge there were areas of shoaling, submerged pylons, tree stumps, and rocks. The most worrisome area was the notorious rock pile; here the canal had been blasted away from the rock and thus leaving rocks lining the sides and bottom. We had been advised that traveling through on low tide was a good idea as you can actually see the rocks. Plus to call ahead making sure nobody else was entering this stretch, especially barges, as we needed to stay in the dead center. We were fine all went well, and actually the rock pile was a very pretty area, lined by the rocks but also large trees, I even saw turtles on the rocks sunning themselves.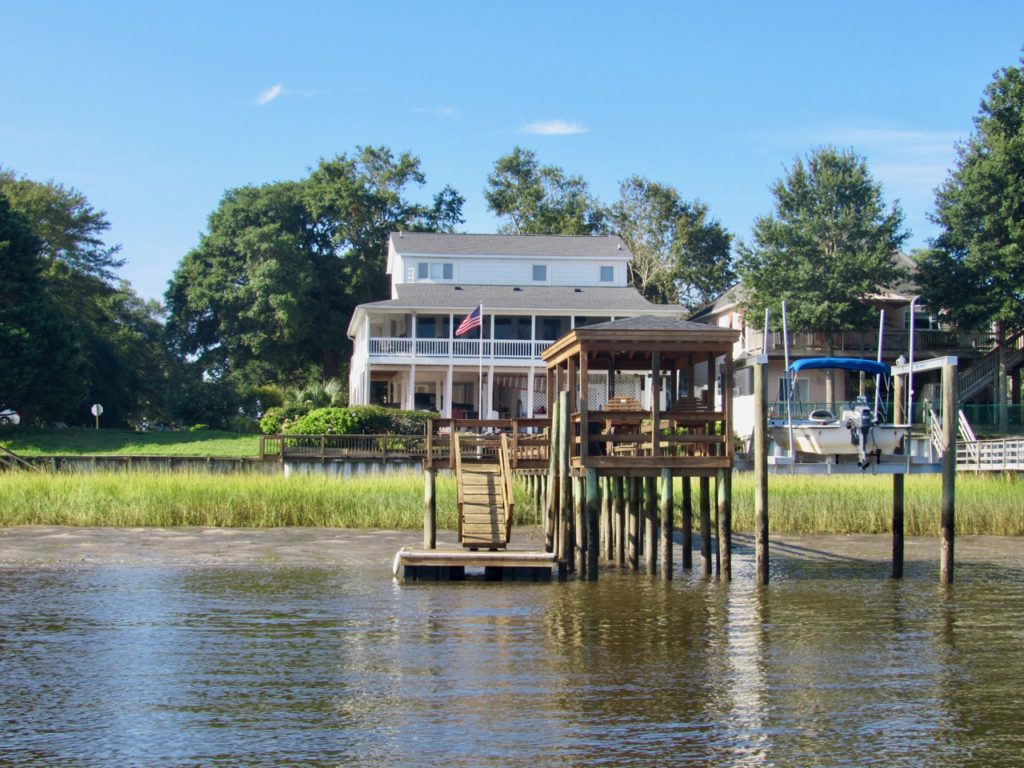 So we entered the Waccamaw River in the early evening without having any problems. The Waccamaw River is very beautiful, peaceful and full of birds of all types; huge trees including Cyprus trees with Spanish moss line the shores. That evening there was the most amazing sunset over the river.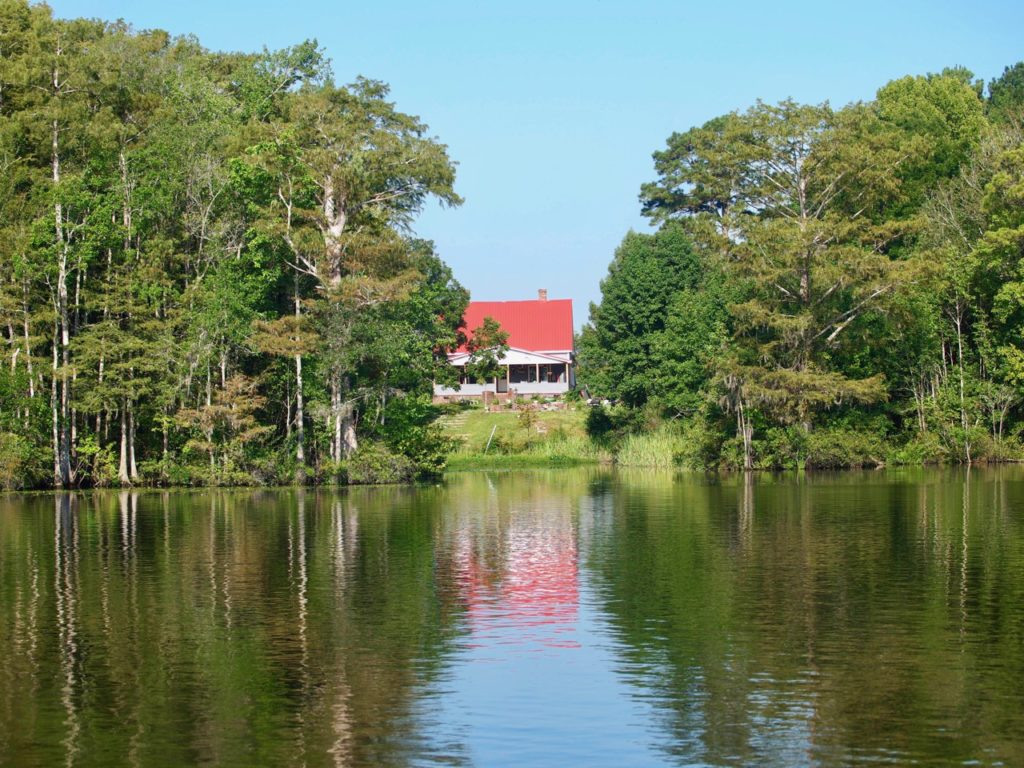 6th leg:  Waccamaw River – Butlers Island anchorage @ mile 395
Traveling down the Waccamaw River 20 odd miles to Butler's Island was relaxing. The river became wider and deeper, the scenery was beautiful. There was the settlement of Bucksport that we past, and some very large plantation homes but generally the river was lined with massive trees. We saw numerous ospreys and their nests, many many wading birds, dragonflies and butterflies hovering around, the amazing Cyprus trees with Spanish Moss hanging from their boughs in all peacefully quiet atmosphere.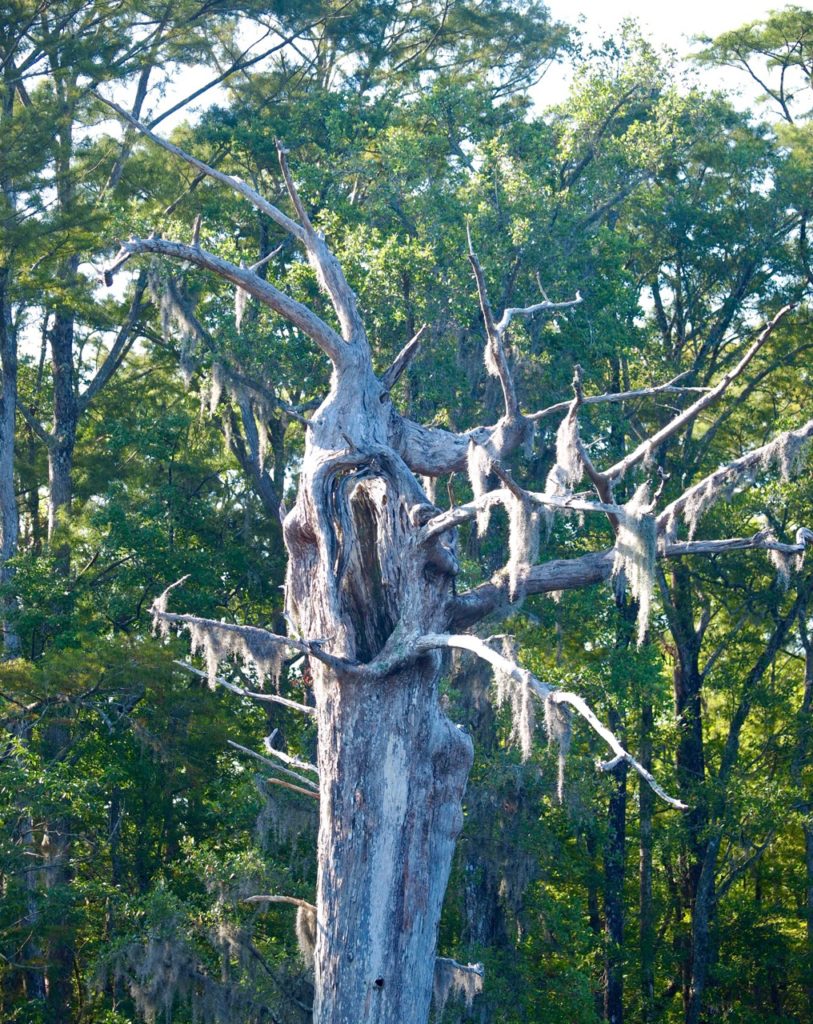 We anchored off of Butler's Island as I had been told it was a good area to explore. It was very lovely and we did enjoy dingying around during the afternoon, but the mosquitoes and no- see-ums in the evening and early morning made it an area we were happy to leave.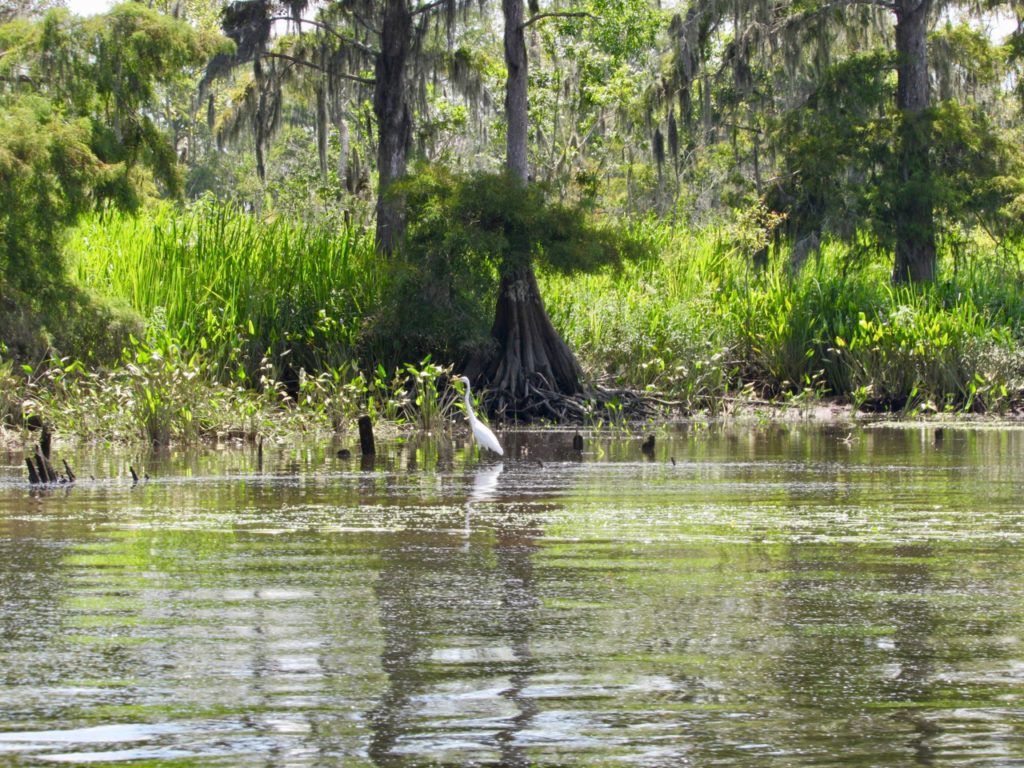 7th leg: (Georgetown mile 402) Western channel mile 410
We enjoyed the rest of the Waccamaw River on our way to Georgetown where we planned to get a slip at the marina and stay for the eclipse on the 21st August. However when we called we found that everywhere was fully booked as 100,000 or so people we also traveling to Georgetown for the eclipse, so we went further down river to an anchorage just off the ICW with marshes on both sides.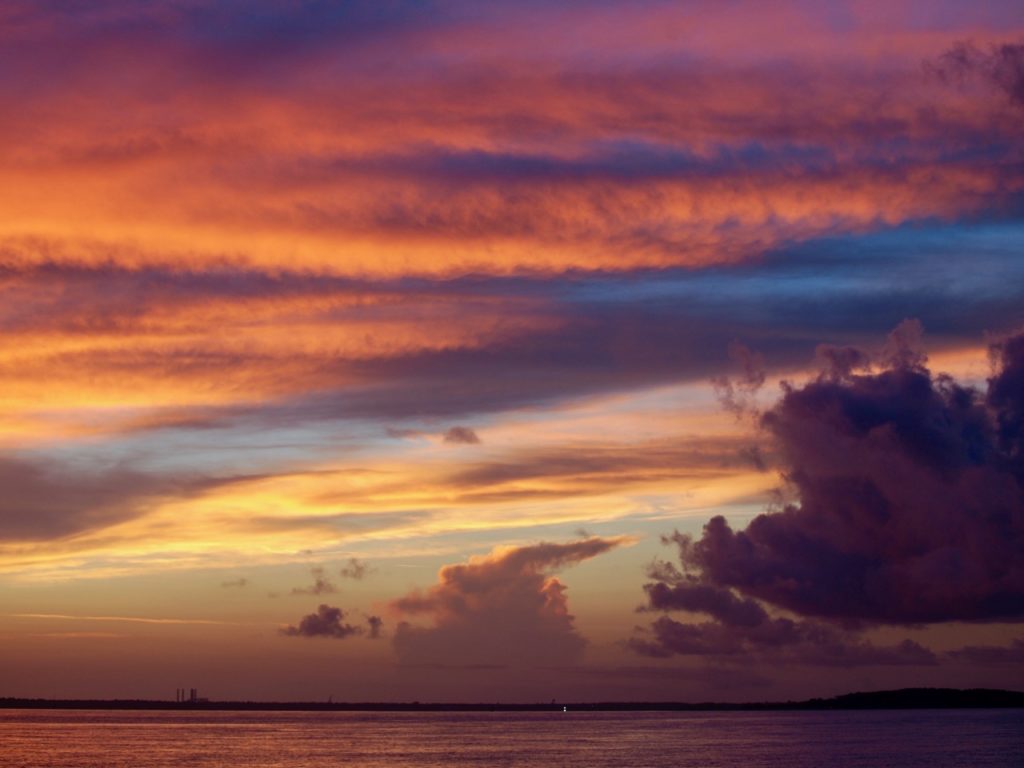 Now this anchorage was lovely, with schools of fish being chased by dolphins and bombed by birds all around us. However the marshes meant that the bugs were about in the evening, which made life somewhat uncomfortable. So we moved the next morning.
8th leg: Winyah Bay, mouth of the Waccamaw Bay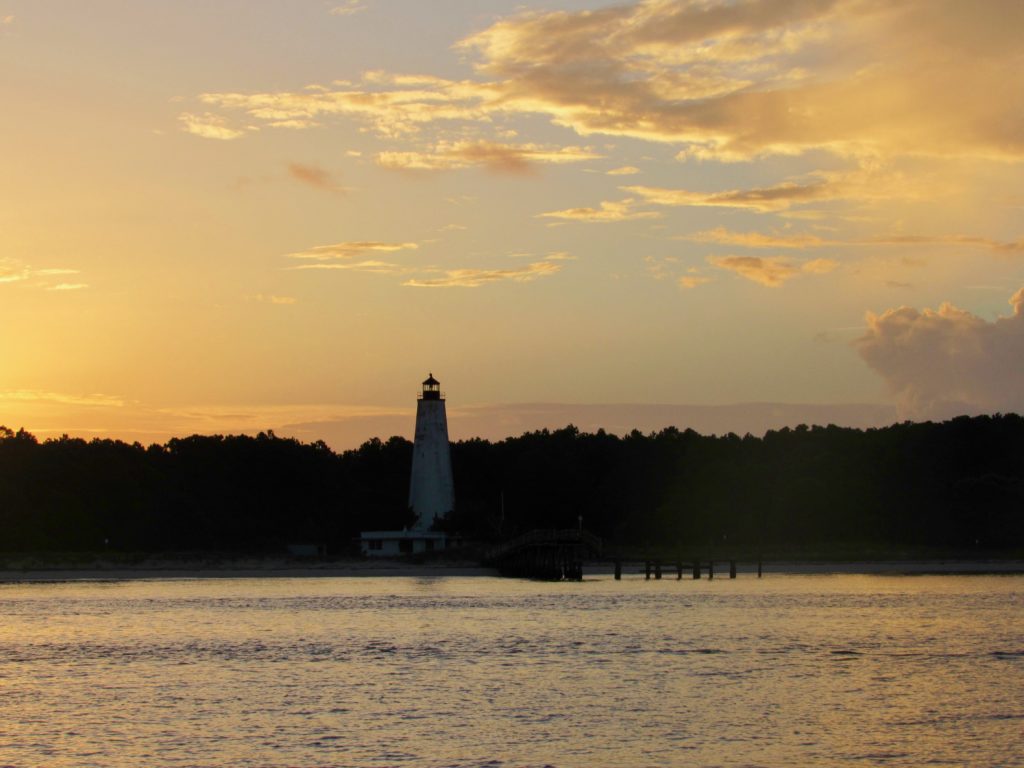 Here we anchored next to the North Island and planned to stay for the eclipse. The day was just lovely, sunny with a nice breeze. We dingied to the shore and tied our dingy to a pylon of the lighthouse dock and set off for a shoreline walk.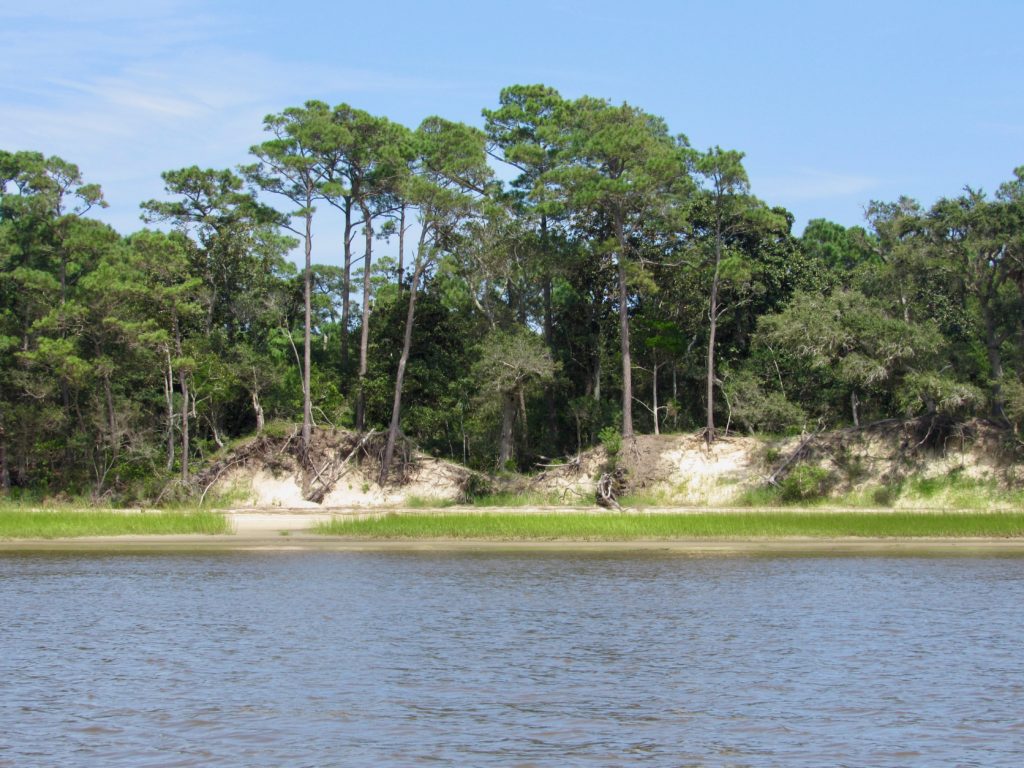 Along the way we spoke with locals enjoying the day, watched fishermen wading in the shallows and others wading and swimming off the sandbars. At the mouth there is a long breakwater made of large boulders, it extends out to sea for some miles thus making the approach much calmer. We continued walking along the shoreline beach. There the water was much cleaner and John even dove in to cool off. It was a long, much needed walk after our days traveling the ICW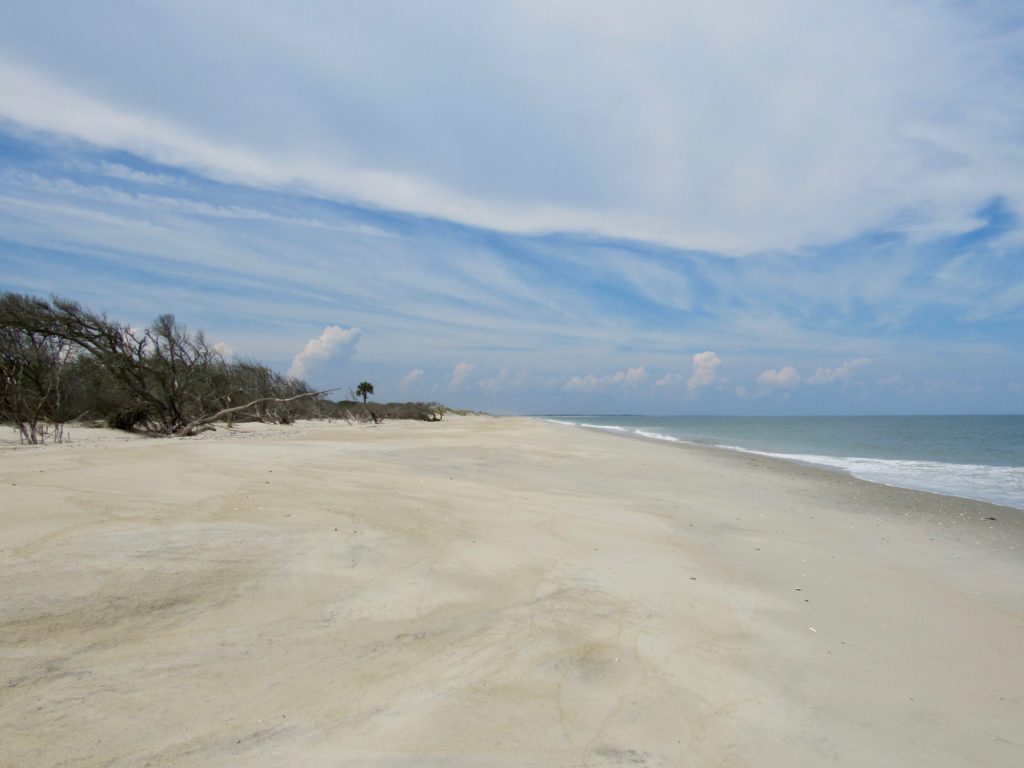 It was the 21st August, the day of the eclipse; John was excitedly awaiting the phenomenon. As the hour approach, so unfortunately did the clouds. However we lucked out as just for the few minutes of the eclipse the clouds did separate enough of us to see the sun covered fully.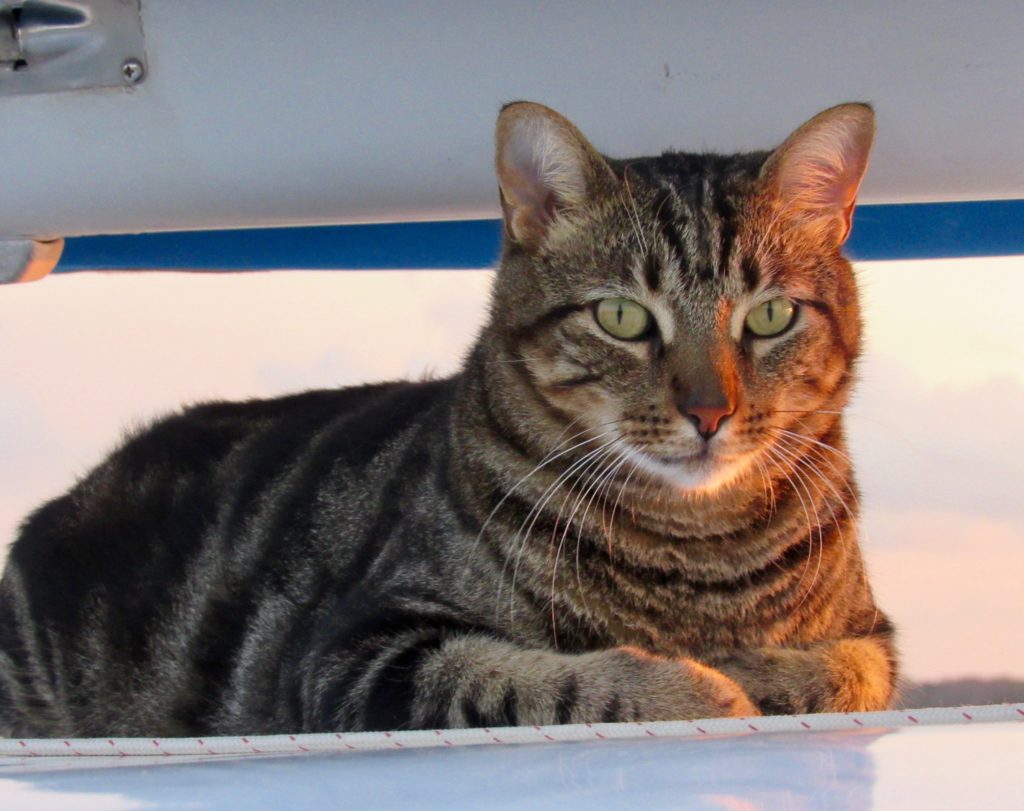 The first, unusual symptom was that there was a rainbow in the clouds. Then gradually the light got dimmer and dimmer, stars could be seen shining in the dull blue sky, on the horizon was a continual sunset around us and then trough the clouds we saw the eclipse.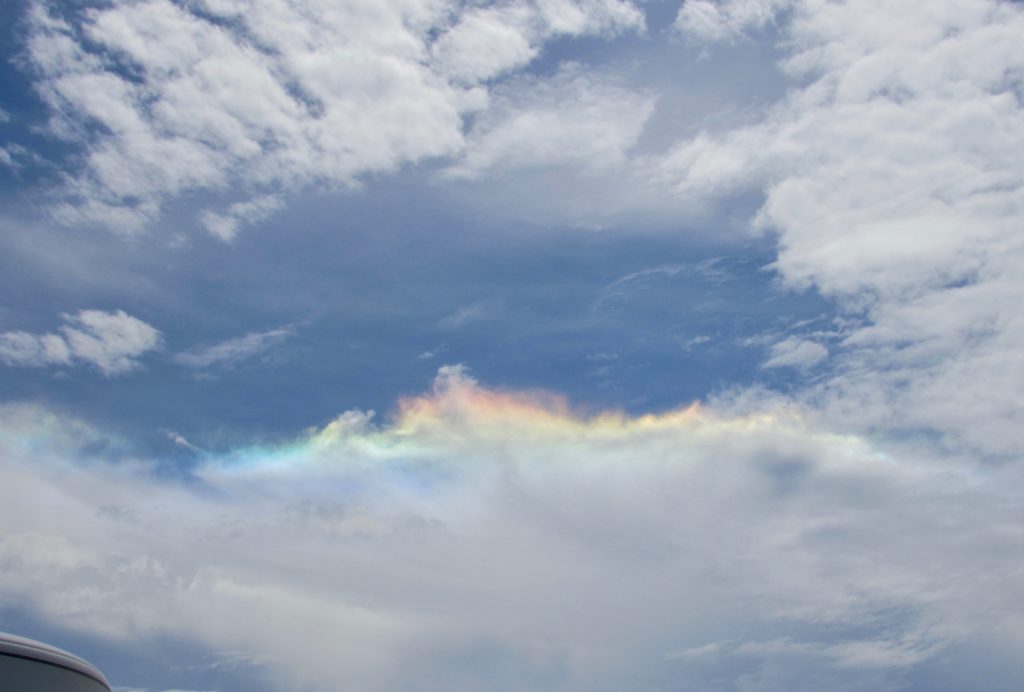 The atmosphere was eerie, surreal like being in the twilight zone and then it gradually got brighter again and all was over. It was an experience that we both will never forget.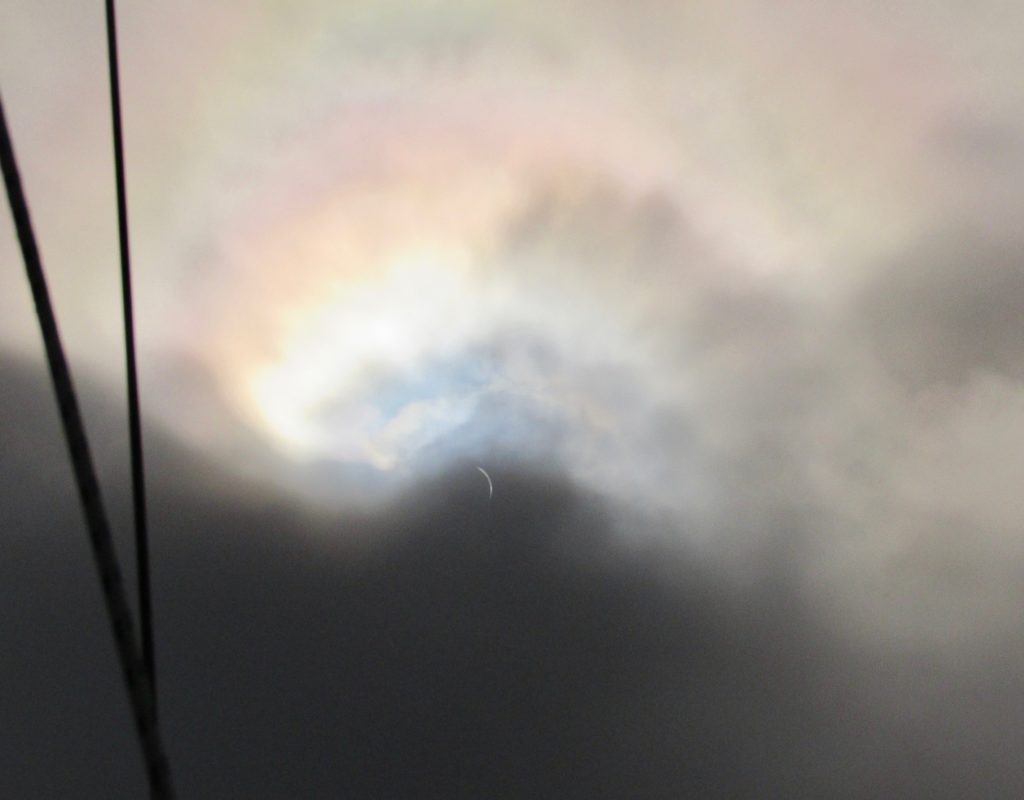 The beginning is always today .- Mary Shelley
 There are no wrong turns only unexpected paths. – Mark Nepo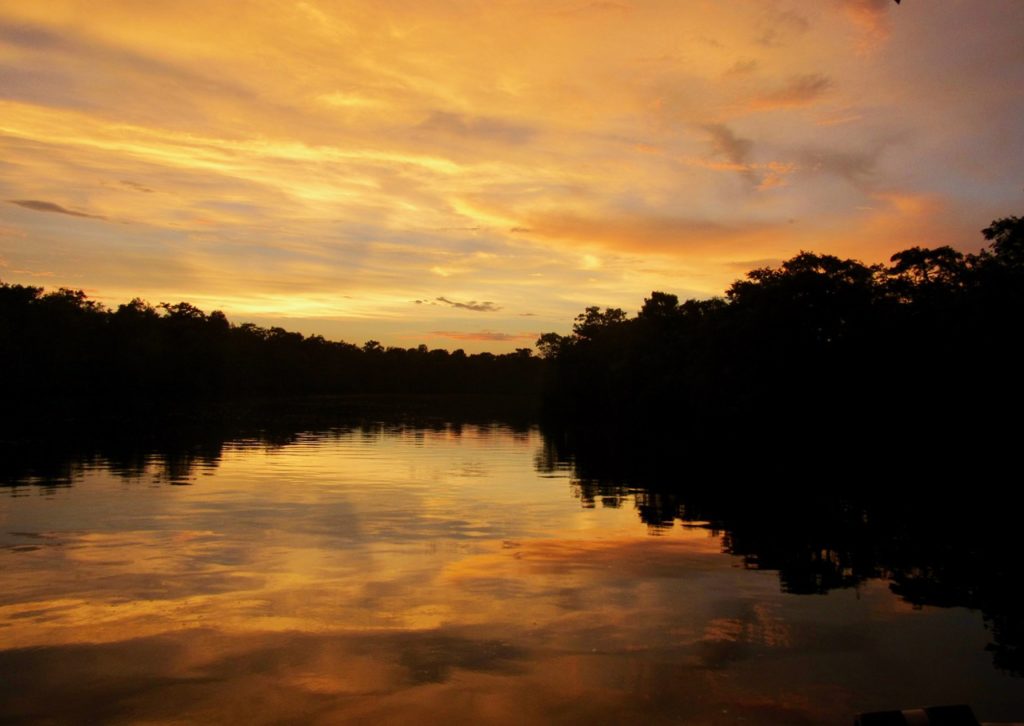 Please follow and like us: