PHOTO LINK–>> Ciuddad Perdida "The Lost City" trek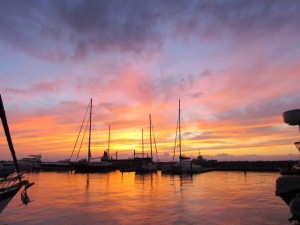 Why go and what is the Lost City?
John and I had hoped to be able to visit Columbia and hike to Ciuddad Perdida, which is Spanish for "Lost City". This hike takes you 46km (28 miles) round trip through the jungles, hills and river valleys of the Sierra Nevada Mountains in northern Colombia. The Sierra Nevada mountain range with peaks of 5,500m, (16,000ft) high are visible from the palm-fringed beaches of Colombia's Caribbean coast. The Lost City is believed to have been founded about 800 AD, some 650 years earlier than Machu Pichu. This location is also known as Teyuna and Buritaca. It is sacred to the indigenous people's that have always lived in the area.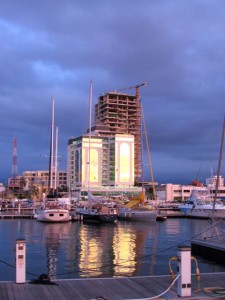 Ciudad Perdida was "found" in 1972, when a group of local treasure looters found a series of stone steps rising up the mountainside and followed them to an abandoned city, which they named "Green Hell" or "Wide Set". When gold figurines and ceramic urns from this city began to appear in the local black market, archaeologists headed by the director of the Instituto Colombiano de Antropologia investigated and reached the site in 1976. They completed the reconstruction between 1976-1982.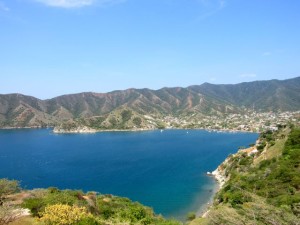 Members of local tribe the Arhuaco, Koquis and Wiwas have stated that they visited the site regularly before it was widely discovered, but had kept quiet about it. They call the city Teyuna and believe it was the heart of a network of villages inhabited by their forebears, the Tairona. Ciudad Perdida was probably the region's political and manufacturing center on the Buritaca River and may have housed 2,000 to 8,000 people. It was apparently abandoned during the Spanish conquest.
Our friends John and Kay had contact with a local Edwardo who was an enabler (his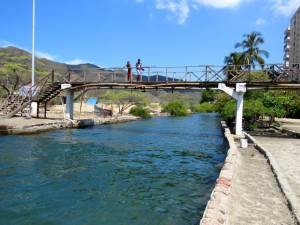 term) for Turbol a tour company that deals with the Lost City treks. Edwardo came to the marina with one of the guides Javiar, (one of the only guides with some English) and we arranged for John and Kay to hike 1st and then John and I the following week. John and Kay returned from their hike, exhausted, covered in bites, filthy, but full of praise for the trek saying it was well worth the discomfort. So with trepidation on my part we were off.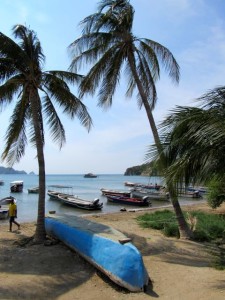 We really lucked out, as we happened to be in a group with Javiar as our guide, which meant some English being spoken. The group consisted of a Columbian Juan, and 2 Germans who were both of Spanish decent, Raphael and Annette. We also hiked loosely with a group of Lappialns, some French, Dutch, Danes, Canadians and a fellow from India. What the other hikers had in common was they were much younger than we were all being twenties and early thirties. We were like the "parents" of the group; in fact our Grandson is nearly that age.
---
Day 1. Start/Finish: Machete (El Mamey) to Adán Camp (Campsite #1) Distance: 7.6km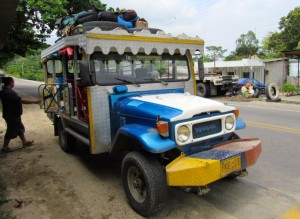 We arrived at the Turcol office by 9:00 and finally set off in the tour truck by 9:30. First stop was just over an hour away, off the main road where we were told it was lunchtime. So we had a very early lunch of soup, carne with rice, beans and salad. I really could not eat much. The rain started as we were eating, but not knowing what was ahead we really didn't give the rain much thought. Off we headed again, this time the truck drove along a rough, rocky track headed upwards into the Sierra Nevada Mountains a journey of an hour. The destination was El Mamey a small village which is where the treks start out.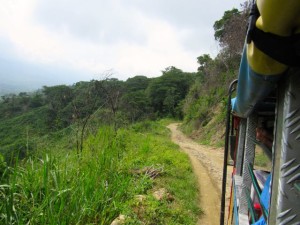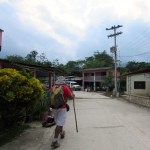 At El Mamey the 5 of us followed Javier along a path, across a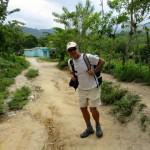 river and uphill into the mountains. This part of the trek was up a narrow roadway used only occasionally by motorbikes but normally by the mules.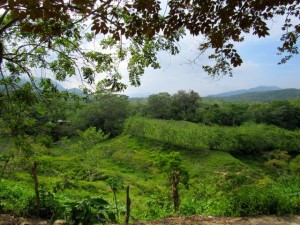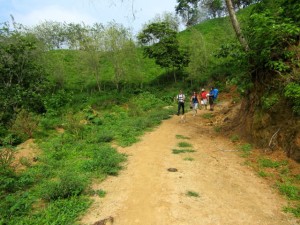 Up and up the way went steeply carving upwards along a very rough, rudimentary trail passed farmland. Carrying my backpack soon became a huge challenge for me, John carried it for a ways but when we reach the top and way down he had to hand it back. The rain had been falling on and off and so we had covered the packs with trash bags to try to save them getting too wet. However we were becoming drenched. The rain had also brought dark cloudy conditions, which meant it was more difficult to see. The way down was a gully, cut into the now wet red clay that was running downhill like a red, muddy river.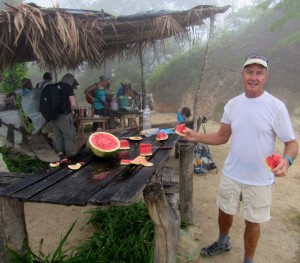 Basically it was hellish conditions to descend to the first camp. Javier held my hand, I used my walking stick and together we slid, slopped, and oozed our way down the steep slope in the pouring rain.
Finally reaching the camp we had to cross a hanging wooden bridge over a river, follow Javier through the quite full camp to the last hut to the "beds". These huts were long and open on all sides with earth floors and corrugated iron sheets with thatching for roofs. Inside were a long line of "bunk beds" made from wooden frames and mattresses all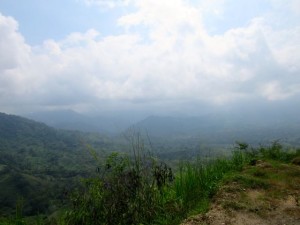 attached to each other. In front of the beds were long tables and benches for sitting to eat or what ever. At the end of the hut was the "kitchen" area. The "bathrooms" are outhouses a short way away from the sleeping quarters. There was a front row with a couple of outside sinks and inside toilets and behind them was a row of showers.
Arriving wet, covered in mud, barely able to see for the gloom I must admit I felt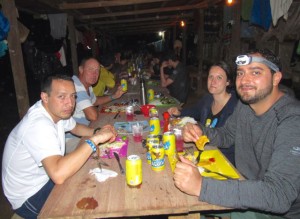 somewhat disappointed with our accommodation, but it was what it was so we got on with the business of getting organized, showered and having dinner which arrived just after 5:30. Dinner that 1st night was very good and we were in our mosquito net covered bunks by 6:30 and asleep shortly after, exhausted from our 1st day. Getting to the outhouses during the night did prove to be somewhat challenging, but we managed. Other than a dogfight, which woke us up, we all slept wonderfully.
---
Day 2 Start/Finish: Adán Camp (Campsite #1) to Casa Rumualdo (El Paraiso) Camp (Campsite #3) Distance: 14.7km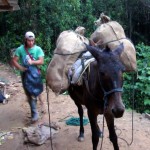 Day 2 starts at 5:30 just as the light is beginning to shine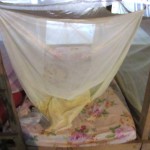 through the trees. Breakfast was at 6:00 and we were on the trail by 6:30. The morning hike was to get to Casa Gabriel Sanchez approximately 8.1 kilometers away. Javier arranged for the mules to take my backpack for me, which was just perfect! All I had to carry was my camera, water bottle and walking stick. John opted to carry his bag.
The hike starts uphill through very lovely farming country.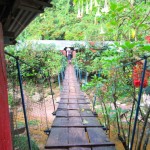 Then proceeds to steeply ascend through rain forested slopes to a point where there is a stop for fruit. The way was very steep in parts and I found it quite exhausting, but plodded on for the 2-hour assent. The scenery was wonderful especially with the morning mist rising off the slopes and the light shinning through the trees. At the fruit stop we feasted on delicious oranges and watermelon.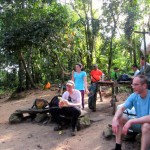 Then all too soon it was downhill. This downhill was very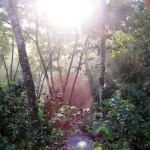 rugged, boulders, rocks loose gravel and mud made the trail quite challenging. My legs were very sore by the time the trail leveled out a bit along the side of rivers and streams we walked for a ways and then uphill to our lunch stop.
Arriving some 4 hours 15 minutes after we started, John was pleased, as we were only 15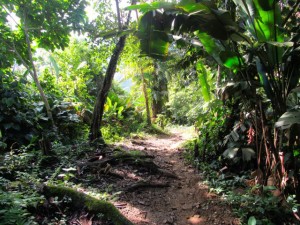 minutes out of the overall 4-hour average.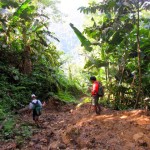 The lunch stop was for an hour at the Casa Gabriel Sanchez campsite. We could have gone swimming in the nearby river but most of us opted to sit and try to rest our tired bodies. I really didn't know how I was going to hike for another 4 hours to get to the camp for that night; I was wacked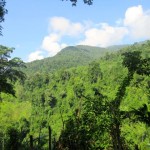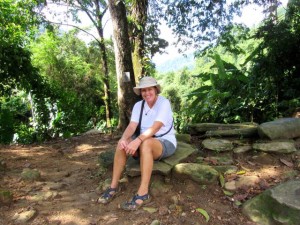 out, exhausted!!
By 12:00 we had to be underway. We all hoped to beat the rains of the afternoon, but with 4 hours ahead it didn't seem possible. The day was very sunny and we preferred the sun to the rain, but it sure was hot! When we were hiking under tree cover it was lovely and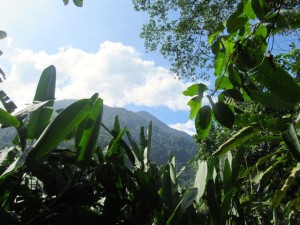 shady. The afternoon hike was for the most part uphill. It did follow various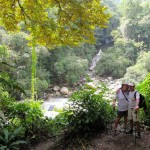 rivers and was under the trees for a good part.
We stopped at the Wiwa Indian village where Javier explained how the Coca that was being grown was for their own personal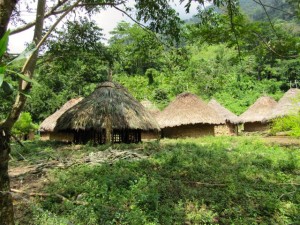 medicinal purposes. He showed us how the people farm under the trees without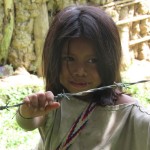 disturbing the land, but in harmony with the other trees. Children from the village came out to see if we had sweets or treats for them. They were adorable! We passed many villagers along the trails. They were all wearing their traditional while clothes and beaded jewelry. The women are all bare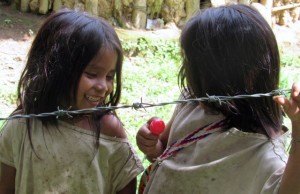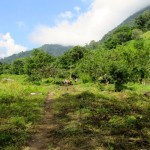 footed, the men wear rubber boots, the women walk carrying bags and young children and with their hands they are often weaving a bag. The men usually carry their gourd that contains the coca potion that they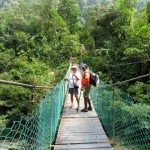 regularly
indulge in.
Javier really helped me when he offered me coca leaves to chew. I'd chew a wad of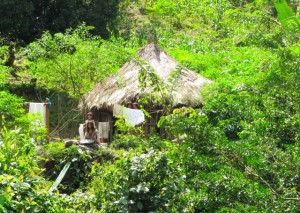 them and yes my lips would go numb, but more importantly they took the hard edge off the walk. It was definitely the coca leaves that kept me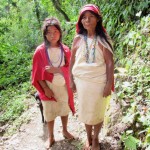 going. Anyway that was Javier and my secret for a more comfortable hike.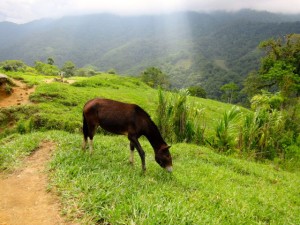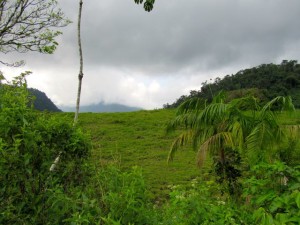 We finally arrived at Casa Rumualdo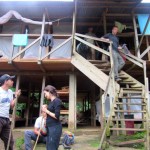 just over 4 hours; 6.6 kilometers later and we beat the rain! This camp was much the same as the previous one except the bunks were in an open 2-story structure. There was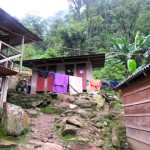 also an area for the
hammocks,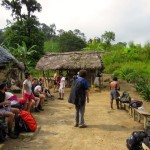 and a separate eating area. Again all John and I did was get organized, showered, rest and then go for dinner at 5:30ish. Dinner was an excellent chicken dish. Again we were in bed by 6:30 as we were exhausted.
---
Day 3 Start/Finish: Casa Rumualdo (El Paraiso Camp) (Campsite #3) Casa Gabriel Sanchez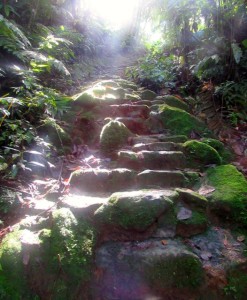 campsite (Campsite #2&3), via the Lost City Distance: 13.6km
Day 3 is Lost City day. We were up at our usual of 5:30,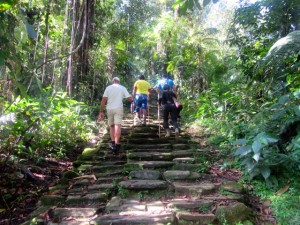 breakfast at 6:15 and we were off around 6:45. The day had dawned as a beautiful bright morning and we were all looking forward to Ciuddad Perdida. To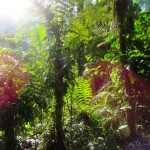 get there you have a walk along the side of the river, along a narrow, slippery, ledge and over many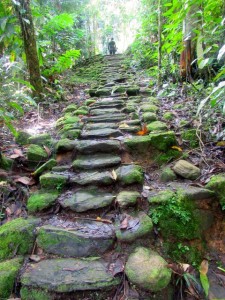 boulders. Then you are faced with the 1200 steps that head steeply up to the entrance of the Lost City. The steps are challenging as they were made for little feet. The indigenous population are very tiny, I believe they are the second smallest after the pygmies. So the steps are very narrow but can be quite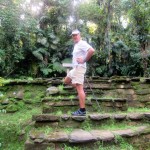 deep. Up and up and up I went on those steps, stopping periodically to rest my legs and to enjoy the early morning light through the trees. All the other groups reached the top 1st, which was good as we had the way to ourselves.
At the top of the 1200 steps Javier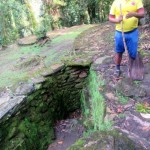 told us about the indigenous population, the Arhuaco, Koquis and Wiwas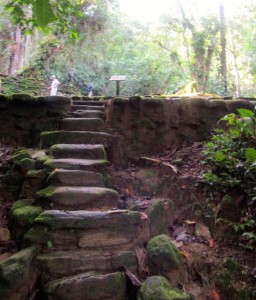 who have lived in the region forever. They all view the site as sacred and have always been as they are today. There are small differences between the tribes one being the style of headdress the men especially the Shaman/Mamo religious men wear. The head Shaman still lives in the homes adjacent to the Lost City. Many of his people visit him daily for advice. He resides over all the main religious ceremonies. When the Spanish invaded approximately 2,000,000 of these peoples were killed throughout the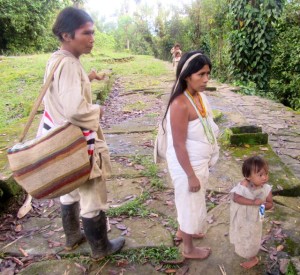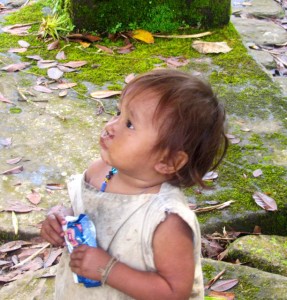 region by warfare or introduced disease. The Arhuaco, Koquis and Wiwas that were left hid in the wilds of the Sierra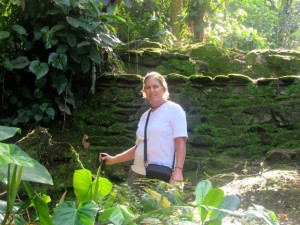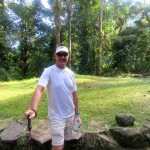 Nevada mountain range. Javier told us much interesting information about these people and how they live in harmony. They are very troubled by the state of the natural world due to modern civilization and they believe it will not last.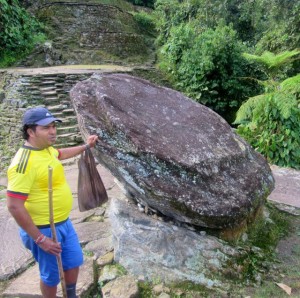 We saw the rock that was a map of the mountain range used to show all the settlements and ways through the mountains. The jail where the disobedient or disrespectful were put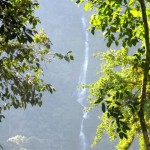 as punishment. The toad rock, which resembles the great power of reproduction and fertility. All of this we saw as we slowly made our way through the huge ancient city up the remaining 800 steps to the top that looks down over all the 169 terraces carved into the mountainside, a net of tiled roads and several small circular plazas.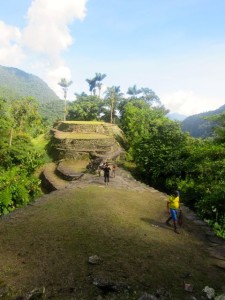 We arrived at the top when the other groups were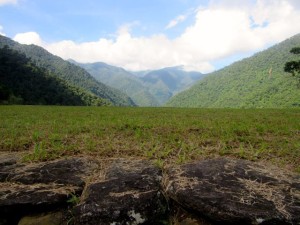 descending so we had it to ourselves, not counting the Colombian army troops on the slopes behind us. It is gorgeous looking out over the Sierra Nevada's!! The sky was deep blue, the mountains a mix of greens and the peaceful Ciudad Perdida Lost City below. It certainly is a majestic and mysterious location, three days' walk from any car, mobile phone or computer, a place where the only sound was
the squawks of parakeets (the Santa Marta parakeet a unique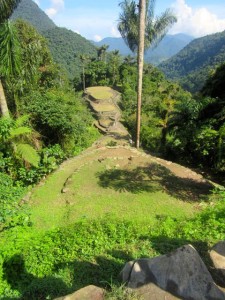 species). There are few books and precious little knowledge about this place: it remains enigmatic and unknowable, rather like the descendants of its original inhabitants. John and I both felt that we had really accomplished a great feat by being there that day.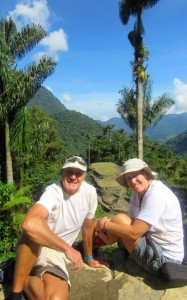 We visited the Shaman's settlement and looked at the traditional thatched houses and learned more about this fascinating, peaceful people. Then it was off and back down all of the 1200+ steps to the river below. Phew!! The climb down was quite something too, not for the faint of heart, falling was not an option!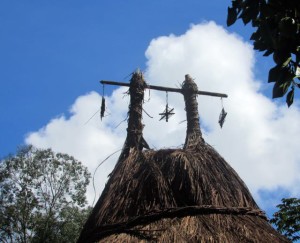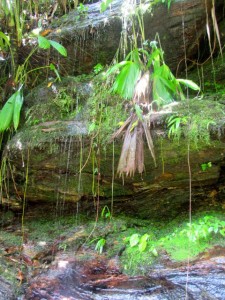 Back at Casa Rumualdo (El Paraiso Camp) we were served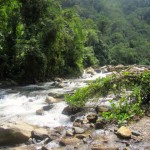 lunch which again was a delicious meal. After lunch we had the hike back to Casa Gabriel Sanchez. Thank goodness Javier had arranged for an Indian to carry my backpack (along with some of Javier's stuff too). The hike back was mainly downhill along the beautiful riverside. We reached camp just before 4:00pm and again, got organized and showered before dark and had dinner a bit later at 6:00pm. I was soon asleep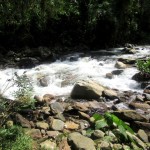 leaving the others to play cards and chat for a bit longer.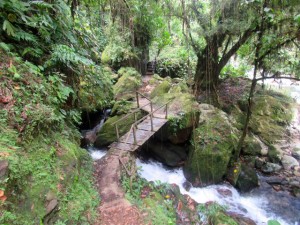 ---
Day 4 Casa Gabriel Sanchez campsite (Campsite #2/3) to Casa Adan (Campsite #1&4)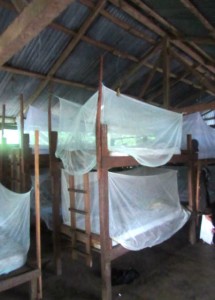 I was awaken to the sound of Happy Birthday being sung to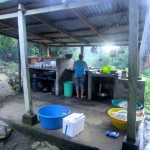 me. John had told our hiking buddies that it was my Birthday, my 60th at that, so as a surprise I had a 6am Birthday song. These buddies were actually leaving early as they had opted to just do the 4-day trip and were off to hike the full way back in one day. We had decided to go with the more relaxing 5 day, thus spending 2 days more to hike back. We were the oldest by far, the others being in their 20s and early 30s, and they all said to me, "I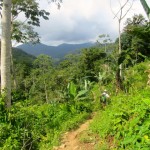 hope I am able to do what you have done at your age, you are just an inspiration" Then they were off.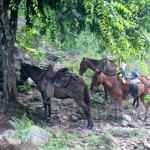 We had a later start to the day. John had asked Javier to arrange for a mule/horse to carry me back to Casa Adan. I was very thankful, as it was the same up and down hill as Day 2, not as long but just as tough. These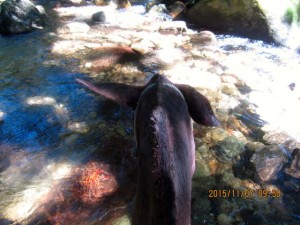 are mountain horses, like mules and can and do go over anything, just amazing animals. I got in the saddle on the back of Macho and off I went with the mule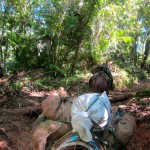 driver, Victor and the pack animals. Victor and I stopped off at the next camp. While there I was shown some artifacts that someone had "discovered" and wanted to sell. They must have been centuries old.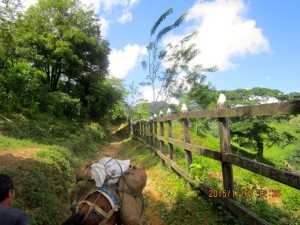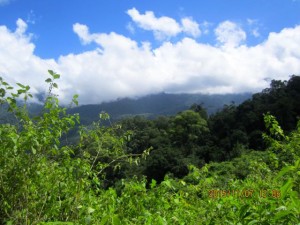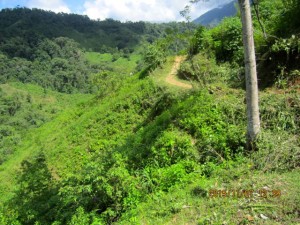 At one river crossing when we caught up with John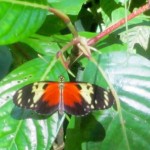 and the group, one of the young guys in our group said to me as I passed by…." Sh#t that just scares the F!! out of me!!" I crossed that river and others on the back of the horse Macho no problem. At the end they all wanted to know how I managed to ride, stay on, in such extreme conditions. Actually it was easy, I just leant back going down and forward going up. But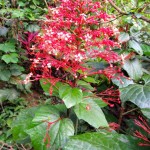 going up would last nearly an hour and going down the same. The horse would jump at points when it was too steep so I'd have to always be prepared. Oh and the horse and pack mule had a few arguments along the way, kicking, getting tangled up pushing each other out of the way right by huge drop offs.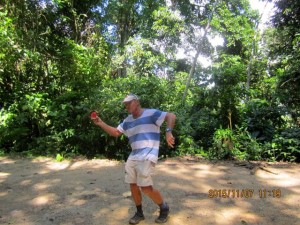 I was able to really see the scenery, as I wasn't concentrating on my footing. The scenery was spectacular! I saw birds of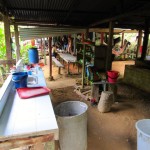 all colors, eagles swooping, butterflies of all types and really enjoyed the journey. Yeah it was great!! Again we would stop for a fruit break and stretch our legs, each time John and the others were close behind. We arrived at Casa Adan in time for a late lunch and then spent the afternoon relaxing, walking by the river, chatting with the others and getting our wet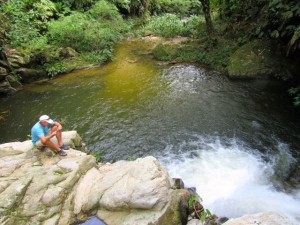 gear dry.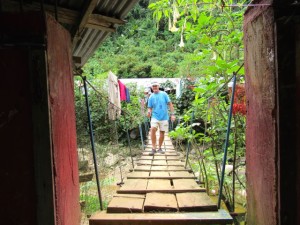 In the late afternoon the new Day 1 folks arrived. We were all sniggering at how fresh, clean, un-bitten and energized they looked.
---
Day 5 Casa Adan to Machete (El Mamey)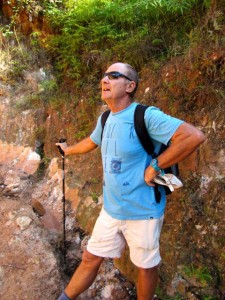 We were able to leave at 8:00 and start our unhurried walk to the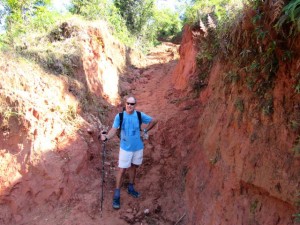 end. It entailed the assent of the deep, muddy, trench we had slid down on the 1st day. Even though it was now dry this assent was very tiresome and we were all relieved to reach the top, rest and have our fruit.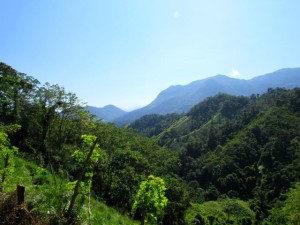 Our guides gave us the option of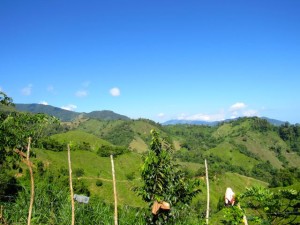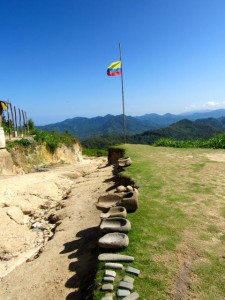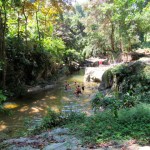 returning via a different trail, which would take us by the river where we could swim. So we were off down what proved to be an extremely rugged, steep slope to the river. There the group shed their outer clothing and jumped in, John joined them, but I continued onwards.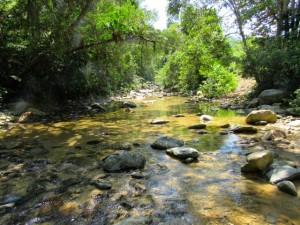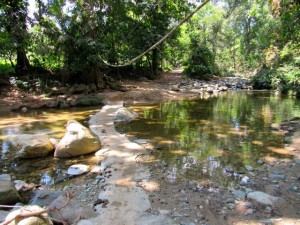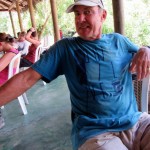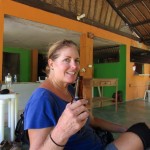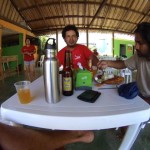 I had a lovely solitary walk back to Machete (El Mamey). John strolled in soon after me and we had lunch with Javier and Mathew. Later we squeezed into a jeep with several others to return to Santa Marta.
Colombia is an amazing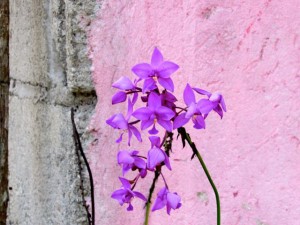 country!!
On returning to Aeeshah we found that the boat had been decorated by our friends in celebration of my Birthday. It was November the 8th my actual 60th Birthday.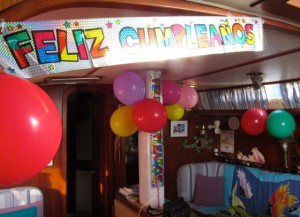 "After climbing a great hill, one only finds that there are many more hills to climb" – Nelson Mandela
 "Realize deeply that the present moment is all you ever have"  – Eckhart Tolle
Please follow and like us: