s/v Aeeshah


 

The beginning of living our dream.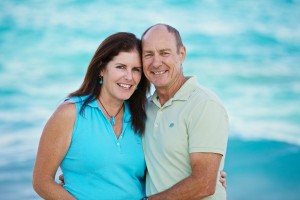 We are Jen and John. We have been together for many years and have always shared the same dream. To sail away, to explore, be a bit reckless and fancy free, have adventures and enjoy the journey while sharing new experiences. We both love the sea, sailing and water sports.
"We believe that when you stop renewing, and are no longer open to change and the possibilities that continually unfold, you stop being alive and are just getting through the years."
Our cruising history, so far……
October 2012 -> October 2013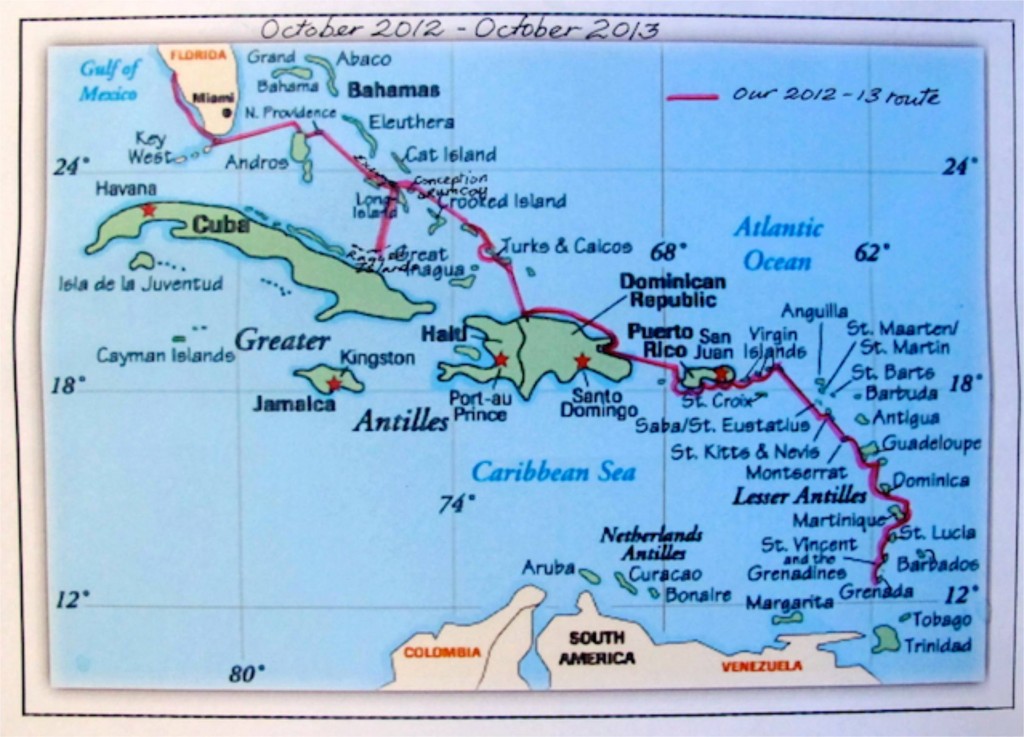 We started our journey by leaving Florida in November of 2012; setting out from Marathon and sailing across the Gulf Stream to Andros in the Bahamas. Our journey continued through the Bahamas visiting many far out islands even the Ragged chain and on to the Turks and Caicos Islands.
From there we sailed to Luperon in the Dominican Republic, followed by Samana in DR.
It was then across the Mona Passage to Mayaguez, Puerto Rico. Along the Puerto Rican southern coast where we made numourous stops and then crossing to Vieques, Spanish Virgin Islands. The islands of Culebra and Culbrita, in the Spanish Virgins.
After which we sailed to St Thomas and St John in the US Virgin Islands. Next we sailed to the British Virgin Islands visiting several different islands and then crossed the passage to St Kitts.
It was then onto Montserrat, Isles Des Saintes, and Dominica which we just loved. From Dominica we sailed to Martinique along the windward shore due to the weather conditions.
The next destination was St. Lucia where we stopped at the Pitons and then continued to Bequia in St Vincent and the Grenadines.
Our final destination was Grenada where we stopped for the hurricane season. In total we sailed approximately 3200 nautical miles. All of the stories about our adventures are in the blog which I try to update on a regular basis.
October 2013 –> October 2014
During this previous cruising season we covered over a 1000 nautical miles. The majority of it we were sailing.
We visited Grenada including all its islands, St Vincent and the Grenadines, St Lucia, Dominica, the Saintes, Guadeloupe, Marie Gallante, Antigua and Barbuda, Nevis, St Kitts, Stacia, St Maarten, Anguilla, St Bart's, Trinidad and Tobago.
Most of these countries we actually visited twice when traveling north and then south. We hiked every island on many differing terrains. We biked on many of the flatter isles and we snorkeled many an anchorage. It was a brilliant cruising year for us. We know we are blessed.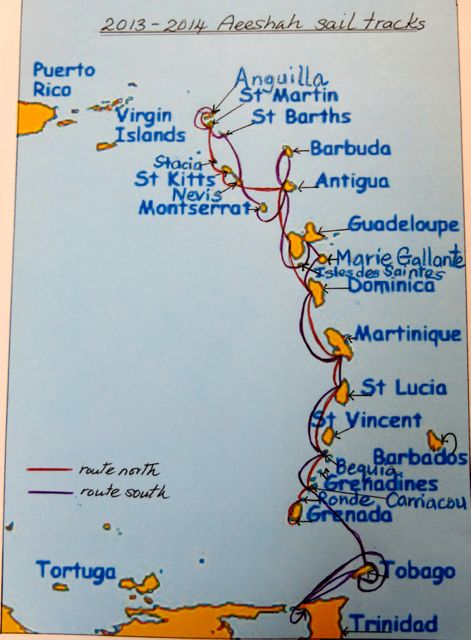 This cruising year our plans are to head north revisiting many of the islands we have previously visited, but exploring new terrain. Hopefully we will get to visit Martinique, Montserrat and Saba, all three we have yet to explore.
Once we reach St Marten we plan to head to the British Virgin Islands, onto the US Virgins, the Spanish Virgins and then Puerto Rico. After which we will head south to St Croix in the US Virgins and then do a long 2-night passage south to the ABC islands——- Aruba, Curacao and Bonaire. We plan to summer in these islands before setting off for Columbia and Central America.
The 2014 to 2015 sailing year was brilliant!
We made many long and short crossings all of which for me were without getting seasick.
In Trinidad we had Aeeshah hauled allowing us to do all the necessary maintenance and repairs. That was when we took on our newest crew, Chico the boat's cat.
We crossed over to Grenada where we met up with old and new friends. It was off to Union Island – St Vincent and the Grenadines, onto Bequia and across to St Lucia. There we had a spot of trouble with our card being scanned.
Next stop was Martinique where we had arranged for our cards to arrive and where we spent quite a while enjoying exploring wonderful Martinique.
Dominica was our next destination, followed by Isles des Saintes, Guadeloupe and Antigua.
In Antigua we had a wonderful Christmas season with a number of friends off other sailboats, notably Lavinia and Richard off Partners, Les off Go Lightly and Jackie and Ron off Desperado. New Year's Eve was spent in St Bart's and then a few weeks in St Maarten.
Saba was our next stop where we met up with good friends, John and Jo from Out of Africa. We had an amazing time exploring Saba. From there we travelled with them to explore, St. Croix, St. John and St Thomas – US Virgin Islands, followed by Calibra and Calbrita – Spanish Virgin Islands. We all headed to Puerto Rico where we travelled around together exploring and having an exceptional several weeks together. The next destination was Vieques and then back to St Thomas.
In April we spent a wonderful 10 days with Chrissie and Ivan onboard while we exploded some of the British Virgin Islands, St John and St Thomas.
Back to St Croix we sailed to ready for our first longer passage to Bonaire. After 3 weeks of waiting we had an excellent weather window and we sailed to Bonaire – Netherlands Antilles. The crossing was over 3 nights and 4 days, which went remarkably well.
We had a week in Bonaire before we sailed to Curacao. There we left Aeeshah at Curacao Marine and Chico in a pet hotel – Cats and Pets, while we travelled home and then to the UK and back to Bermuda.
Ethan and Rhianna returned with us to Curacao. We collected Chico and set off to Bonaire via Klein Curacao. An excellent several weeks diving and exploring Bonaire with our grandchildren/teens was enjoyed by all. Back in Curacao Gavin and Katie visited with us where more diving was enjoyed. In September our last guests arrived, Al and Harri flew into Bonaire where we met them. An excellent fortnight together rounded up the sailing year for us.
Plans for the coming year are to sail to Columbia, South America and onto Panama and the San Blas Islands. From there we are still not sure, maybe north along the Central American coast, maybe through the canal to the Pacific coast. Our plans are always flexible and subject to change.
 

The 2014 – 2015 sailing track: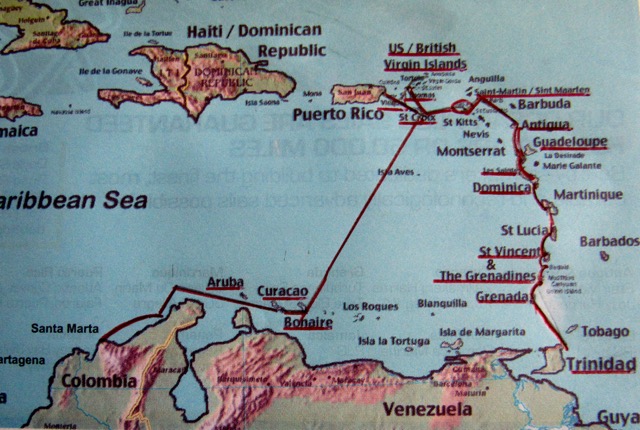 The brilliant 2015 – 2016 sailing season!
Once again I am updating for yet another wonderful year of sailing and exploration. Last year I finished my update with these words:
Plans for the coming year are to sail to Columbia, South America and onto Panama and the San Blass Islands. From there we are still not sure, maybe north along the Central American coast, maybe through the canal to the Pacific coast. Our plans are always flexible and subject to change.
So, how close did we come to fulfilling those plans?
We left Curacao, after waiting for several weeks for the perfect weather window, and sailed 1st to Aruba. There we stayed over night leaving the next day for Cabo Del La Vela, Colombia. This particular stretch of water is notorious for its heavy following seas, 15 foots seas are just the norm in this region. We encountered flat seas, but little wind and then a wind reversal! Just crazy, but it made for an easier passage even if we did have to motor a good bit of the way.
At Cabo Del La Vela, Colombia, we stopped for the day and night before setting off for Santa Marta, Colombia.
Santa Marta was an amazing home base for us for 2 months. We traveled to different parts of Colombia, the Minca area, flew in to Bogotá and completed the Lost City hike. Colombia is a wonderful country, the people are friendly and helpful, we both hope to return and travel there some more. From Santa Marta we sailed to the Rosario Islands and then the San Bernaedo Islands, Tintipan and finally Sapzurro.
The next destination was the San Blas islands where we spent a wonderful Christmas with friends having a barbeque of lobster on the beach. We both enjoyed the San Blas islands, the water is beautiful and the little islands are just magical. We relished visiting all the different island communities of the Kuna people, snorkeling the reefs, walking the palm-lined beaches and exploring the little Islas.
Our stops and anchorages along the Panama coast: Linton Bay, Portobello and Shelter Bay were very enjoyable with hiking trails and lanes to bike along and again we had many excellent adventures. Plus John got to go through the Panama Canal on Amarula, Lynn and Eric's 60-foot catamaran. We were in the San Blas and traveling on mainland Panama until nearly the end of March when we flew back to Bermuda for the birth of our newest granddaughter, May. There we caught up with friends and family, but time just flew by and we were back on our way again.
The first destination was San Andres, another Colombian Island followed by Providencia also Colombian. Both of these Islas were exceptional, each in its own unique way. We sailed to the Hobbie Cays off of Honduras Banks and stopped there for an idyllic few days. There were just our buddy boat, several hundred sea birds and us. Here again the snorkeling was amazing!
Stopping for about a week at each: Guanaja, Roatan and then Utila we promised ourselves to return as each of these Honduras Bay islands are absolutely fantastic. They are each totally different and unique in their own way, the residents are helpful and friendly and the snorkeling just excellent. We both would have spent a few months in this region, but we needed to be in Rio Dulce for the beginning of July.
July 4th we crossed the bar into Livingston, Guatemala and proceeded to check in for the summer on the Rio. Traveling up the gorge into the Rio is a highlight that one will not forget. The massive cliff walls with the lush jungle vegetation, birds galore, locals in their dugouts and the thatched huts along the sides make the trip magnificent. Arriving in the Rio we were just amazed at the ambiance, the local colour, the whole flavor of Guatemala. Now after 3 months we still love Guatemala and are not discontented with any part of our adventure here.
Our 2015 – 2016 sailing track:
For our new sailing season our plans are: to 1st head to Bermuda via airplane for mid October till November and upon return leave for, Belize, Mexico, Cuba, Bahamas followed by Bermuda for the May – June for the Americas Cup. Then we plan on heading to the US East coast to spend the hurricane season exploring the Carolinas and northward. To head back to the Western Caribbean next November and visit those amazing Honduras Bay Islands. So it's an exciting year of adventure ahead for us.
2016 – 2017 sailing season:
We left Rio Dulce, Guatemala late in 2016, due to our transmission needing to be replaced. However we managed to get to Belize in time for a lovely Christmas with friends. Then our daughter Chrissie, arrived to spend the New Year with us. Our time spent in Belize was wonderful, but too short.
The next destination for Aeeshah was Isla Mujares, Mexico. There we enjoyed the Mexican foods, people, sites and travels on mainland Mexico. It is another lovely destination.
Our intension had been to go to Cuba, but time was getting away from us, so we headed to Key West Florida and then Marathon to ready for our Atlantic crossing.
Some years earlier we had promised family that if the America's Cup was held in Bermuda we would sail home. Well the time arrived and we set sail from the Key Largo area for Bermuda at 12:00hrs, 7th May 2017 arriving 14:00hrs 16th May 2017 after covering 1003.2 miles in 9 days 2 hours. It was my first passage ever across the deep blue sea and all went well, I was very happy to sail home. "Would I do it again?" … "Yes, but not for several years"
We actually left Bermuda twice, the first exit being cancelled after being 2 days out and meeting very foul weather with even worse heading our way. Our departure – for real – was July 15th and we arrived at Morehead City July 19th after a very successful, at times lively passage.
From Morehead City we have travelled south on the US East coast and in the ICW, (Inner coastal waterway). Covering approximately 900+ miles we finally reached Marathon 15th December 2017.
One very large loop has been made, as Marathon, Florida was where we started out 5 years previously on the whole journey of 15,000 odd nautical miles.
                                                       Sailing is the heart's own wonder
Billowing in flow and sea
Life unfurled in wave and silence
Reach to run eternally
Mystery bound in lines hauled closely
Draws the cutting bow deep knee'd
Loosed   am I to worship oceans
When the mystery is free'd
Exultation is the going
Of an inland soul to sea,
Past the houses, past the headlands,
Into deep eternity!
Bred as we, among the mountains,
Can the sailor understand
The divine intoxication
Of the first league out from land?
By Emily Dickenson